This great little tool delivers the same precise cuts as hand-held shears, without the physical exertion. No more sore hands or tired muscles! Simply click in the right cutting head for the task at hand, press the button, and you're off. Cut, trim, prune and shape your ornamental trees, shrubs and hedges in no time. It's also perfect for putting the finish touches on your lawn edges.
The HSA 25 is very easy to use requiring only one hand to operate and being extremely light at just 0.6kg, it can be used for long periods of time. Speaking of time, with it's powerful lithium-ion battery, the HSA 25 can run for up to 110 mins on a single charge. Priced at only $129 with two cutting heads, a battery and a charger, the HSA 25 comes complete with a nylon carry case that doubles as a handy wall hanger.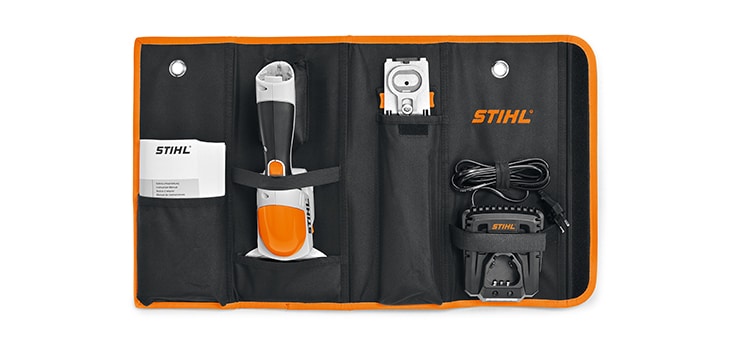 Great cutting PRECISION
Good things come in small packages. Thanks to its low weight and ultra-short cutting tool, the HSA 25 is both extremely handy and easy to use. This tool takes the strain out of precise cutting, making it ideal for all jobs requiring meticulous attention to detail on hedges and shrubs, as well as for the precise trimming of lawn edges.
Comfortable handling
Thanks to its ergonomic, rubbercoated handle, the HSA 25 can be held safely and comfortably. Its reciprocating blades ensure easy guidance without any annoying vibrations. The result? Exquisitely cut hedges and perfectly manicured lawn edges.
The HSA 25 ensures complete mobility and a long running time with it's powerful lithium-ion 10.8V battery giving users up to 110 minutes on a single charge. It also starts at the touch of a button, just pop the battery in, and away you go!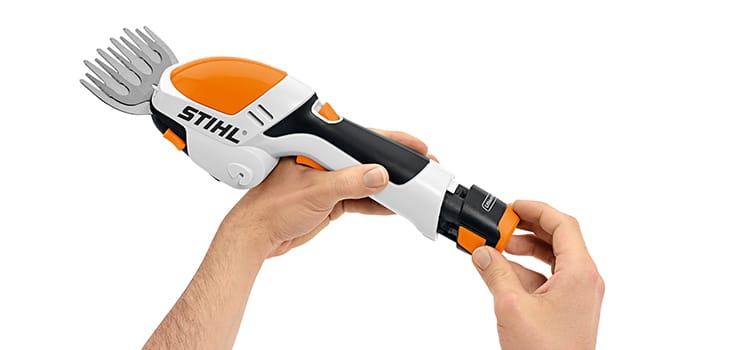 The HSA 25 comes complete with two cutting attachments. The shrub cutter is perfect for lawn edges, and with the optional extension arm, it's effortless to use. The hedge trimmer is perfect for topiary balls and precise trimming work where a larger trimmer is not required. Both attachments are interchangeable, so you can switch the heads on the go at the touch of a button!

Superior performance
The laser-hardened, diamond-finished blades can cut twigs and branches with a diameter of up to 8mm. In addition, the two reciprocating blades, which lie on top of each other, are doubly effective and therefore much more powerful. With 2,000 double strokes per minute, they deliver an extremely clean cut every time.
The transmission inside the HSA 25 is made of high-grade metal. The battery casing is also exceptionally sturdy with a rubber-coated ring providing impact protection. Bad news for branches, leaves and grass, but good for your wallet, as our battery shrub shears are a favourite amongst garden loving greenthumbs for a very good reason!
Click here to learn more about the STIHL HSA 25, or find your local STIHL Dealer at stihldealers.com.au.