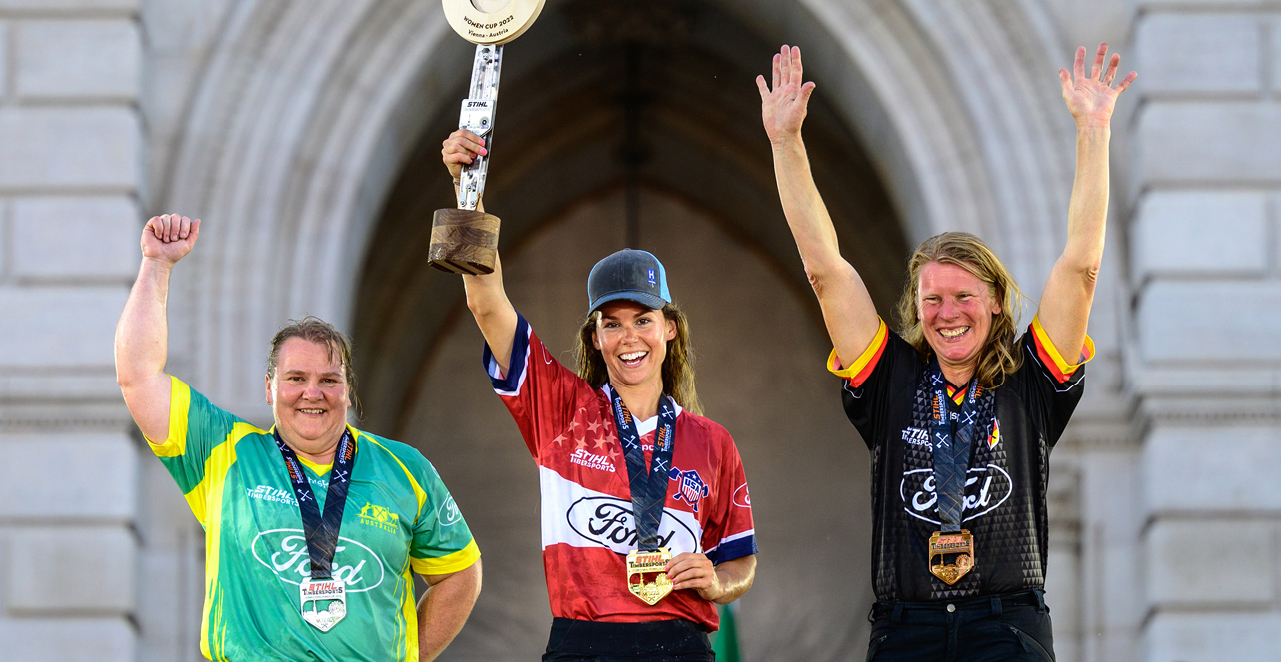 On the 27 May 2022, American Martha King produced a stunning display to win the STIHL TIMBERSPORTS® International Women Cup after a thrilling battle with Australia's Amanda Beams. German Alrun Uebing claimed the final podium place in the first ever intercontinental women competition at Rathausplatz, in Vienna, Austria.
King had the quickest time in two of the three TIMBERSPORTS® disciplines including a jaw-dropping personal best of 36.80 seconds in the Underhand Chop. The American finished one point ahead of Australian Beams, whilst Uebing overcame a pre-tournament wrist injury to claim the final step on the podium.
The International Women Cup kicked-off a weekend of high-octane logger sports axe-tion with nine world-class female athletes taking on three iconic TIMBERSPORTS® disciplines – Stock Saw, Single Buck and Underhand Chop. After all athletes completed a discipline, points were awarded on the times recorded, with nine points available for each discipline and the athlete who achieved the most points across all three disciplines crowned the winner of the competition.
German Uebing soared into early lead
World-record holder German Alrun Uebing set a strong marker in the Stock Saw, with a blistering time of 12.47 to lead the standings with nine points after the first discipline. Sweden's Tove Njastad put in an impressive performance on her international debut to finish runner-up and reigning Australian champion Beams posted a personal best time of 13.77 to finish third.
America's rising star King sawed her way to a stunning personal best time of 15.90 to claim top spot in the Single Buck and move into a share of second place overall. Meanwhile, Uebing won a thrilling all-German heat against Nina Pokoyski to finish runner-up and retain her overall lead. Beams continued her promising form with another top three finish.
King holds nerve in epic showdown with Beams
With tension building going into the final event, the Underhand Chop, Uebing suffered a disqualification after failing to beat the time limit. This then opened the door for Beams and King, who were level on overall points going into a dramatic final heat face off.
Underhand Chop world-record holder Beams finished in 40.61 seconds, but her rival King smashed her own personal best time to win the heat and claim the title.
Martha King, the 2022 International Women Cup winner, commented: "It feels amazing, it all came together last minute so there was a lot of pressure on me."
Martha dedicated her win to the late Martin Komárek who passed away in March 2022: "It is really important for me to mention Martin Komárek, the last time I was in Europe I was at a training camp with him and it is so sad that he is no longer with us. He did so much for this sport, so I want to dedicate my win in his memory."
Amanda Beams, the 2022 International Women Cup runner-up, said: "It is amazing to be here in Austria and being able to come over from down under. The competition was great, my expectation was a bit higher than that but it was a great day."
Alrun Uebing, who finished third on the podium, added: "It is very cool that I was able to participate, that everything worked out and that I got on the podium after completing only two disciplines. It's just great."
If you missed the action from the Women's International Cup:
Head to the STIHL TIMBERSPORTS® Australia Facebook page to watch the recorded live stream.
Catch up on STIHL TIMBERSPORTS® with Australian TV Episodes on 7MATE:
STIHL TIMBERSPORTS® Australia airs every Saturday at 12:30pm (AEST). The TV series follows the Australian athletes as they compete on home soil and across the globe each year. Episodes following the 2022 series will air late June 2022. All past seasons can be viewed at the STIHL TIMBERSPORTS Australia YouTube page.