Royal Botanic Gardens Victoria is widely admired as a living work of art, and one of the world's most beautiful botanic gardens. Picturesque vistas across lakes and sweeping lawns, punctuated with magnificent specimen trees and intricately detailed garden beds provide a cool oasis, and a site, which is both a scientific resource of over 8000 taxa and a place of respite for Melbourne and its visitors. STIHL is proud to be the exclusive supplier of Garden Power Tools to the team at Melbourne and Cranbourne, ensuring that their diverse team of experts are equipped with industry leading power tools fit that are for purpose.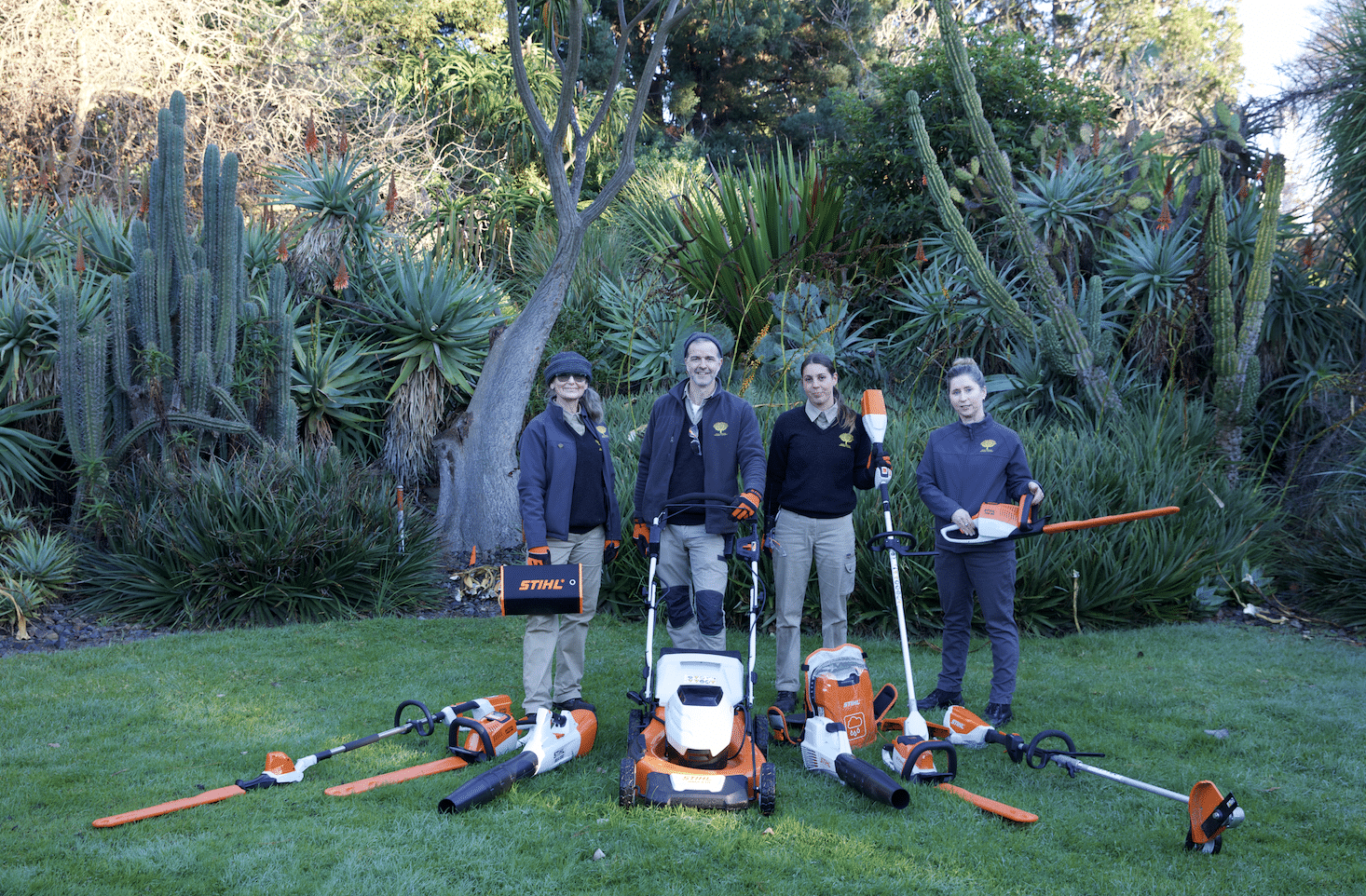 The site has been home to the Boon Wurrung and Woiwurrung peoples for millennia and the indigenous history continues to inform our understanding and design of the place. For over 173 years, the Gardens have been Melbourne's playground and retreat. Bearing witness to the city's changing history, society and character as a venue for both major societal events and the individual experiences of daily life. The place of the Gardens is deeply ingrained in the Melbourne psyche and a part of the reputation as one of the world's most liveable and green cities.
Over the last twenty years the Gardens has seen many significant new projects including The Ian Potter Foundation Children's Garden, Guilfoyle's Volcano, Long Island Redevelopment and Working Wetlands, all carefully guided by the Master Plan. It's aspirations for the future is to build on this legacy, maintaining the essence of the Gardens, while allowing us to meet scientific obligations, improve our landscape and protect the Gardens from detrimental and ad hoc change. Melbourne is a changing city in a changing world, and Melbourne Gardens needs to respond to this. The Master Plan has been developed against a backdrop of a changing climate, increased recognition of Aboriginal cultural heritage values, construction of the new Anzac Metro Station, the City of Melbourne's Domain Parklands Master Plan, and the evolving role we play in the broader life and health of the city.
The Royal Botanic Gardens Victoria have a strong team of experts in horticulture and arboriculture dedicated to making sure the Victorian public are safely welcomed to the best possible Botanic Gardens.
Head Horticulturalist: Clare Hart
Clare is a Melbourne Horticulturist with over 23 years of experience. Clare has worked in numerous roles and areas of horticulture and arboriculture including Nursery Management, Garden Design, Botanic Gardens and Local Government.
Clare's experience extends to strategic and operational management of public open space including large parks, gardens, conservation areas and streetscapes.
Clare has a Bachelor Degree in Fine Art, Advanced Certificate in Horticulture and a Graduate Certificate in Arboriculture, and is a committee member of Botanic Gardens Australia and New Zealand (BGANZ) Victoria.  She also presented a weekly horticulture radio show for 10 years.
Head Arborist: Will Jones
Will is a climbing Arborist who has been working in the industry for the past 13 years. Starting work as part of a ground crew in a private Arboriculture business, Will learnt to climb trees across the suburbs of Melbourne as part of a close-knit crew.
Moving into Parks and Gardens work, and managing large trees across Melbourne's city parks, he developed a passion and understanding of tree risk management and methods for maintaining heritage landscapes in densely populated or heavily trafficked areas.
Will has an Associate Degree in Environmental Horticulture, and has been Manager of Arboriculture at RGBV for 6 years.
Head Landscape Designer: Andrew Laidlaw
Andrew Laidlaw is a qualified landscape architect and horticulturalist with over thirty years of experience in the industry. Andrew is well known for his in depth knowledge of plants, his mastery of design, and his unique, innovative approach to design.
Andrew is most widely known for his long-standing role as the landscape architect at the Royal Botanic Gardens, Melbourne. During his time in this position, he has designed and developed many projects including the Ian Potter Foundation Children's Garden, Guilfoyle's Volcano and the Fern Gully rejuvenation.
Andrew has taught Landscape Design at the University of Melbourne's Burnley campus (previously VCAH) for over thirty years, teaching many of Australia's gardeners and designers, and has been a regular presenter on ABC 774's Saturday morning gardening program. Andrew also founded Laidlaw & Laidlaw Design in 2004 with his wife Sarah, and has since undertaken a range of domestic and public projects while continuing his work for the Royal Botanic Gardens Melbourne.
Andrew's love of plants and nature began at childhood as he found himself inspired by his father's love of the gardens.  The childhood memories of playing free in the bush and connecting with nature has inspired Andrew's lifelong passion to not only work with nature, but to help others learn, enjoy and find their own connection with the natural world.
Click here to learn more about the Royal Botanic Gardens Victoria.