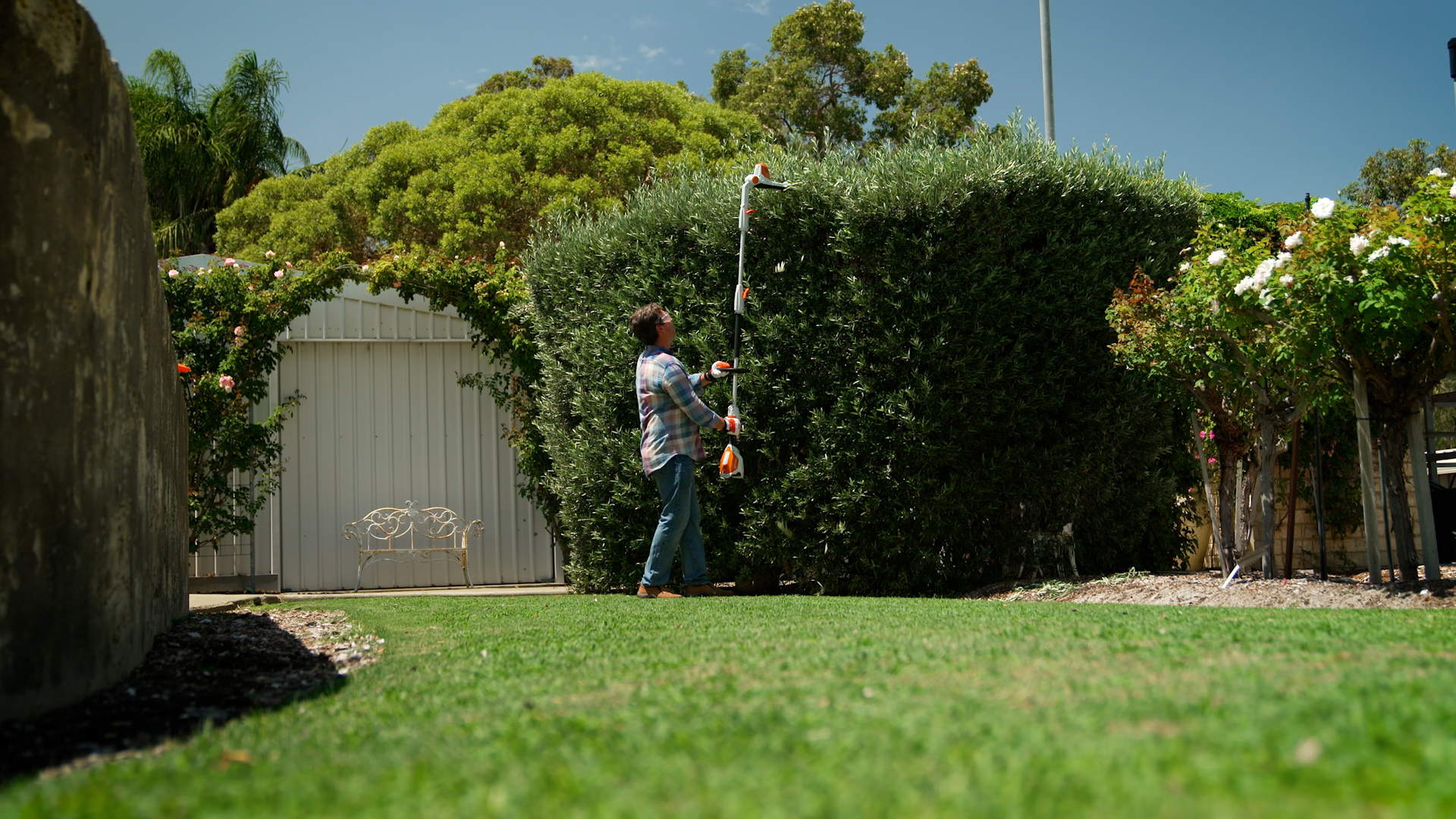 The HLA 56 is a lightweight long-reach hedge trimmer for cutting taller hedges and shrubs. It's part of the AK battery system, STIHL's growing range of battery tools, ideal for medium to larger gardens. Here, The Garden Gurus' Trevor Cochrane demonstrates why the HLA 56 is up there with STIHL's best battery trimmers.

Trevor's take on the STIHL HLA 56 Long-reach Hedge Trimmer
The HLA 56 is perfect for those tall and wide hedges that are a bit awkward to reach with a standard hedge trimmer. It will allow you to extend your reach by up to two metres, meaning there's no need for a ladder. This allows you to complete your work with your feet planted safely on the ground. And if that's not enough, also available is an optional extension shaft which will give you an additional 50cm.
This versatile tool also features an adjustable cutting head which can be adjusted for trimming between -45° to +90°, so getting that perfect box shaped hedge has never been easier! And like all STIHL hedge trimmers, it features integrated cut protection and droplet shape blades which will guide each branch in the direction that you're cutting, meaning it's almost impossible to miss anything along the way!
Like all tool's in STIHL's battery range, it's incredibly easy to start at just the touch of a button. Another handy feature that I love about this hedge trimmer is this tip protector. So, when you're trimming hedges that line fences or bricks for example, you don't have to worry about the moving blades making contact and getting caught or causing damage to your hedge trimmer or the surface it's hitting. This essentially allows you to use the tip of your STIHL hedge trimmer as a guide to keep your grip nice and steady. The result? A lovely clean finish.
It's also impressively lightweight, which is something to look out for when investing in a pole hedge trimmer. And when it comes to runtime, the HLA 56 will comfortably trim up to 350m2 of hedge on a single charge using the AK 20 battery. Which is more than enough for the average Australian backyard!
When you're done, this handy little hanging eyelet underneath will allow you to safely and securely store your hedge trimmer on the wall of your garage or shed. It's a great way to save space and keep it out of reach from the little ones.
Like all STIHL tools, the HLA 56 is the result of over 95 years of German engineering excellence, so you know it will last. STIHL tools are exclusively available from your local STIHL dealer, so with 600 locations nationally, you're never too far away.
To view the entire range of STIHL hedge trimmers, including battery and electric hedge trimmers, click here.