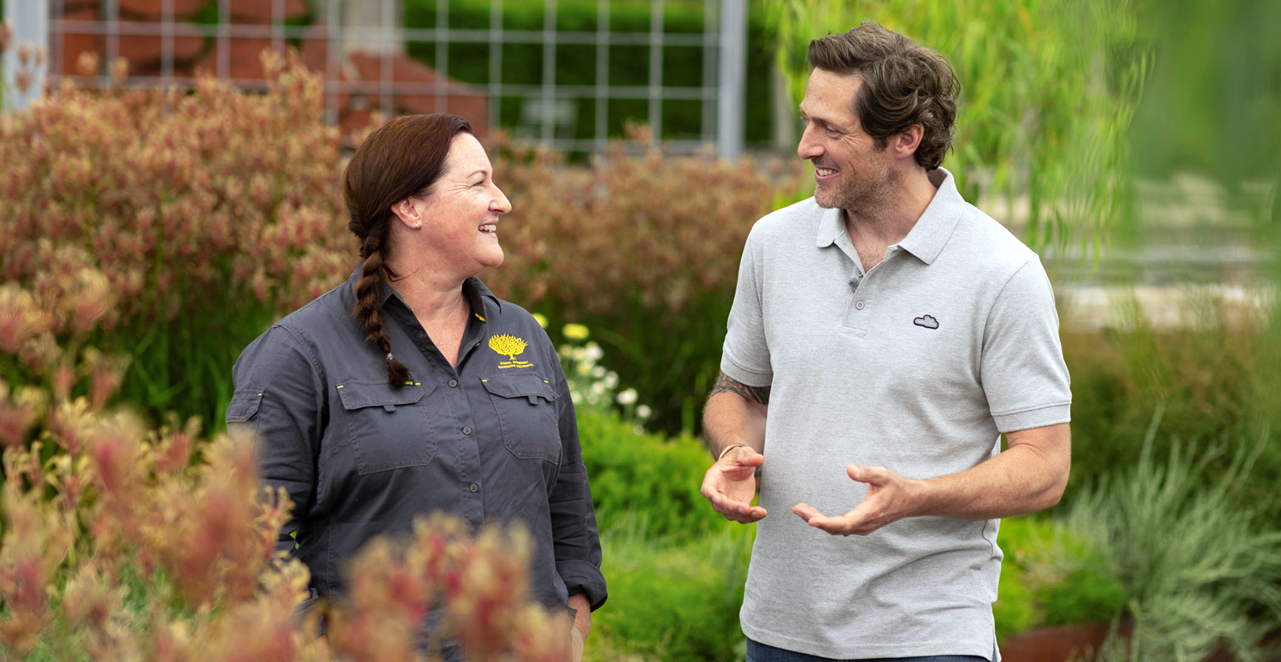 According to the Threatened Species Index, nearly 1,400 plant species or subspecies are threatened or extinct in Australia. In fact, about a third of Victorian flora is afforded with some level of conservation significance. Royal Botanic Gardens Cranbourne is home to many of these, including every rare grevillea from across the state. Curating, nurturing and protecting these collections is an important focus for the Gardens, whose conservation efforts have been recognised both at home and overseas. Together with her team, Nursery Team Leader Mandy Thomson has the important job of growing each and every plant, including those rare and threatened species for which the Gardens are a haven.
STIHL's resident garden expert Charlie Albone visited Mandy onsite to learn more about the conservation processes and initiatives putting Cranbourne on the horticultural map.
Conservation initiatives
Raising Rarity
"One of the programs that's really close to my heart is Raising Rarity, whereby we are growing rare and threatened flora from around Victoria for sale to the public," Mandy tells Charlie. "These plants have been trialled here at the Australian Garden and we've found them to be really resilient plants in the landscape… we think they are good candidates for the home gardener."
By giving the community access to threatened Victorian wildflower species, the Gardens' team are helping to drive awareness with the public on the importance of conservation. It's great for locals, who enjoy the opportunity to help grow these at-risk species in their own backyards.
Says Mandy: "We sell them to the public after they've been trialled here for their flower, form, foliage and toughness. That money goes directly to more conservation programs that we can run in the future."
Some species that have been included in the program so far are bauera sessiliflora (Grampians Bauera), grevillea dimorpha (Flame Grevillea) and veronica nivea (Snow Speedwell) among others.
Care For The Rare
While the conservation of local flora is important, Royal Botanic Gardens Cranbourne are proud to play a wider role in supporting other public spaces, too.
"With Care For The Rare, we're growing rare and threatened flora from Victorian bi-regions. These bi-regions have regional Botanic Gardens within them that can house the rare and threatened flora from their region, for the public," says Mandy.
Helping to ensure the continued accessibility of rare plants to the public helps break down barriers so that Australians in regional areas can learn more about endangered flora from where they live. This education is an important part of the program.
"We're putting some time towards helping those Botanic Gardens interpret that (their rare collections). So I think signage and information is just as important as having the plants in the garden."
Having the support of Royal Botanic Gardens Cranbourne is much appreciated by regional gardens, who are able to benefit the specialist nursery's resources and expertise. "Plus, we've got the science team at the herbarium to back us up – to be able to source them under permit, safely… making sure that we're not contributing to their plight," Mandy adds.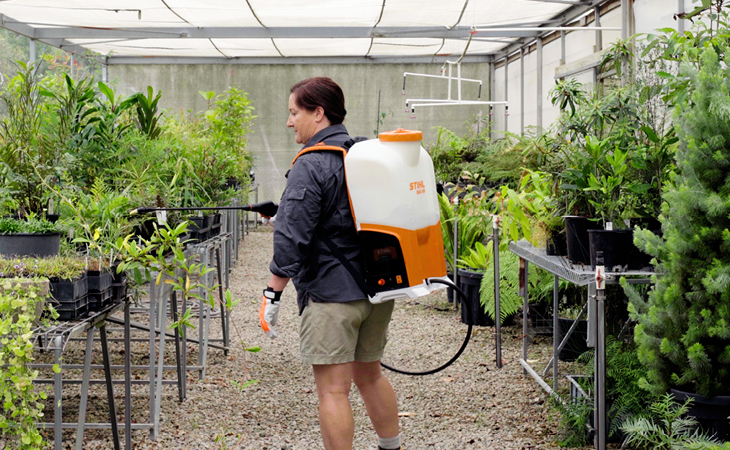 Curating the collection
Sourcing plants
When it comes to sourcing plants, the Gardens' science and horticultural teams will head out to the field to find plants and bring them back.
"We collect the seeds for the conservation seed bank, as well as vegetative cuttings that we can grow as living collections – ex situ conservation collections," says Mandy, who has been working to build an ark of plants threatened by the 2020 bushfires.
Another hallmark achievement is the Gardens' success in growing rare Victorian grevilleas. "We've got every single one of them in our collection now. So that's been a challenge, and a really enjoyable project."
When asked her favourite plant, Mandy says: "I think I have favourites throughout the season. I love chamelauciums, the wax flowers, because they're gorgeous in winter and flowering."
Nurturing plants
Once seeds have been collected, the next step is to grow them.
"The seeds that we collect are for cryopreservation for the future," Mandy says. "A lot of them have dormancy issues… they require a bit of smoke, heat treatment, various hot water treatment to break that dormancy. Some of the seeds aren't really eligible for growing after they've been frozen. So that's why we have them in the living collections here, and propagate them vegetatively through cuttings. So that we can then continue to grow those plants."
Propagating plants
When it comes to the propagation process at the Gardens, Mandy always begins with thorough research to identify the best source.
"The nursery gets a request from either the field or another Botanic Gardens, and then we go about researching where we can get that plant. Either in nature under permit, or we might be able to purchase it. Or it might already be here in the Australian garden, and we can propagate it and get the numbers up."
Once a source has been identified, the team will collect either the seed or cuttings. Sometimes they might need to specialist graft, if the soil isn't appropriate. They then take it into the nursery and grow it under glasshouse conditions, before putting it into a forestry tube and growing it into a six or eight inch pot.
"Is there any risk of taking it from your perfect conditions in the greenhouse, to then bringing it out into the garden?" Charlie asks Mandy.
"Most definitely. The nursery has a halving off area which essentially allows that time for the plant to be ready for the field."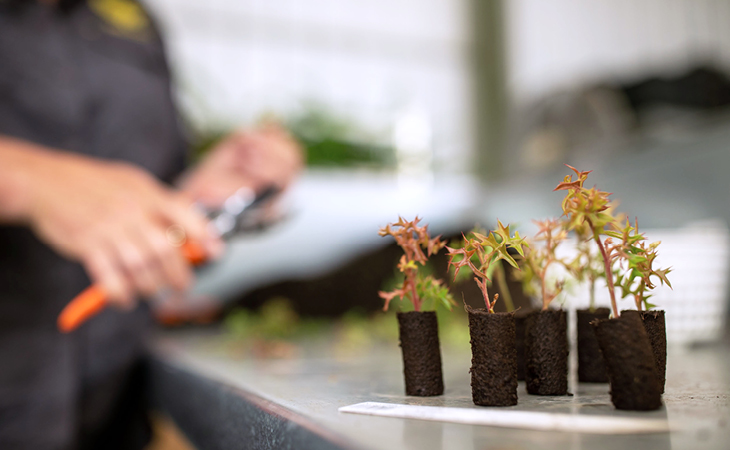 Public engagement
Community education
As a public space, Royal Botanic Gardens Cranbourne are dedicated to community education and engagement. Their 'Cranbourne Friends' community group has more than 600 enthusiastic members who share a love of native plants, and support the Gardens regularly.
Every interaction advances visitors' understanding and appreciation of plants, especially when participating with initiatives like Raising Rarity and Care For The Rare.
"It's about telling the stories behind plants so that people can not only understand, grow and enjoy them, but really be a part of the conservation effort. It's conservation through cultivation, essentially. And they feel like they're doing something to help us. It's not just the Botanic Gardens. It's everyone that comes here that can join in and grow those plants. And the money is going to a good cause."
Plants for home gardeners
The Gardens' 'Growing Friends' group help to propagate a number of Australian native plants throughout the year, many of which are distributed through public plant sales. For details on plant sales in the Royal Botanic Gardens Melbourne, including the upcoming Autumn Plant Sales, visit here.
Tools and equipment
When it comes to the nursery, effective propagation relies on high quality secateurs.
For pruning, the STIHL GTA 26 battery garden pruner with its handy holster is a team favourite, while the SE 133 ME wet and dry vacuum cleaner is great for soil clean-up after potting.
For fertilising, the STIHL SGA 85 battery garden sprayer is comfortable to operate due to the adjustable back and chest straps, and the integrated filter element helps prevent dirt from the tank from getting into the spray lance. "We do a lot of herbicide as well as fertiliser application with the backpack spray… we're really grateful to STIHL for partnering with us and providing those high quality products because we couldn't do it without them.'
To discover more from Charlie Albone's visit to Royal Botanic Gardens Cranbourne, subscribe to the STIHL newsletter here.