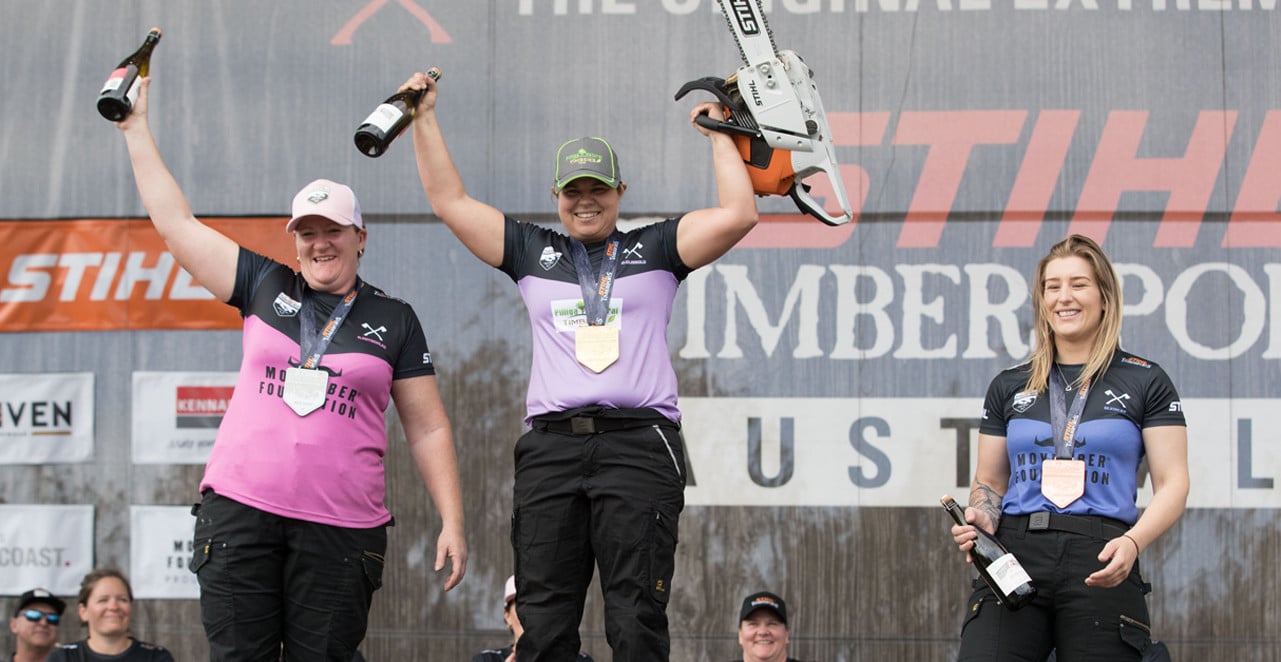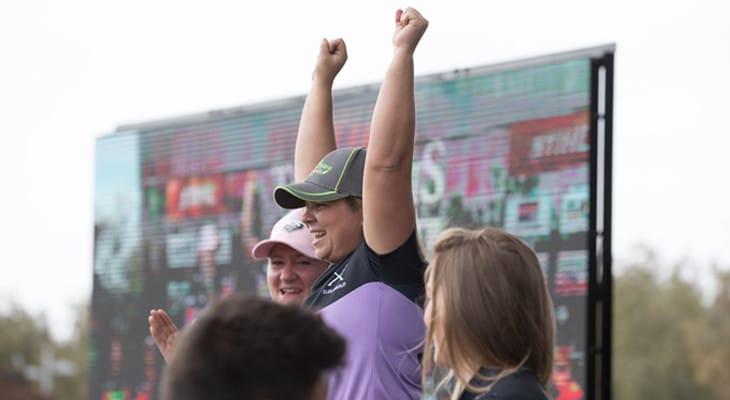 TAMWORTH'S Debbie Clissold has achieved the ultimate redemption after bouncing back from not qualifying for last year's STIHL TIMBERSPORTS® Australian Women's Championships to claim the 2018 title with an impressive performance on the Gold Coast.
The 41-year-old was the most consistent athlete on the day, with a maximum 10 points on offer per discipline for the fastest time, Clissold scored nine points in the stocksaw, eight points in the single buck discipline and six points in the underhand chop to finish on 23 points, just ahead of Queenslander Renee Retschlag (21 points) and six ahead of Maddison Kirley (17 points), who completed the podium.
Clissold said she could not have been happier after a reality check last year forced her to refocus and lift her work ethic.
"It's a really good feeling after all the work I've put in and training I've done to prepare for this. I didn't do the work before last year's event and it showed so I really wanted to prepare as best I could and see what happens," she said.
"I wanted to just be consistent across all three disciplines and I was lucky enough to be able to do that and that allowed me to be in the race and finish on top.
"It was probably after the single buck when I realised I was a real shot and then I was able to grab some handy points by recording a time in the underhand chop when there were a few disqualifications and that ended up being enough."
Clissold said taking the title would motivate her even more to work harder for future events.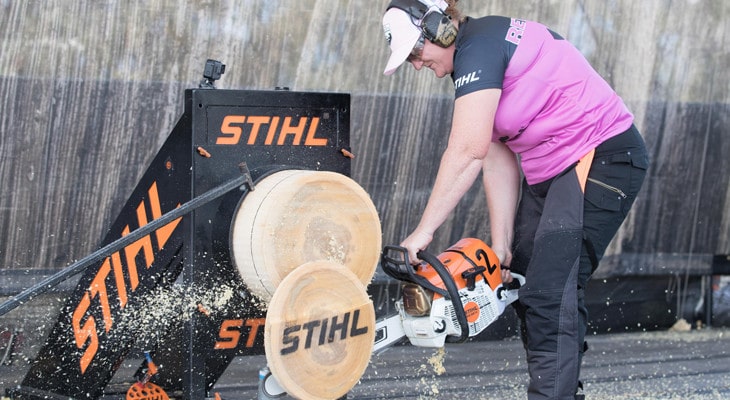 Kilcoy's Renee Retschlag (QLD) won the silver medal for the second consecutive year despite a slow start in the stocksaw event. The 37-year-old recorded just four points in the first discipline but came home with a wet sail in the single buck and underhand chop with 17 points from the two disciplines to take her spot on the podium. She was followed closely by Victoria's Kirley, who recovered from a poor performance on the single buck, to finish on 17 points and claim the bronze medal.
"I'm pretty happy with the performance, it's a lot different when you get out here and compete in front of a big crowd. The wood was a bit different compared to what I train with but overall I was pretty happy," Kirley said.
Defending champion Amanda Beams (TAS) was unable to repeat her performance from last year as she finished in fourth with 16 points, Jillian Stratton (QLD) ended the event in fifth place with 15 points while fellow Queenslanders Katrina Head, who was on debut, and Jodie Beutel came six and seventh with a total of 14 and 13 points respectively. Victorians Kris Brown (12 points), Suzie Coffey and Adele Deverell (eight points) filled the final three places on the Women's Championship ladder.
"The event was a huge success here on the Gold Coast, we had a great atmosphere with great athletes and exceptional competition across the weekend," Gooch said.
"In every competition, including the women's and rookie's championships, we saw some impressive performances which showed the sport is really on the rise.
"We had more than 10,000 spectators across the weekend, and the livestreams reached over 79,000 people online, which is a great result and we couldn't have held it in a better location than here on the Gold Coast."
FINAL WOMEN'S RANKINGS
Debbie Clissold (NSW) – 23 points

Renee Retschlag (QLD) – 21 points

Maddison Kirley (VIC) – 17 points

Amanda Beams (TAS) – 16 points

Jillian Stratton (QLD) – 15 points

Katrina Head (QLD) – 14 points

Jodie Beutel (QLD) – 13 points

Kris Brown (VIC) – 12 points

Suzie Coffey (VIC) – 8 points

Adele Deverell (VIC) – 8 points