I like to do my edges first as the mower will pick up any of the debris left behind and will give you a more professional finish at the end. When tackling edges, my number one tip is to take it slow and don't rush until you are confident to pick up speed – it's easy to slip and scar your lawn and there is nothing worse than waiting for it to grow back in. Below are some more of my lawn edging tips.
Charlie's grass trimming tips
Adjust the grass trimmer to the right height for your body. Make sure you can hold it steady comfortably.
When trimming at the edge of the lawn, hold the grass trimmer at the right height over the ground and make smooth, sweeping motions.
Don't let the mowing head touch the ground, as this will cause it to wear very quickly.
Avoid contact with hard surfaces such as walls and paths to preserve your trimmer line and avoid damage.
If your grass trimmer has a trimmer guard, flick it down to ensure the line doesn't make accidental contact.
If you have a grass trimmer with a STIHL AutoCut mowing head, it's easy to extend the mowing line in an instant.
Just tap the mowing head on the ground to release the line-holding mechanism, and it will rotate to release more mowing line. The length will then readjust automatically.
Keep the family and pets safe; maintain a safety distance of 15m at all times.
Bonus tip: soak your trimmer line in water for a day or more before you start trimming with it. Soaking makes the line flexible and less brittle, so it lasts longer and performs better!
Charlie's top picks for battery grass trimmers
For small gardens and courtyards, the FSA 45 Battery Grass Trimmer can handle up to 250m of lawn edges on a single charge.
If you've got some bigger grass areas that need mowing then go for the FSA 57. On a single charge, it will easily allow you to complete over 600m of edges.
And if you're after real petrol-like performance, then the new FSA 60 R (with huge 350mm cutting diameter) will be sure to impress.
Love gardening? For the latest news, tips and advice, subscribe to the STIHL newsletter here.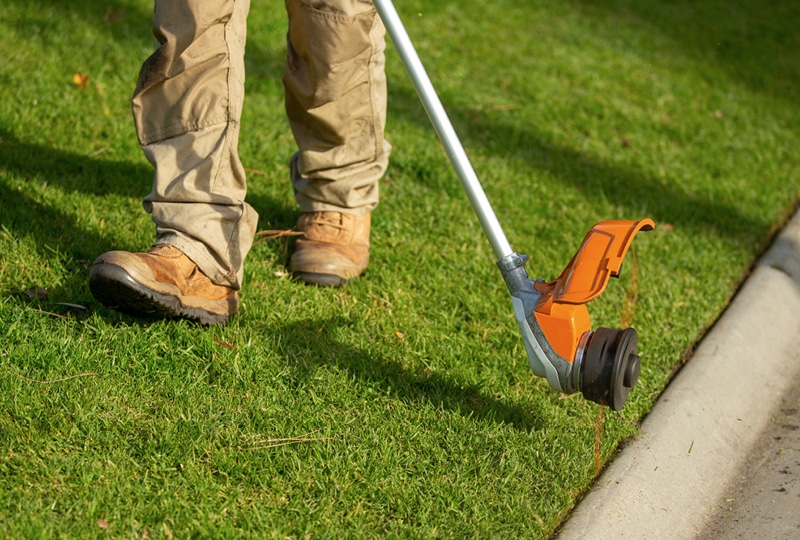 Featured Products