Saw-dust, dirt and and excess bar-lube can quickly limit the effectiveness of your chainsaw. Knowing how to properly clean it is a key component of chainsaw care.
Why do I need to clean my chainsaw?
Every time you use your chainsaw, plant remnants, sap and resin get stuck to the chain, the cutting teeth get slightly blunter and dust accumulates in the individual engine components. Without cleaning, over time these unavoidable impacts will accrue and inhibit the functionality of the chainsaw.
How to clean a chainsaw
Take time to regularly clean your chainsaw, to help ensure that it always delivers perfect performance.
Battery, electric and petrol chainsaws each have specific individual requirements when it comes to cleaning.
Safety first
Ensure that the chainsaw is switched off and cannot start up while you clean it. This means:
If you have an electric chainsaw, unplug it.
For a battery chainsaw, remove the battery and apply the chain brake.
For a petrol chainsaw, switch off the engine, apply the chain brake and allow to cool if still hot.
Wear work gloves made from sturdy material such as STIHL's Function DuroGrip gloves. Please refer to your operating instructions for further information on the appropriate protective clothing and on how to handle a chainsaw safely.
Tools
To clean the cutting attachment, you should have the following materials at hand:
A clean paintbrush
Soft cloth
Filing gauge
Varioclean or Multispray
After each use, wipe the chainsaw housing clean with a damp cloth. For battery models, you should also use the damp cloth to clean the battery and the battery slot. A paintbrush is useful for cleaning electrical contacts.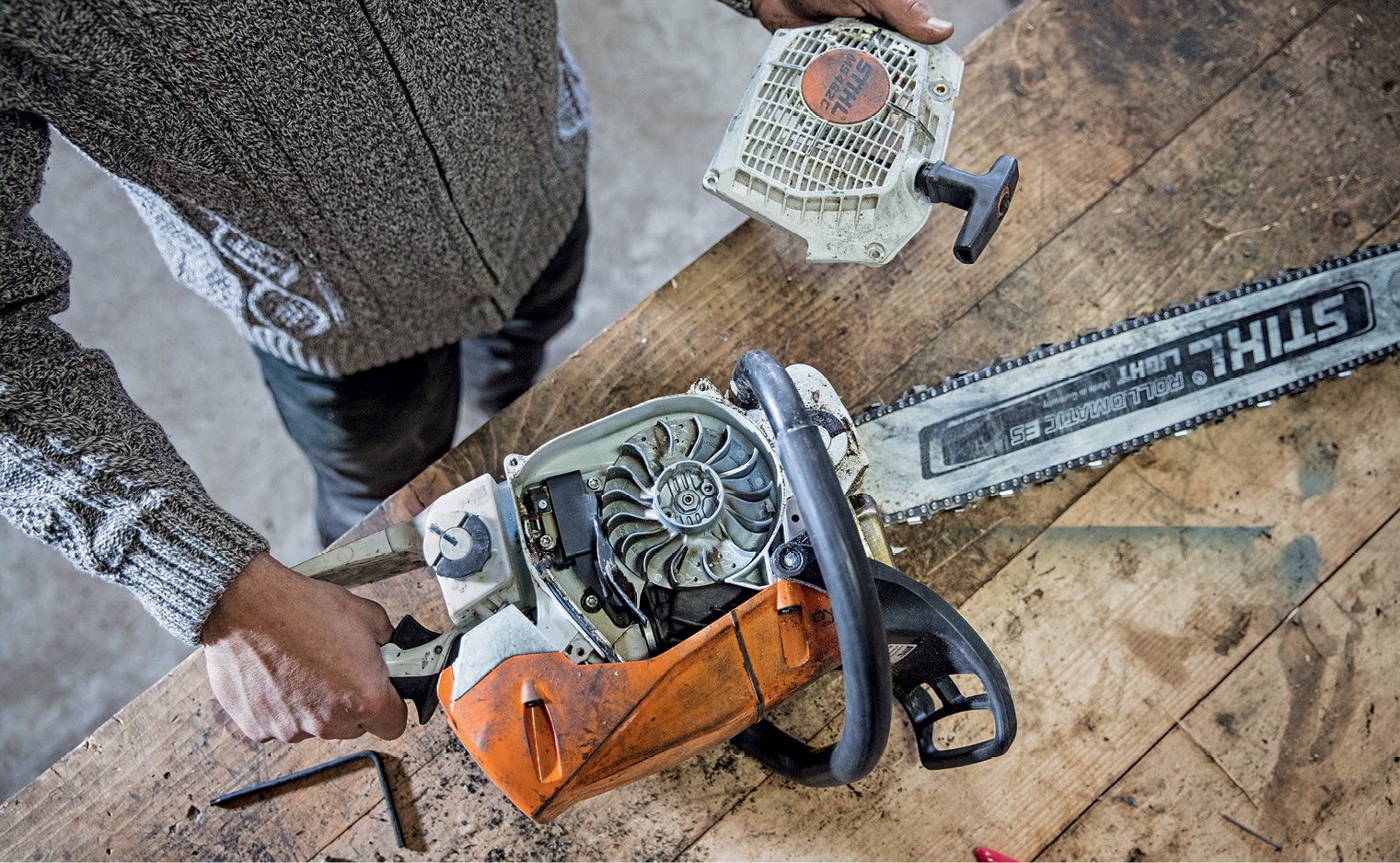 Check the air intake vents and clean them with a paintbrush or compressed air if necessary; it's important to ensure that the air intake vents are working correctly as they help to prevent the engine from overheating. Remove the sprocket cover and clean the area around the sprocket. You can use STIHL SuperClean resin solvent to tackle particularly stubborn dirt.
Regular cleaning helps to combat premature wear to your chainsaw guide bar and saw chain. To clean then properly, first remove the saw chain and the guide bar. Remove oil residue and dirt from the oil outlet port and channel, then clean the oil inlet hole and the bar groove; you can use a filing gauge for this, or STIHL's SuperClean resin solvent is also very effective. Remove any burrs that have developed on the guide bar using a flat file.
For optimal protection of your chainsaw, we recommend using STIHL Varioclean special detergent for long-term care. Spray the cutting attachment with STIHL MultiSpray after cleaning. Reattach the clean, dry cutting attachment to the chainsaw and replace the sprocket cover.
TIP: If you have one, an air compressor gives an even better result, as you can use it to remove even the smallest particles of dirt.  You should always store your chainsaw with its scabbard fitted in a dry place until its next use.
How to clean a chainsaw before extended storage
You will need to give your chainsaw a more thorough clean every so often, and especially before a longer break (three months or more). Much of the process is the same for battery, electric and petrol chainsaws:
Clean the cutting attachment and sharpen it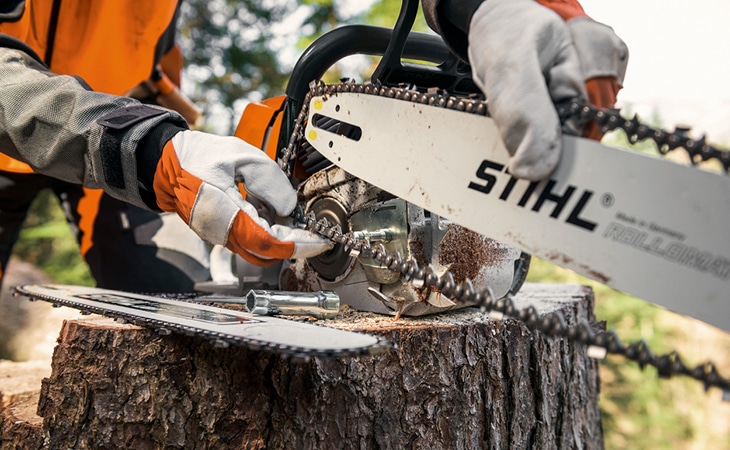 Remove the guide bar and saw chain from the saw. Clean both as described above. Check the condition of both components. Does the chain need sharpening? Have any burrs developed on the guide bar? If so, remove them carefully using a flat file.
You will find further useful tips in our step-by-step instructions for sharpening your chainsaw here, or you can alternatively visit a STIHL dealer to have it professionally sharpened.
When they are clean, spray the guide bar, saw chain with STIHL MultiSpray, and store them separately from the housing.
STIHL resin solvent: 2-in-1 care
STIHL SuperClean deals with stubborn resin deposits and protects effectively against rust.
How to clean the housing
Remove all dirt and sawdust from the chainsaw housing. Clean the area around the sprocket. Check whether the air intake vents are clear and clean them with a paintbrush or compressed air.
Cleaning the oil channel
Check the fill level in the oil tank. The oil level should fall as you use your chainsaw, and if this is not happening, there may be a blockage in the lubrication oil conveyor system. Clean the oil channels and guide bar to fix this, or contact your local STIHL Dealer.
In addition to the steps outlined above, you should also perform the following cleaning measures depending on whether you have a battery or petrol chainsaw:
Battery chainsaws
For cordless chainsaws, it is important to ensure that the battery is stored correctly.
Clean the battery with a damp cloth and inspect the battery housing for external damage.
You should ensure that the battery charge level is at two illuminated LEDs for storage. This will help you avoid deep discharge, which damages the functionality and service life of the battery.
You should store the battery separately from the chainsaw and the charger.
Wipe the charger with a damp cloth as well. If necessary, clean the electric contacts with a paintbrush.
Petrol chainsaws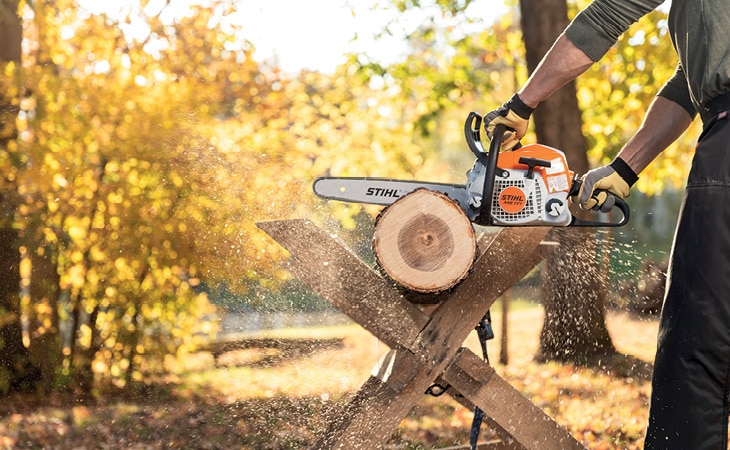 It takes a little more effort to completely clean a petrol chainsaw.
Empty the fuel tank of your chainsaw in a well-ventilated place. Any remaining fuel should be disposed of in an environmentally safe manner via specialised waste disposal facilities, unless you are using STIHL MotoMix® which contains no ethanol and has a storage life of up to two years. STIHL MotoMix® can be left in the machine during seasonal storage.
Once you have emptied the fuel tank, start up the chainsaw and allow it to run idle for a short time until there is no more petrol in the fuel system and the chainsaw switches off. This will prevent the diaphragms in the carburetor from sticking together. For a deeper clean, we recommend contacting a STIHL dealer.
Check the spark plug and cool air intake opening and clean if necessary.
Clean the air filter.
To ensure that the performance of your chainsaw does not diminish over time, you should clean the air filter regularly. Remove it from the housing first and then tap it to get any dirt out. Learn how to do this yourself with our step-by-step guide.
STIHL tools are built to last, so provided they are cared for correctly by you, and serviced regularly by your local STIHL Dealer, they will be with you for many years to come.