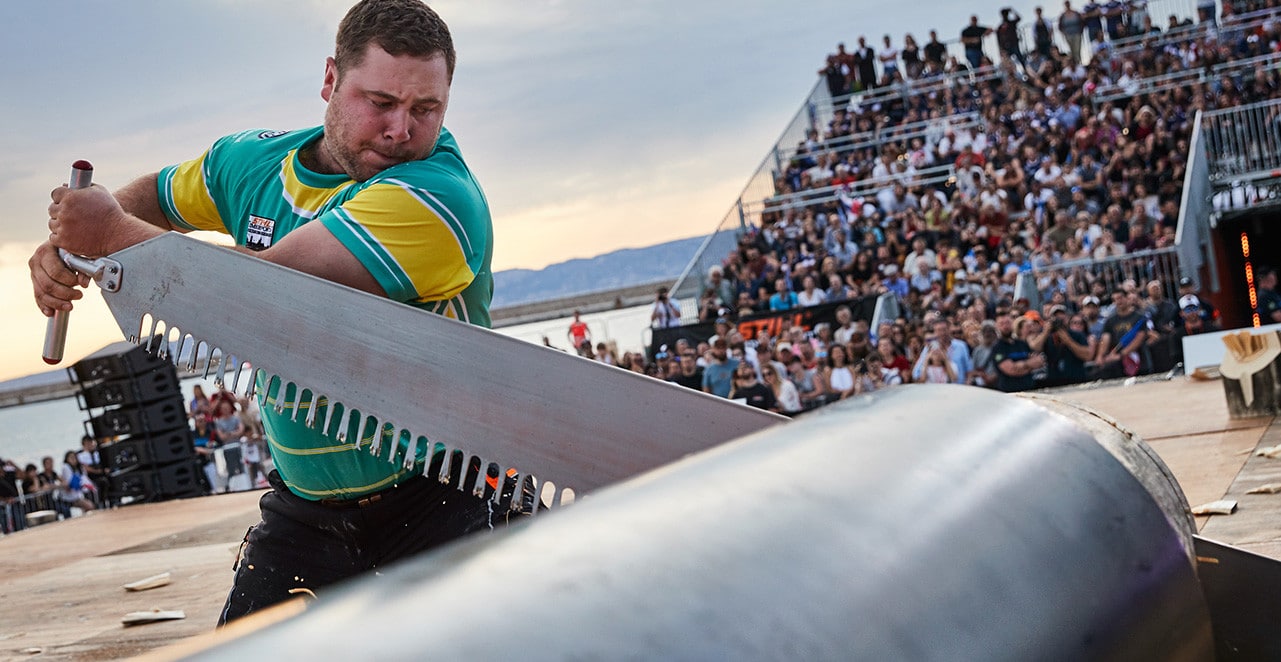 For the second year in a row, Mitch Argent from Blackbutt, Queensland was crowned Australian champion at the STIHL TIMBERSPORTS® Australian Champions Trophy on Friday 20 April. Mitch battled it out against Australia's most successful STIHL TIMBERSPORTS® athlete Brad De Losa in The Original Extreme Sport in a thrilling final round of the knockout competition.
Mitch is now set to take on the best in the world, and will head to Europe to compete for the STIHL TIMBERSPORTS® World Champions Trophy Title on 26 May in Marseille, France. Mitch from Blackbutt, Queensland has been competing in STIHL TIMBERSPORTS® since 2015. He began his career as a 12 year old in the 'boys chop' at the Royal Shows and Country Fairs around Queensland.
Hundreds of sports fans and Sydneysiders packed out Sydney's Entertainment Quarter to catch all of the chopping action on Friday evening. 13 of Australia's best STIHL TIMBERSPORTS® athletes battled it out in front of a packed crowd, coming down to arguably two of the best athletes in the world. Victorian Laurence O'Toole broke the Australian record in the qualifying time trials, breaking through four chunks of wood in just 1 minute and 9 seconds, and finished as the second runner up for the competition. But it was Mitch that took the top spot with his Grand Final performance.
Check out the sizzle reel here
Mitch was pumped with the result. "I'm stoked with the results from today. Being awarded the Australian Champions Trophy makes the tough, gruelling training all worthwhile. I'm pumped to have the opportunity to go to France in May and compete for Australia against the best in the world," he said.
"This year's Australian Champions Trophy had such tough competition. Everyone brought their A game. But I put my all in and I'm so chuffed to make it through to the STIHL TIMBERSPORTS® Champions Trophy," Australian Champions Trophy winner Mitch said.
The STIHL TIMBERSPORTS® Champions Trophy will see the world's best athletes compete against one another in Marseille on 26 May to claim the prestigious top spot as the World Champion. The Rookie World Champion will also be crowned at the event, as the world's best up-and- coming athletes battle it out to claim the honours; Daniel Gurr (21) from Deloraine, Tasmania will represent Australia in this year's Rookie World Championship.
Timbersports is coming to the Gold Coast this September! Find out more here.