As we head into Spring, the temperatures and hours of daylight will increase, along with the demands of your garden. Wearing the correct personal protective gear is important year round, but even more so at this time of year when you are most active in your garden and using your tools more frequently.
Injuries in the garden or on the job can be painful and expensive, and can catch even the most serious gardener or experienced professional. The term 'better safe than sorry' is most appropriate when working with high powered garden power tools.
Here we run through the top areas to focus on when working in the garden during Spring.
EYE PROTECTION
At STIHL, we recommend that all users wear eye protection when using tools to protect them from flying objects and small particles. Protective eyewear should be carefully selected, fitted correctly and comfortably, and must not interfere with your natural eye movement, especially when blinking.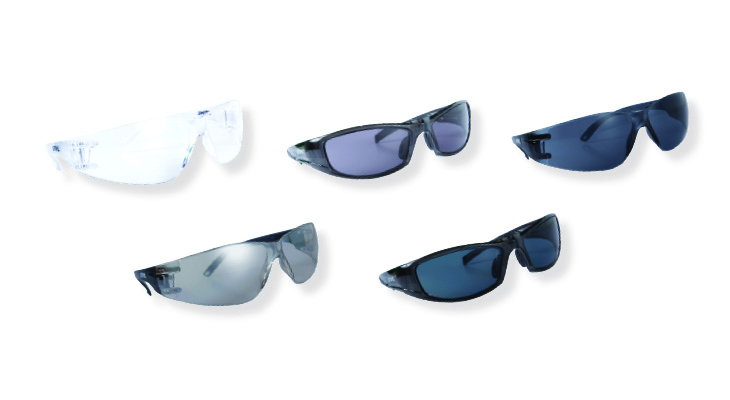 Make sure your choice of eyewear offers 100% UV protection to shelter your eyes from sun damage. This is even more important during Spring and Summer when UV levels are high, even on cloudy days. Note, it's unlikely that your designer sunglasses are classed as suitable eye protection when working in the garden. Make sure your protection meets Australian standards.
STIHL have a number of different option for eye protection, view the range here. 
Ear Protection
Earmuffs are recommended for all users when operating petrol tools, as they reduce the decibel exposures and provide protection against hearing loss. No matter how long or often you plan to be working outdoors, you can never be too careful when it comes to protecting your ears. There are different options available to suit all users, from the occasional weekend gardeners, right through to the eight hour a day professional.
Professional grade earmuffs protect users in high noise situations, and are strongly recommended when using machines on larger properties or for longer periods in commercial applications. The occasional gardener can opt of homeowner earmuffs, which are fine for occasional use and will protect against medium noise levels.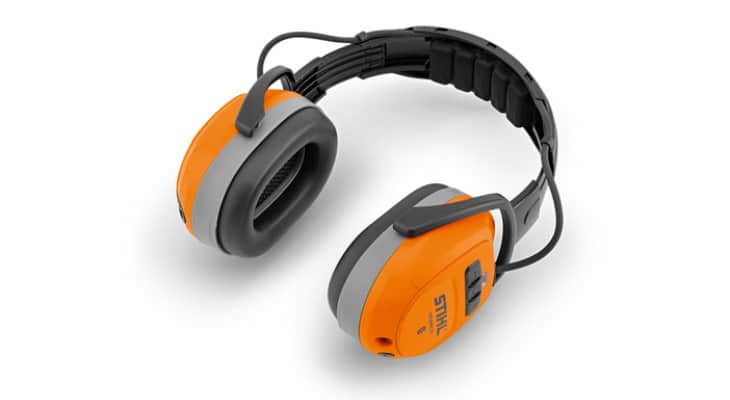 STIHL added Bluetooth Earmuffs to their extensive range of personal protective equipment in 2018, which allows operators to safely use a smartphone and listen to music whilst operating power tools. They offer a battery run time of up to 38 hours, and a separate AUX input for users when working out of range.
View STIHL's full range of ear protection here.
Face & Ear PROTECTION Systems
Face protection is crucial when operating garden power tools, particularly when cutting through dense vegetation, or if there is the risk of solid debris or rocks being thrown around. For users that are after face and ear protection, STIHL offer a number of systems that can do both.
It is important to look for a shield that is suited to the work that you are doing. Our nylon mesh visor (LINK) combined with earmuffs makes a good choice for users cross cutting timber on a sawhorse or for trimming hedges. A mesh visor also allows air to move freely around the face, which is great for users working in warmer climates. It is smart to also wear eye protection under a mesh visor to protect eyes from small particles or in the event that a large impact bends the mesh.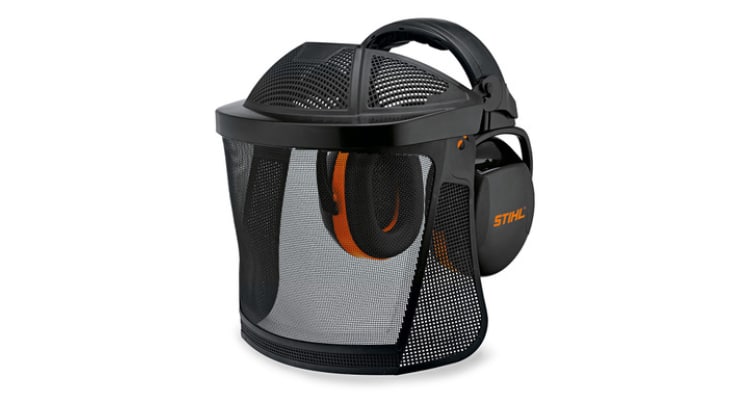 Our polycarbonate visor will provide the ultimate protection from debris of all shapes and sizes, and is the recommended option when using a brushcutter. Anti-fog coating is a great feature on our XXX (LINK) which ensure full visibility when working outdoors.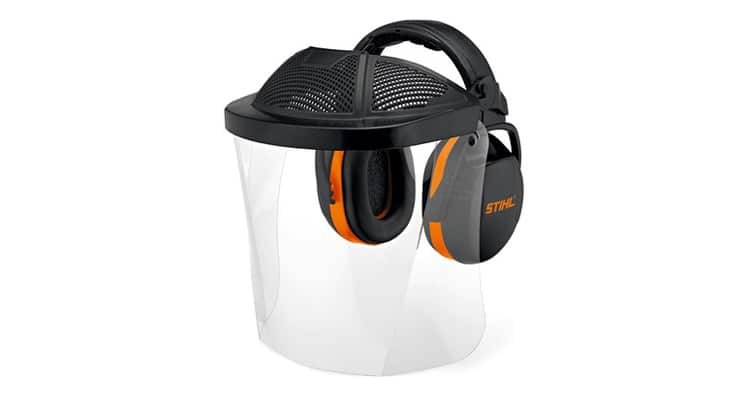 It is also important to note that users should keep a distance of at least 15m from other users or passersby when using a grass trimmer or brushcutter.
View STIHL's range of protective systems here.
HEAD PROTECTION
For overhead tasks such as pruning, head protection is a no-brainer. There are a number of factors to consider when choosing appropriate head protection, with the most important being that it should meet the current Australian standards which all of STIHL's helmets do.
Head protection is good especially in spring, in place of hats. It gets a bit tricky to wear a hat, earmuffs and glasses, so find a helmet that can do the job of multiple accessories.
It is good to note that a three year replacement date has been adopted as an Australian standard, so all safety helmets have a 'use by date' or a 'working life'. Each helmet, when manufactured, has a year and month of manufacture stamped onto the inside of the shell near the peak for easy reading. Be sure to familiarise yourself with this date so it doesn't sneak up on you.
View STIHL's range of head protection here.
HAND PROTECTION
Not only do they keep your hands nice and clean, wearing gloves while operating power tools provides a layer of absorptive anti-vibration between the user and the machine. This becomes increasingly important during the warmer months as tools are used more frequently.
View STIHL's range of hand protection here.
There are many misconceptions around the correct PPE to wear when operating the various different tools in your collection, so if you are ever in doubt, your owner's manual is your source of truth.
Visit your local STIHL Dealer to checkout STIHL's full range of personal protective gear.