As we head into Spring, the temperatures and hours of daylight will increase, along with the demands of your garden. Safe and correct operation of garden power tools is important year round, but even more so at this time of year when you are most active in your garden and using your tools more frequently.
Here we run through the top areas to focus on when using grass trimmers and brushcutters in the garden.
Safety first!
Power tools such as grass trimmers and brushcutters enable you to work more easily and more efficiently – but it is essential that you have the right safety equipment and follow the appropriate procedures when using them.
You should always wear personal protective equipment when using your grass trimmer or brushcutter, including safety glasses, face protection and safety boots – your grass trimmer user manual will include full details.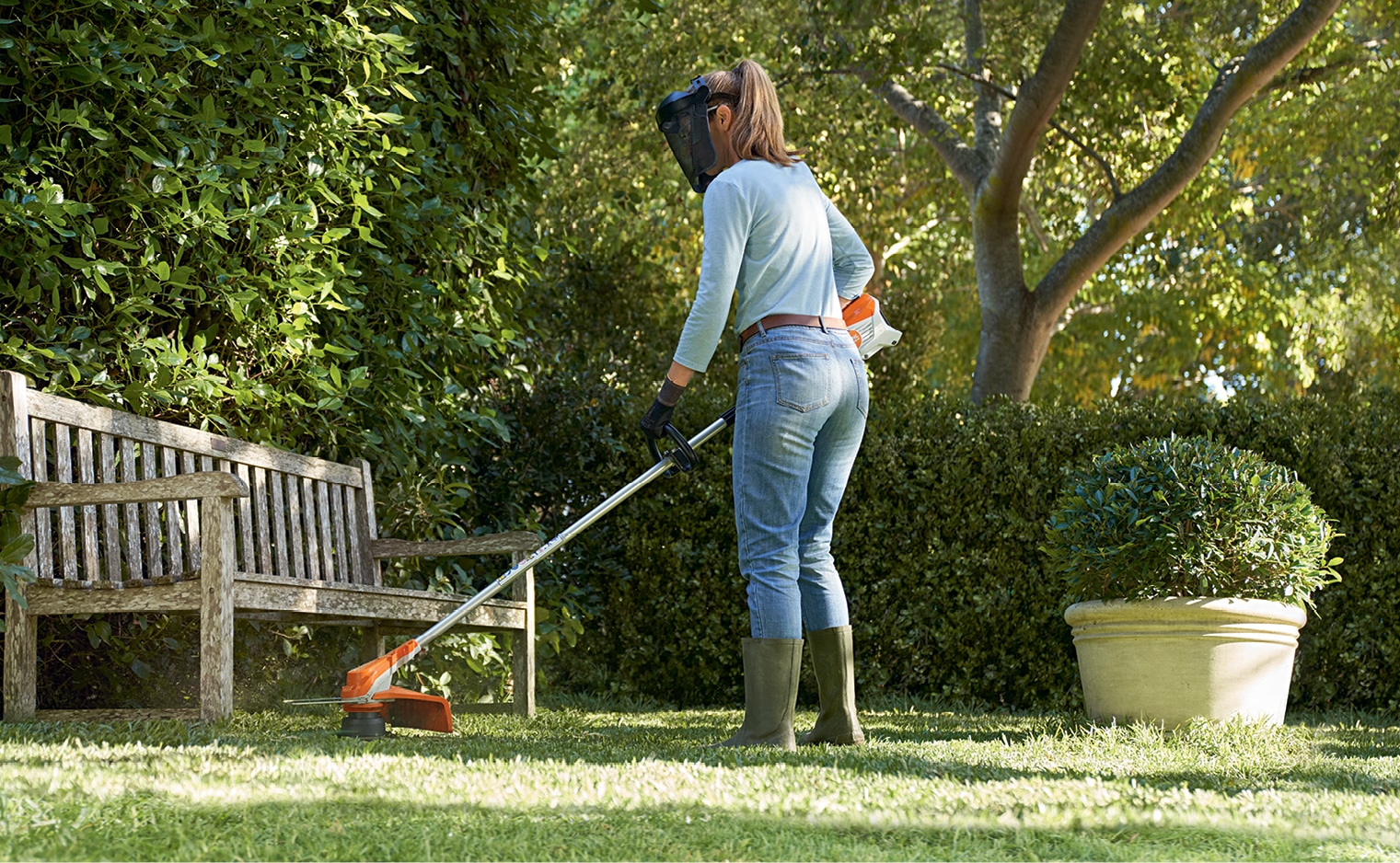 Familiarise yourself with your grass trimmer before you use it for the first time, and make sure it is in perfect condition before each use so that you can work safely. You can ask your STIHL dealer to help prepare your grass trimmer for first use, as well as to advise you on appropriate safety equipment. However, please remember that personal protective equipment is not a replacement for safe working methods.
Prepare your trimmer
As with all power tools, preparation is key when using a grass trimmer. First read carefully through the operating instructions for your grass trimmer. Then ensure your working area is safe, observing all safety procedures necessary to prevent damage or injury.
Petrol models
Grass trimmers begin generating emissions from the moment the engine starts. These gases may be odourless and invisible, so it's important to only use your grass trimmer outdoors or in well-ventilated indoor spaces. For your safety, you should never run your grass trimmer or brushcutter in an enclosed space. Check your working area, including under foot, as uneven ground and plants can be stumbling hazards. While using your grass trimmer, be aware of any potential trip hazards in the grass, such as tree stumps and roots.
Keep your distance
When using the grass trimmer, make sure that there are no animals or other people, particularly children, within a 15-metre radius, as there is a risk of serious injury from flying stones and other small objects. If there are objects to avoid, try placing sticks where they are so you can easily identify them whilst working. You must also maintain the same safety distance from objects such as vehicles and windows while using your grass trimmer, to protect them from damage.
BEFORE YOU START: PETROL MODELS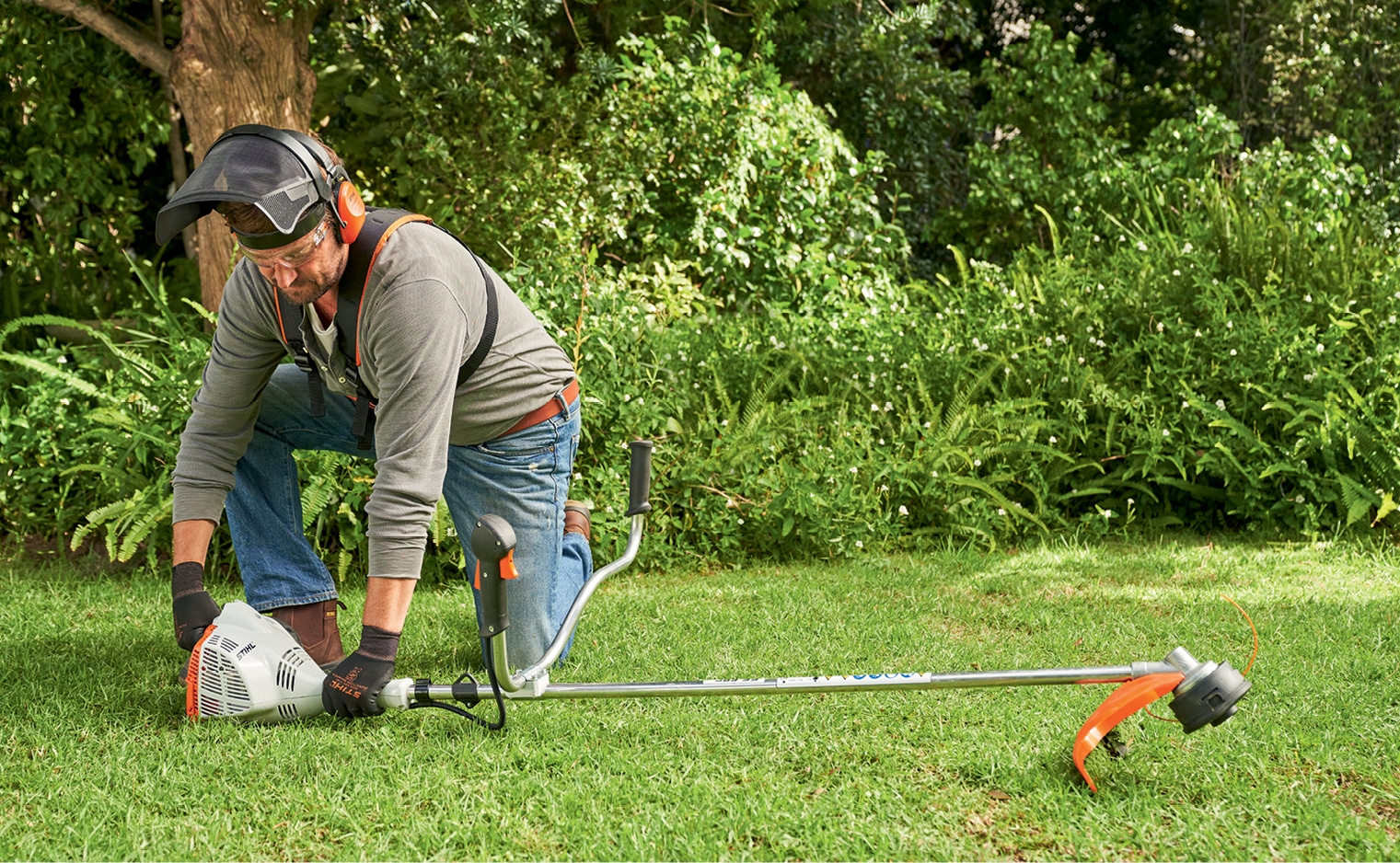 For petrol models, check the fuel system of your grass trimmer or brush cutter for leaks before you start work, particularly the visible parts: fuel cap, hose connections and manual fuel pump if you have one. Do not start the engine if you find any leaks or damage, as there is a risk of fire which could endanger your safety and that of others.
You must be able to easily move the slide control or stop switch on your grass trimmer to STOP or 0.
You should also check that the throttle lever lock and throttle trigger move smoothly. The throttle trigger should automatically spring back into the idle position.
The spark plug boot must be secure to avoid any risk of fire.
BEFORE YOU START: ALL MODELS
The cutting tool or attachment of your grass trimmer must be installed correctly and in perfect condition.
Check for damage and wear to safety features such as the guard for the cutting tool and the rider plate.
If the guard is damaged or the rider plate is worn you must replace them, as your grass trimmer is no longer safe to use.
Do not modify your grass trimmer's operating or safety equipment in any way.
The handles must be dry and free from oil and dirt.
If your model includes one, adjust the harness and handle(s) to your size so that you can work safely with your grass trimmer.
In the event of damage or leaks, contact a STIHL dealer and have your grass trimmer repaired.
Tips for safe working
For safety, ensure you refuel your grass trimmer in a spot at least 3 metres away from your working area.
Check the condition of your working area and look out for potential obstacles such as branches and roots. For your safety and protection, you need to work on a level, solid surface to ensure you do not slip or fall.
Always keep an escape route clear for emergencies while using a grass trimmer or brush cutter. Slippery, uneven or icy surfaces are dangerous, so try to avoid these if possible.
For the safety of others, ensure that there is no one within a 15-metre radius while you are using your grass trimmer.
That being said, you should never work with a grass trimmer or brush cutter on your own, and must make sure you can be heard if you need to call for help.
As always, it's also important make sure you are familiar with your tool before you use it. If ever in doubt, your local STIHL Dealer will be able to show to safe and correct operation, and be able to ask any questions you may have.