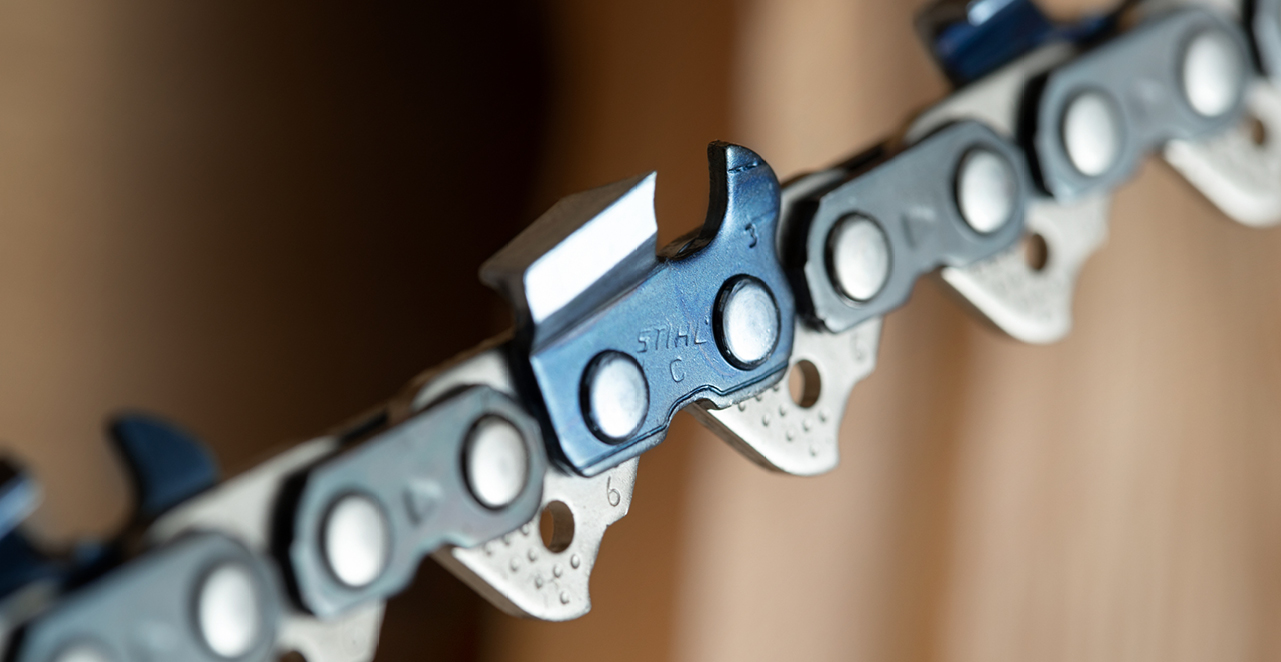 STIHL chainsaw chains embody pure Swiss precision. For decades, they have been produced at our factory in the Swiss town of Wil on specialised machines that were themselves developed and produced in-house. This level of focus on the product makes all the difference, and today STIHL offers saw chains in every performance class and for every brand of chainsaw. You can be assured that STIHL saw chains deliver outstanding cutting performance and a long service life, and are extremely quiet in operation – even when used on chainsaws from other manufacturers.
Exceptional saw chain features
STIHL chainsaw chains are so effective because we are constantly innovating, and continually refining the many quality features that go into the products and production process. Specific benefits that we have honed over the years include:
The Oilomatic lubrication system
This lubrication system ensures less friction and wear on your STIHL saw chain and a longer life for the cutting attachment. Each chain drive link is engineered with a reservoir that picks up chain oil from the guide bar; this oil is then fed to fine channels in the links to lubricate the chain joints and the running surfaces of the chain links, thereby ensuring a consistent lubricating film between the drive links and the gliding surfaces of the guide bar.
Hard chrome coating
Every cutting tooth is carefully produced using special steel, and goes through multiple production cycles. In order to increase the wear resistance of the teeth on your chain, the cutter top plate is also galvanised.
Pre-stretching
The final production step for every STIHL saw chain involves exposure to a high and constant tensile load in order to pre-stretch the chain, which increases durability, reduces wear and minimises the initial stretching that can be expected of a new chain. This in turn considerably reduces the maintenance effort required. 
Increased comfort
Virtually all STIHL chainsaw chains are comfort saw chains, which can be identified by the letter "C" engraved on the cutting tooth. Saw chains with this marking have a specially shaped chain sprocket that reduces vibrations during sawing by up to 70%.
Wear markings
STIHL saw chains have engraved markings on the cutting teeth to help you gauge wear and also serve as an aid during sharpening, as they indicate how far it is possible to file the tooth down to when sharpening.
Hardened rivets
Every rivet is induction-hardened in a strong high-frequency magnetic field. This ensures a particularly robust chain.
Smooth joint borings
A special stamping technique is used to provide the joint borings in STIHL saw chains with a mirror-smooth finish. This improves the running properties of the chain and increases its service life.
All of these features ensure that STIHL saw chains, in combination with guide bars developed by STIHL and a STIHL powerhead, offer optimal cutting characteristics. However, the high quality of STIHL saw chains and the modularity that has been considered in their design from the very outset mean you can also upgrade chainsaws from other manufacturers by adding a STIHL chain.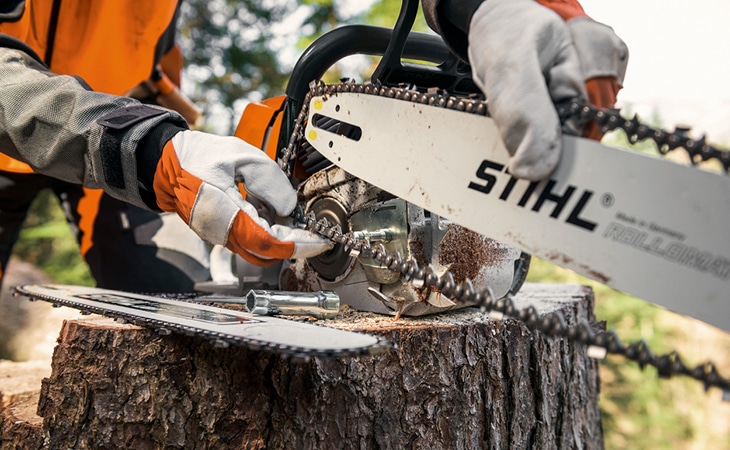 All STIHL chainsaw chains and guide bars are developed in-house. This means we can guarantee that the cutting attachment and powerhead are always perfectly tuned to each other – which is what ensures the best possible performance when you work.
For the best chainsaw performance, use STIHL guide bars and saw chains together. When you're working in the great outdoors, you need equipment that can handle the toughest challenge. That is why we have developed a whole range of chainsaw chains and guide bars to respond to all kinds of requirements. All of our products showcase outstanding technical innovation and high production quality, and when you pair a STIHL guide bar with a STIHL saw chain, you will fully benefit from the specialist expertise that goes into what we do.
Click here to view our post on STIHL guide bars.