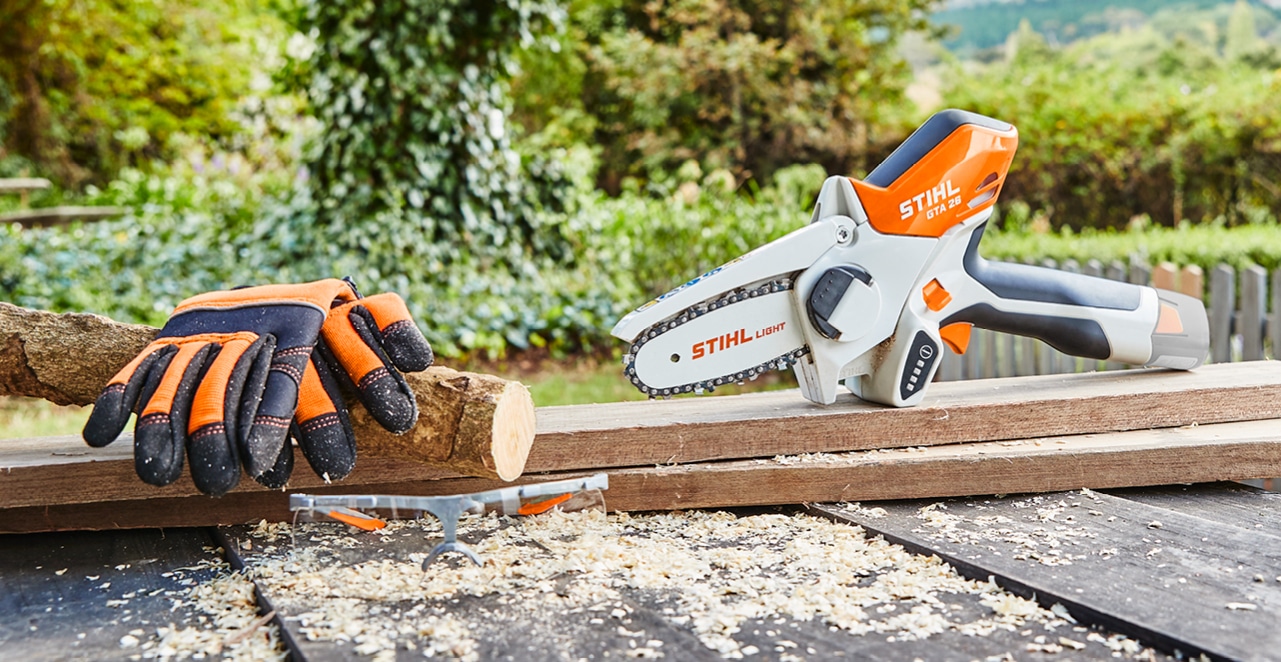 STIHL are at the forefront when it comes to battery technology and innovation, and the latest addition to the STIHL battery range is the perfect blend of both. Meet the GTA 26, a battery-powered garden pruner – which is actually so much more than just a pruner. Not only is this neat handheld tool perfect for pruning and cutting back overgrown trees and plants around the garden, it also doubles as a DIYer's best friend as it can cut timber and planks up to 8cm in diameter, making it great for just about any long weekend craft project.
The GTA 26 is incredibly light at just 1.4kg including the 10.8 volt battery making it super comfortable to use and manoeuvre. And, like all STIHL tools, it's been designed with ergonomics in mind. Thanks to the balanced centre of gravity, ergonomic shape, and low vibration, it's incredibly comfortable for the user to carry out their work with.
The GTA 26 is a versatile cutting tool which, in combination with the STIHL ¼" Picco Micro 3 saw chain, is ideally suited for the precise and powerful pruning of trees and shrubs.  If you are wondering about battery life, the GTA 26 pruner really goes the distance. On a single charge you can make up to 80 cuts of timber that's 4cm in diameter, and if you do run out of battery, you can charge back up to full capacity in as little as 70 minutes. (Battery life is an estimate and varies based on a number of different variables including the type of wood being cut, chain tension, chain condition & force being applied by the user)
When it comes to safety, you know you can rely on STIHL and over 90 years of German engineering excellence to think of everything. The retractable hood which covers the guide bar swivels up to 90 degrees to ensure you only ever cut in the safest manner and the risk of injury is minimal. Like all tools in the STIHL battery range, it's impressively quiet with a sound pressure level of less than 85 dB/A.
Other great features include LED lights to check the battery level, high quality STIHL saw chain which is the same chain used on a number of their chainsaws, and the easy to use tool-free chain adjuster for when you need to replace the chain. And, thanks to the asymmetrical design of the tool, the user will always have a direct view of the guide bar. The GTA 26 is part of STIHL's new and growing AS system which is powered by the AS 2 battery which has an energy content of 28 Wh.
The possibilities really are endless with this tool as there are just so many different projects it can be used for. To secure yours, visit your local STIHL Dealer.