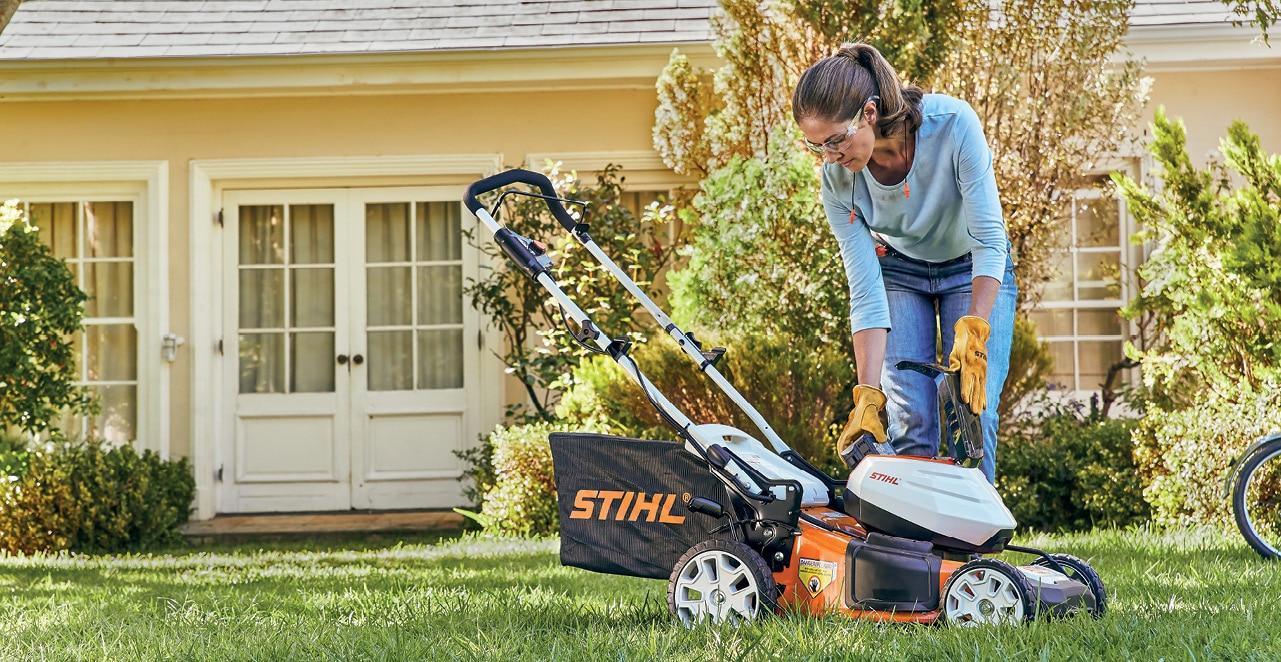 Whether you use a lawn mower every day at work, or over the weekend to keep your lawn looking lush, there's a STIHL Battery Mower model to suit. From self-propelled options through to automated mowing solutions, our diverse range of battery mowers allow users to accomplish more using a single rechargeable battery.
But why choose a battery mower, over a petrol alternative? Read on to find out.
1. They're impressively quiet.
The low noise generated by a battery mower not only makes for a more relaxing and enjoyable mowing experience, but it also means that you can mow at any time of the day without bothering your neighbours, waking the baby or, if you're a commercial user, disturbing those around you in public areas. There's also no need to wear earmuffs when operating any of STIHL's battery mowers – they're that quiet.
2. They're better for the environment.
Generating nearly zero emissions, battery powered tools don't omit the problematic fumes and emissions associated with petrol mowers, making them an environmentally responsible choice. And, like all tools in the range, STIHL battery mowers are German engineered, which means they're designed and built to last for years to come so you're not having to replace them every few years.
3. They're FUSS FREE.
Unlike petrol mowers, mixing fuel and making a mess is a thing of the past with battery mowers. Just pop your battery in the slot, push the button, and away you go – no more frustrating time spent pulling the cord, adjusting the choke and trying to get your mower started!
4. THEY MOW ON. AND ON. AND ON.
For more mowing and less stopping, some models in the range offer two battery slots. So, if you're on a larger block, or a professional with numerous jobs to tick off throughout the day, there's no need to fret. Simply switch the batteries over once the first is depleted and keep on mowing. It's that easy.
5. THEY'RE PACKED WITH HELPFUL FEATURES.
STIHL battery mowers boast the advanced features that users have come to expect from Australia's most trusted brand of garden power tools. For example, under the cover you'll see a safety key, a great safety feature if you're worried the kids might try and take the mower for a spin. And, the ECO-mode option, which optimises cutting performance to conserve battery life. When the blade senses less resistance on shorter or less dense grass, it drops the blade speed to reduce battery consumption and maximise the area you can cover.
And the benefits don't stop there.
ONE BATTERY, MULTIPLE TOOLS.
It might surprise you to learn that the same battery that powers your lawn mower, will power several other tools in the range, from grass trimmers, hedge trimmers, blowers; even chainsaws!
'Highly Commended' in the 'Lawn Mowers' category at the 'Trusted Brands' Australia 2022 Awards, high-quality, high-performance STIHL battery lawn mowers are available across two ingenious battery systems.
AK BATTERY MOWERS
Our AK battery system is incredibly popular among home users, and is designed for small, medium and larger sized gardens. There are now 11 tools in the range, including four mowers and three different battery options, giving users plenty of choice depending on their requirements.
RMA 235
One of the latest additions to the range is the RMA 235, a compact powerhouse capable of covering up to 300m2 on a single charge with the AK 30 battery, making it perfect for small to medium sized suburban blocks. It's incredibly lightweight and has a durable polymer deck with a 33cm/13" cutting width and a 30L rear opening catcher. It also has five height settings ranging from 25-60mm which are easily adjusted with a lever.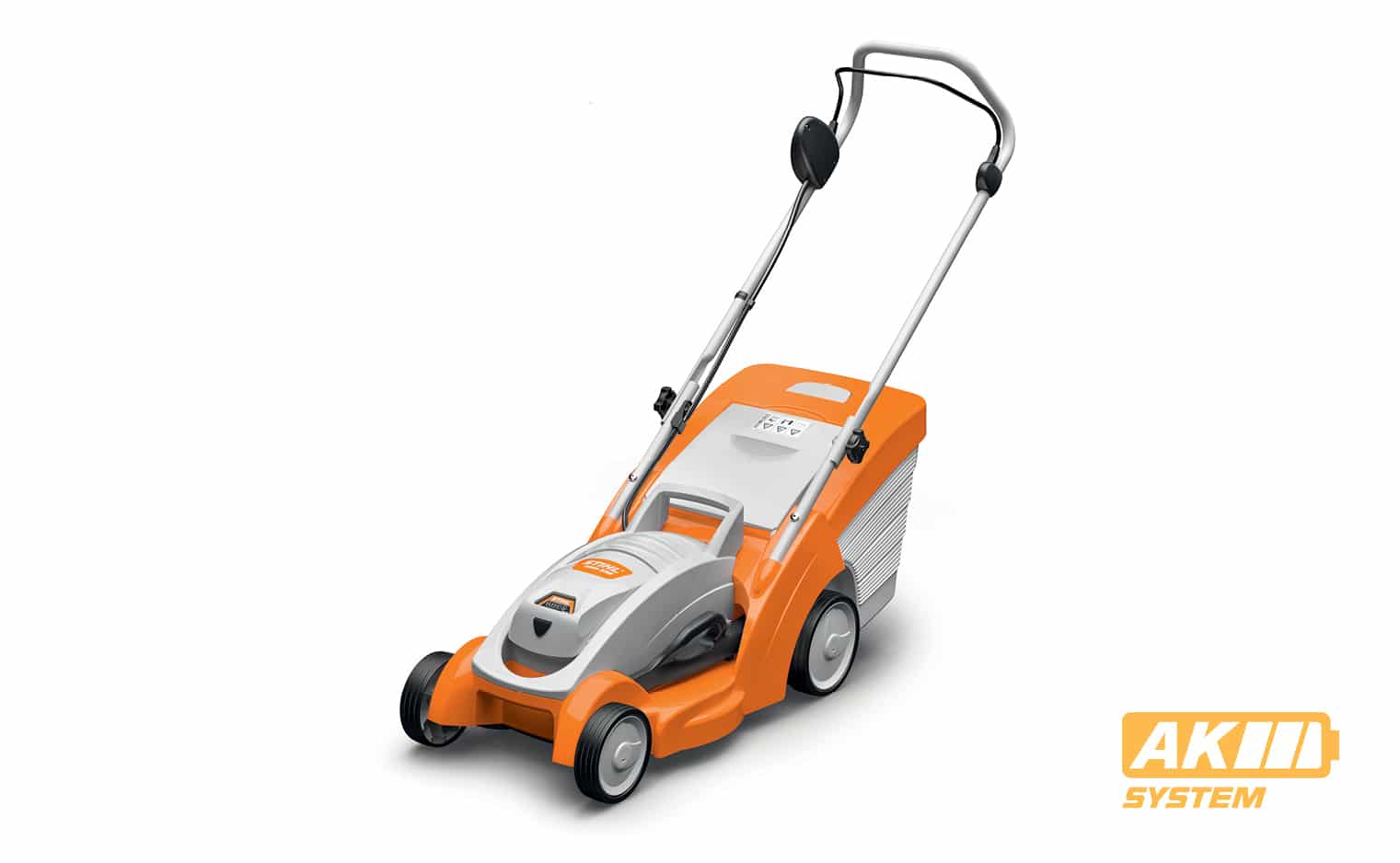 RMA 339
The next step up in the AK battery system is the RMA 339. This model has a slightly larger cutting width of 37cm/14", and a larger catcher which will hold up to 40L of grass clippings. This trusty mower will cover up to 330m2 on a single charge using the AK 30 battery, and also has the option accessory of the mulching function so you can cut and mulch as you go.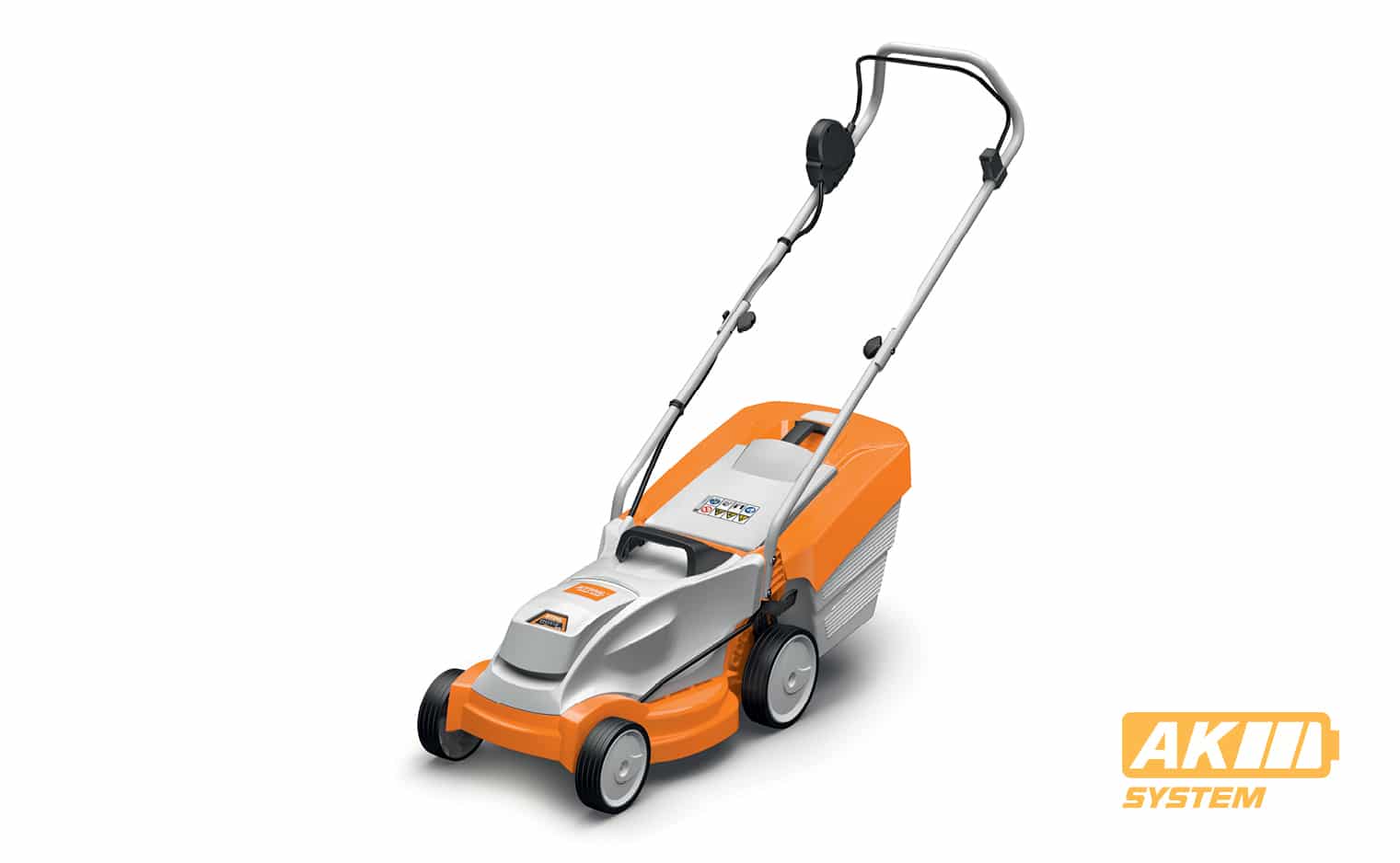 RMA 460 & RMA 460 V
The RMA 460 is the hero of the AK battery system. Boasting a 46cm/18" cutting width and a 60L catcher, this model is perfectly suited to those with medium to larger sized blocks. Offering seven different cutting heights from 35mm right up to 90mm, it can mow up to 265m2 on a single charge with the AK 30 battery. It also features a dual battery slot allowing you cover twice as much ground in one outing.
Also available in the range is the RMA 460 V, which is the self-propelled version of the impressive RMA 460 which makes mowing easier as you don't have to physically push it along. Walking speed can be adjusted to suit your stride, ranging from a relaxing stroll to a brisk walk.
AK batteries can power a selection of other garden power tools in the AK battery system, including a hedge trimmer, a long-reach hedge trimmer, a grass trimmer, a blower, and two chainsaws. View the full range here.
AP BATTERY MOWERS
The AP range of battery mowers is also four models strong, and caters to those with larger properties, right through to professionals.
RMA 443 C
The RMA 443 C features a durable polymer deck and a cutting wdith of 41cm/16". For comfortable handling, the RMA 443 C is equipped with a mono-comfort handlebar as well as a foldable grass catcher box, something that is unique to this model within the AP range, which makes disposing of grass clippings incredibly easy.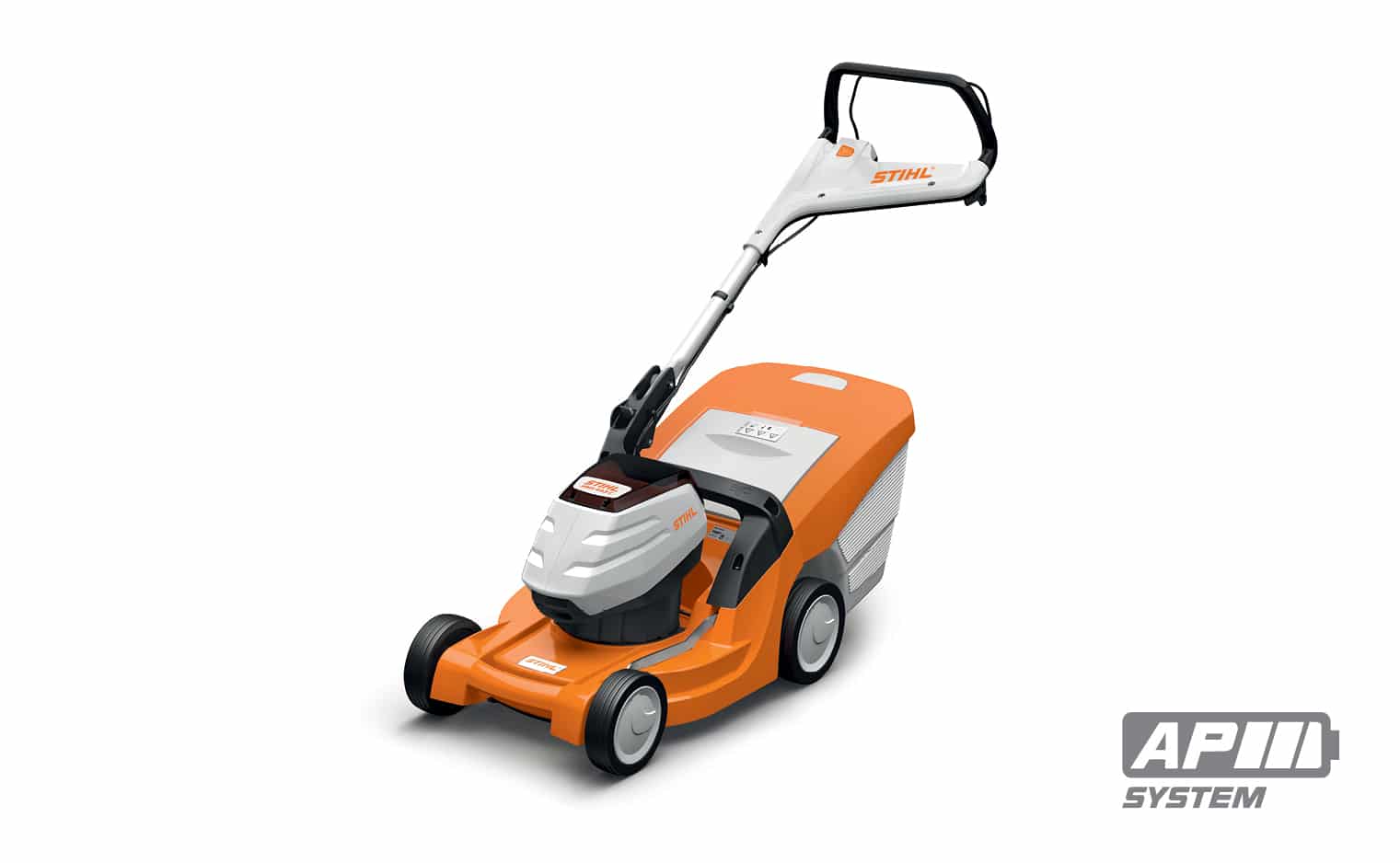 RMA 510 & RMA 510 V
Our RMA 510 needs little introduction. Our most popular mower in the AP battery range boasts a whopping 51cm/21" cutting width, a dual battery slot, large rear wheels and a huge 60L grass catcher, making the RMA 510 more than capable of tackling the toughest of lawns.
Awarded 'Best Battery Mower Recommended by CHOICE 2021', our RMA 510 V is the self-propelled alternative and is perfect for professionals tackling larger areas or working over longer periods of time.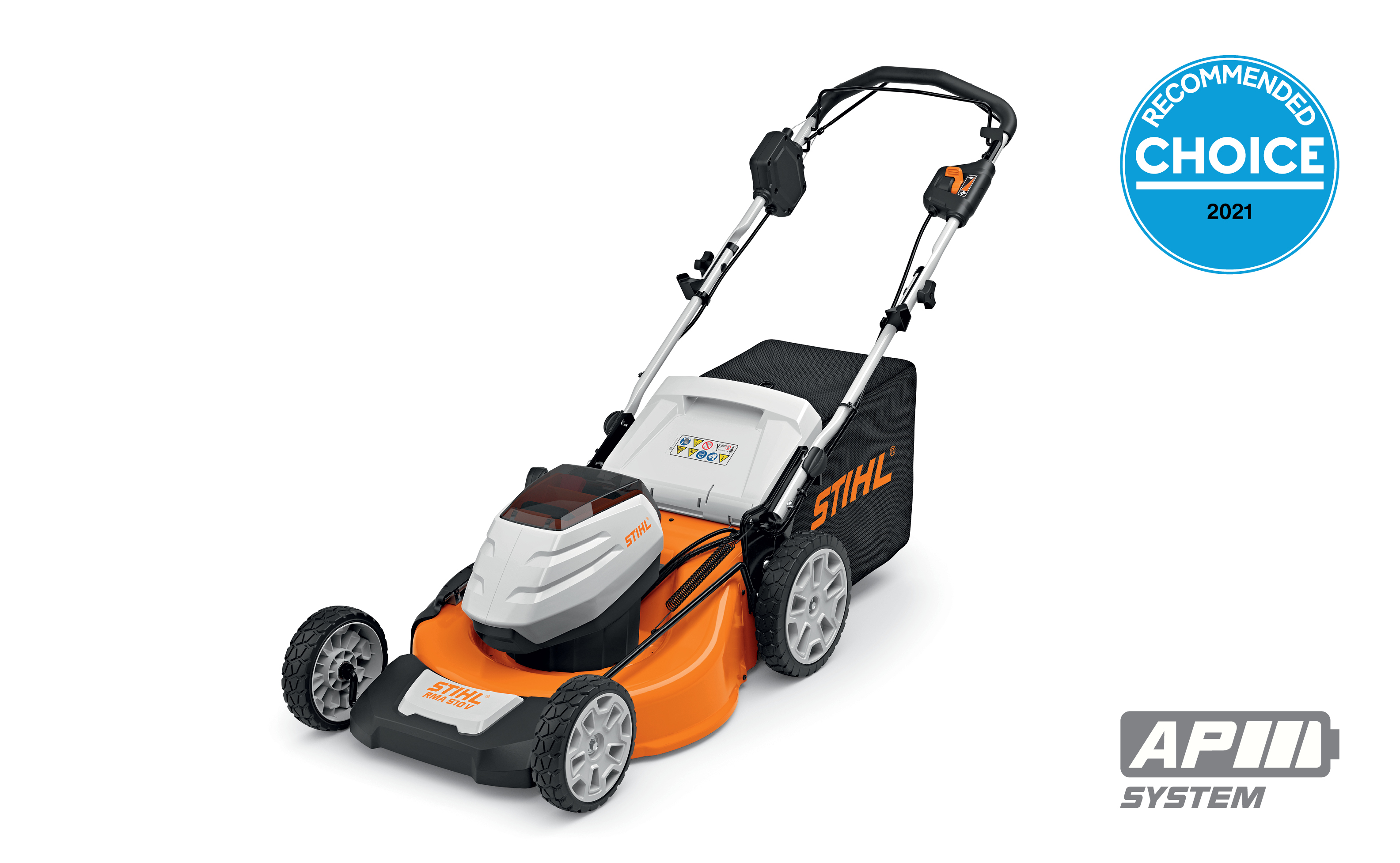 RMA 765 V
The RMA 765 V is the largest battery mower in the STIHL range and is designed for commercial use, or on large properties. This self-propelled powerhouse enables those working in public areas such as schools and parks, to extend their hours of operation and complete their work when and where required without disturbing those around them.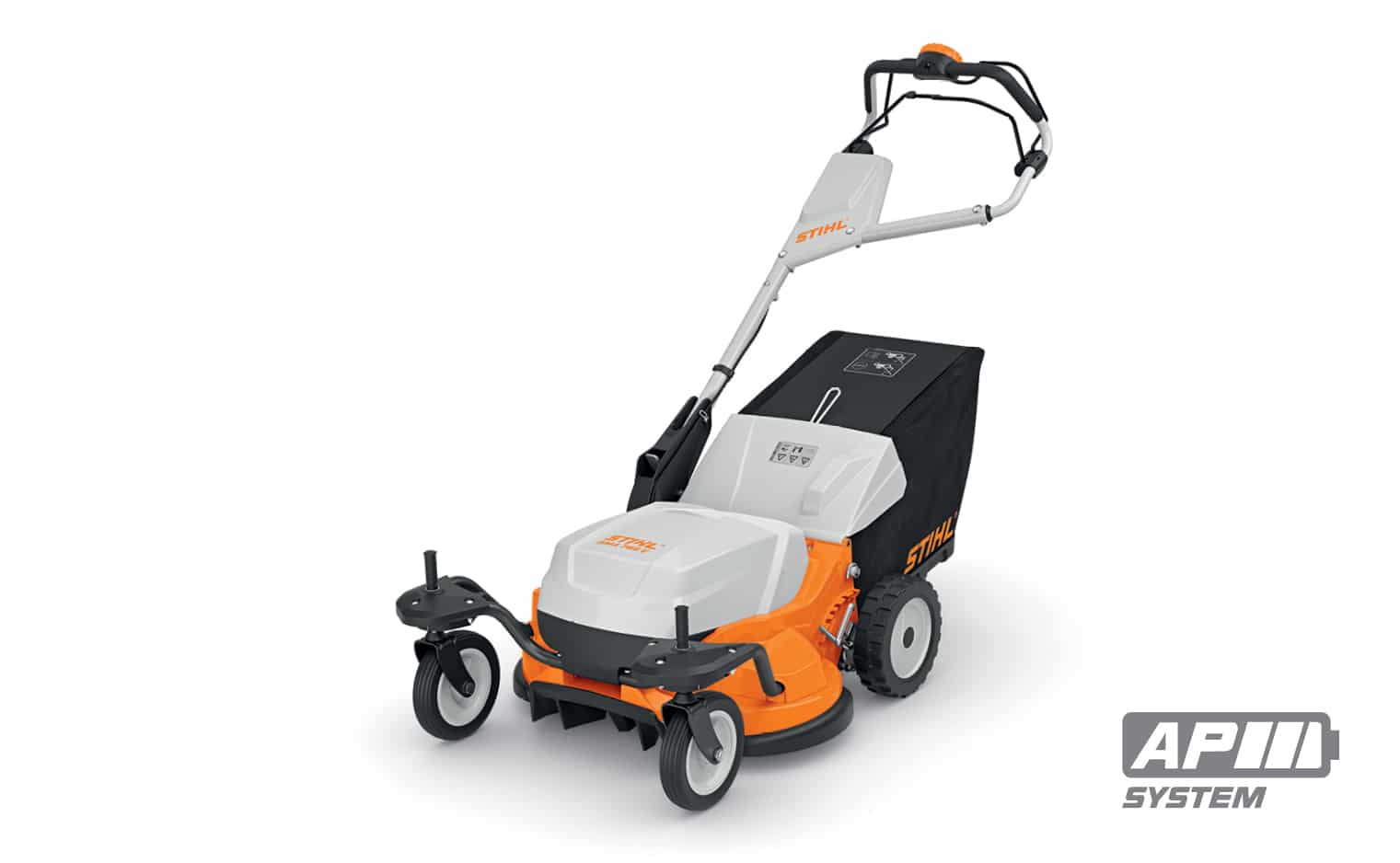 With a 63cm/25" cutting width and robust design, the RMA 765 V allows professionals to reduce their operating costs and work flexibly thanks to its low noise and zero emissions during operation. The RMA 765 V is powered by the new AR L batteries, or the existing AP 300 or 300 S batteries when used with an ADA 700 adaptor.
Featuring twin flow optimised cutting blades and a hybrid polymer and aluminium deck, the RMA 765 V offers a very robust and easy to maintain addition to a contractor's fleet to ensure downtime and mowing time per job is at a minimum.
Click here to view our full range of walk-behind battery mowers, visit your local STIHL Dealer.
ROBOTIC MOWERS
If you're looking to free up more time for other projects around the house, or if you simply want to spend more time enjoying your garden rather than maintaining it, then the new iMOW robotic mowers are for you. Not only does iMOW automatically keep your lawn tidy and trim all year round, once programmed, it mows like an absolute perfectionist by utilising optimum mowing paths, making sure your lawn is cut evenly all over.
Awarded 'Best Robot Mower Recommended by CHOICE', the RMI 632 P is the STIHL iMOW flagship, ranking #1 with CHOICE against all robotic mower competitors for its outstanding performance across all terrain types, low noise and ease of instruction.
Both it and the RMI 422 P cover lawns of all shapes and sizes right up to 4,000m2. Incredibly quiet and requiring very little attention or maintenance from the owner, both models will mow your lawn automatically based on its needs. And, if you have obstacles like trees or posts, the built-in sensors will safely react to moving and static objects by redirecting the machine to cut in another direction.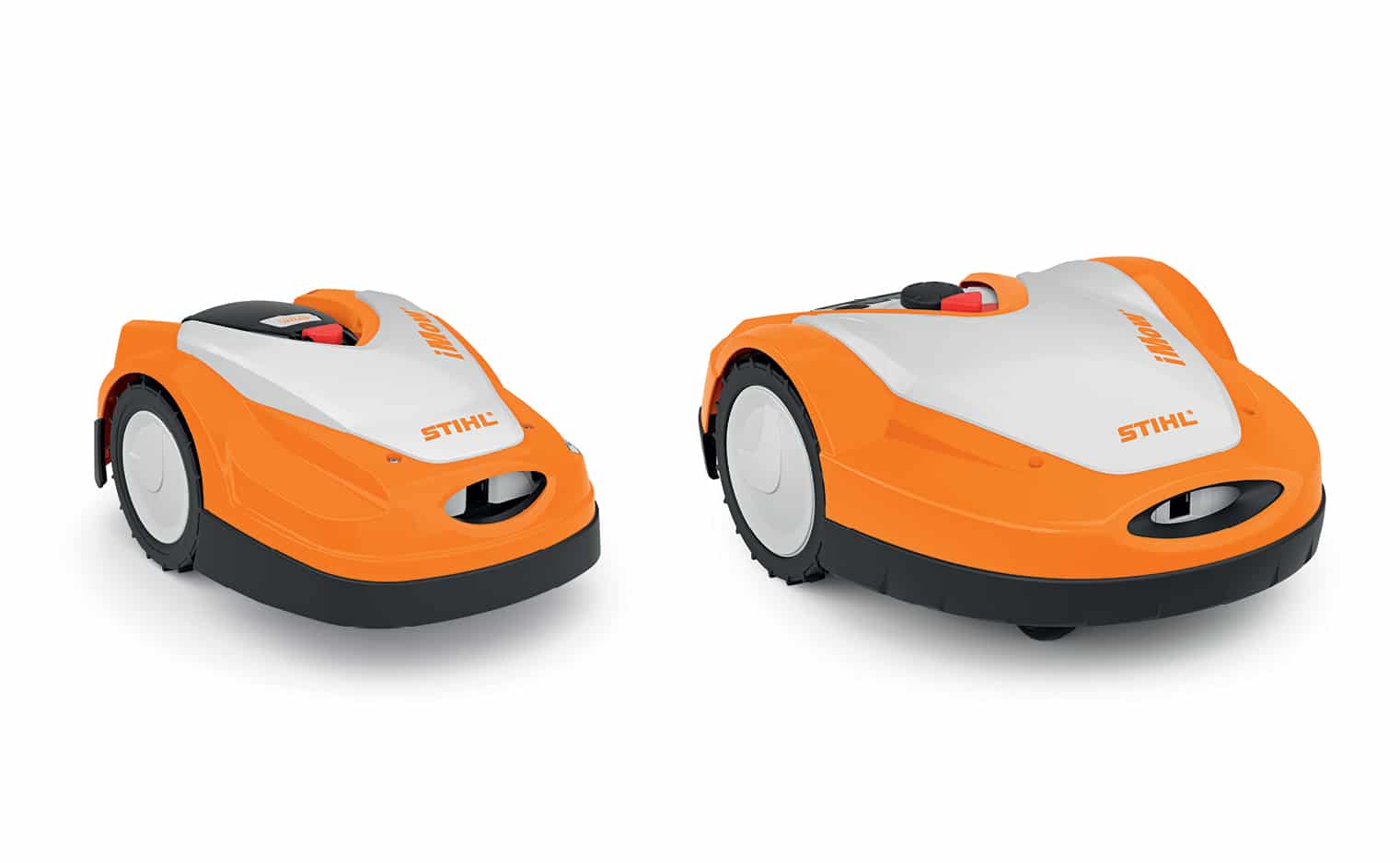 The most attractive feature about the iMOW is that it mows and cares for your lawn all at the same time. While mowing, it shreds the grass clippings very finely, which fall back onto the lawn acting as an effective natural fertiliser, also known as mulching. Not only does this provide vital nourishment to your lawn to help it to grow thick and healthy, it also means collecting and disposing of grass clippings is a thing of the past.
And if you're worried about installation, don't be. Your approved and qualified iMOW Dealer will look after installation of your iMOW for you and be available for any after sales advice or care that's required to ensure you get the absolute best from your robotic mower. ClIck here to learn more about iMOW and to find your nearest approved iMOW Dealer.