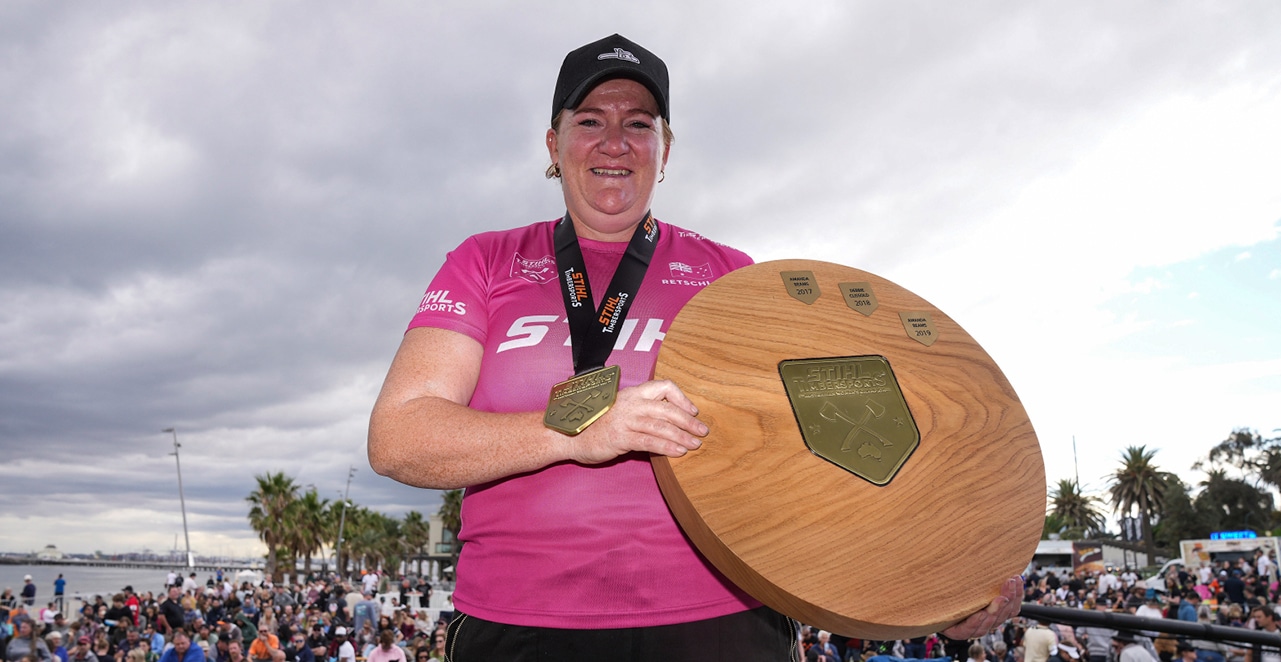 Renee Retschlag from Kilcoy, Queensland has taken the national title at the 2021 STIHL TIMBERSPORTS® Australian Women's Championship in St Kilda.
In an incredibly close competition, two ladies tied on 13 points at the end of three TIMBERSPORTS® axe and sawing disciplines. The champion was awarded based on a countback of combined times, which had Retschlag just under 6 seconds faster than eventual runner-up Jodie Beutel.
Retschlag edged out five of the country's best female TIMBERSPORTS® athletes to walk away with the acclaimed title for the first time, after narrowly missing out on the title in 2017 and 2018.
"I feel awesome! I've been chasing the Australian Women's Championship title since I placed second in 2017 and 2018, and I've been training really hard and working on my competition mindset in preparation," Retschlag said through tears straight after her win.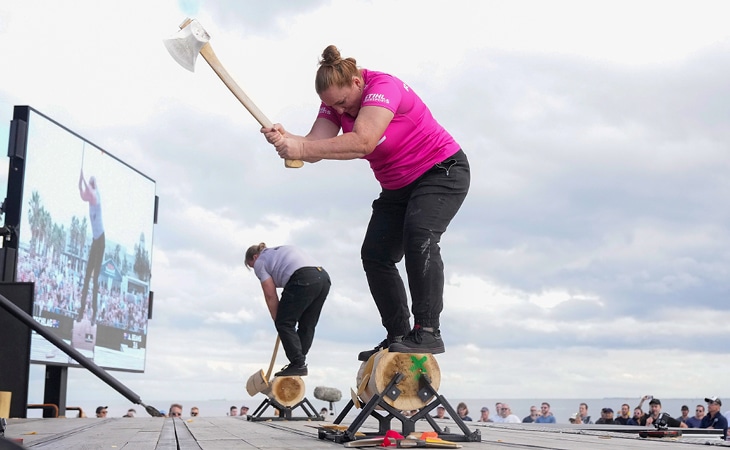 "I've worked hard on the Single Buck discipline and I'm really pleased with how I went today. It feels amazing to be announced as the Australian Women's Champion!". 2021 marks the fourth annual Australian Women's Championship, brought forward this year to coincide with the Australian Trophy men's competition after the 2020 women's event was cancelled due to the pandemic.
STIHL TIMBERSPORTS® Event Director Lee Gooch said the athletes put on a thrilling show for the thousands of spectators who turned out to witness one of the closest competitions in TIMBERSPORTS®  history.
"We had an impressive turnout at St Kilda last year, which is why we decided to bring the event back to the beautiful beachside location, and the crowds didn't disappoint," Gooch said.
"We're thrilled to have hosted the country's best female athletes on the mainstage this year alongside the hotly anticipated Australian Trophy for men year. It's fantastic to see the popularity for the Original Extreme Sport is growing globally amongst women, with eight countries now hosting a women's competition. Renee is a great example of the strength, power and athleticism women bring to the sport."
FINAL WOMEN'S RANKINGS
Renee Restschlag (QLD) – 13 points (1:33.67)
Jodie Beutel (QLD) – 13 points (1:39.36)
Katrina Head (QLD) – 12 points
Kris Brown (TAS) – 11 points
Adele Deverel (VIC) – 9 points
Amanda Beams (TAS) – 1 point
For more information, visit www.stihl.com.au/timbersports.