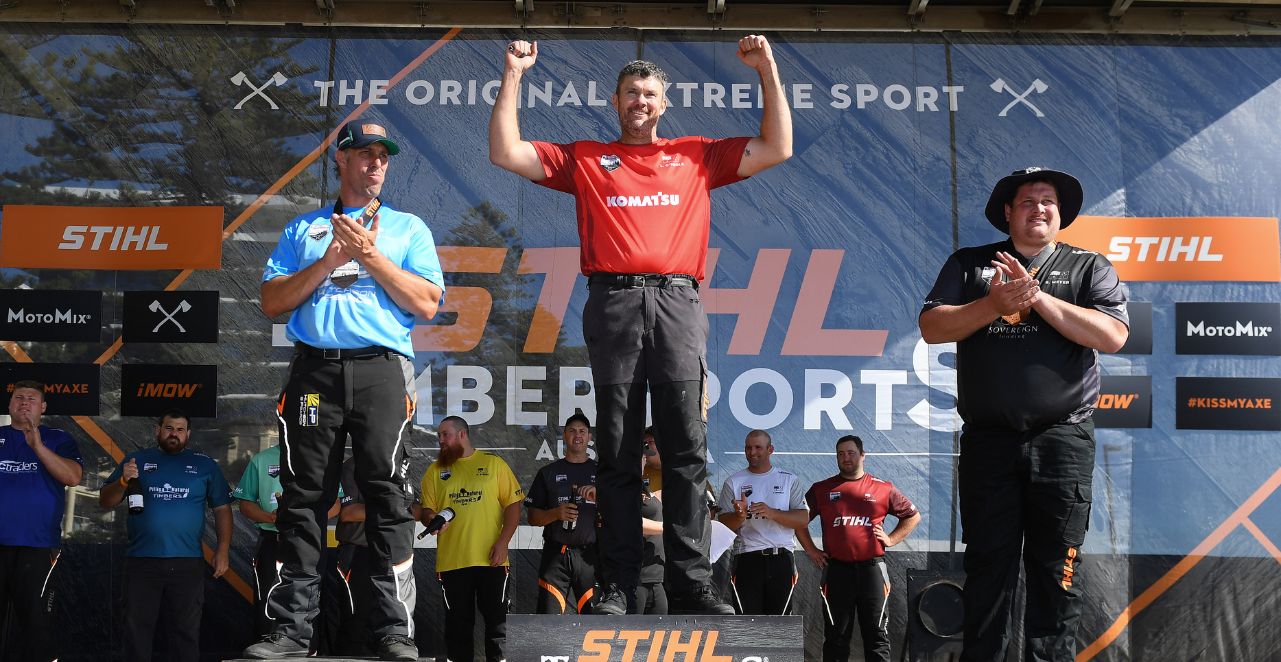 Laurence O'Toole and Jodie Beutel axed the competition, taking out the gold medal at the 2023 STIHL TIMBERSPORTS® Australian Trophy and Women's Championship in Adelaide on Saturday, 4 March.
Now officially a three-time Australian Trophy winner, O'Toole battled it out against 13 of Australia's best STIHL TIMBERSPORTS® athletes in the Original Extreme Sport, beating last year's Australian Trophy winner, Brad De Losa, by 1 second (1:29:81 – 1:30:81) in a thrilling Grand Final of the knock-out competition.
On the way to the final he placed first in the time trial with a time of 1:23:60 to advance to the knockout stages where he beat Glen Gillam in the quarter finals, and then Brayden Meyer in the semi finals.
Laurence O'Toole said: "All the guys have been putting more into their training and preparation and there were some strong blokes this year, so I am really excited to be crowned the 2023 champion."
"The Adelaide crowd was amazing and they turned out in vast numbers. The challenge now is to try and retain the title again next year."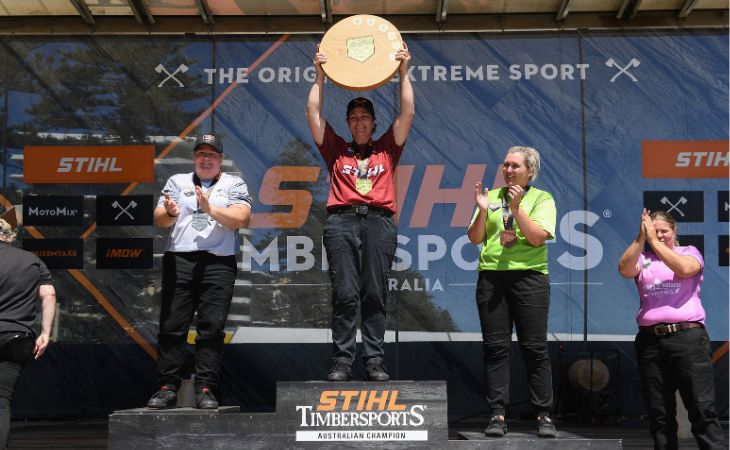 In the third STIHL TIMBERSPORTS® Australian Women's Championship Jodie Beutel edged out five of the country's best female TIMBERSPORTS® athletes to walk away with the acclaimed title for the first time, having taken home silver last year. Beutel also holds the Australian time record in the Stocksaw and Singlebuck disciplines.
All three female athletes received the same amount of points (12) across the three disciplines, so podium places were based on the time taken to complete each round.
Last year's Women's Championship winner, Amanda Beams, took home silver this time around despite taking full points in two of the three disciplines – Underhand Chop and Singlebuck. Unfortunately, Beams was disqualified inthe Stocksaw event and received zero points for that round.
Jodie Beutel said after her win: "The Women's Championship is getting stronger each year and I always bring my best to these Championships as I know young female athletes will be watching and I love to think that they feel inspired to get involved."
STIHL TIMBERSPORTS® Event Director Renee Kitto said the event was a huge success in Glenelg, with the athletes putting on an action-packed show for the thousands of spectators.
"It was great to bring the high octane action of TIMBERSPORTS® back to South Australia. Our athletes are examples of brute strength, determination and athleticism and it was incredible to watch Laurence and Jodie give their all to take out the top spot for their competitions."
STIHL TIMBERSPORTS TROPHY FINAL RANKINGS (TOP THREE)
Laurence O'Toole
Brad De Losa
Brayden Meyer
STIHL TIMBERSPORTS WOMEN'S CHAMPIONSHIP FINAL RANKINGS (TOP THREE)
Jodie Beutel
Amanda Beams
Katrina Head
For more information, visit www.stihl.com.au/timbersports.