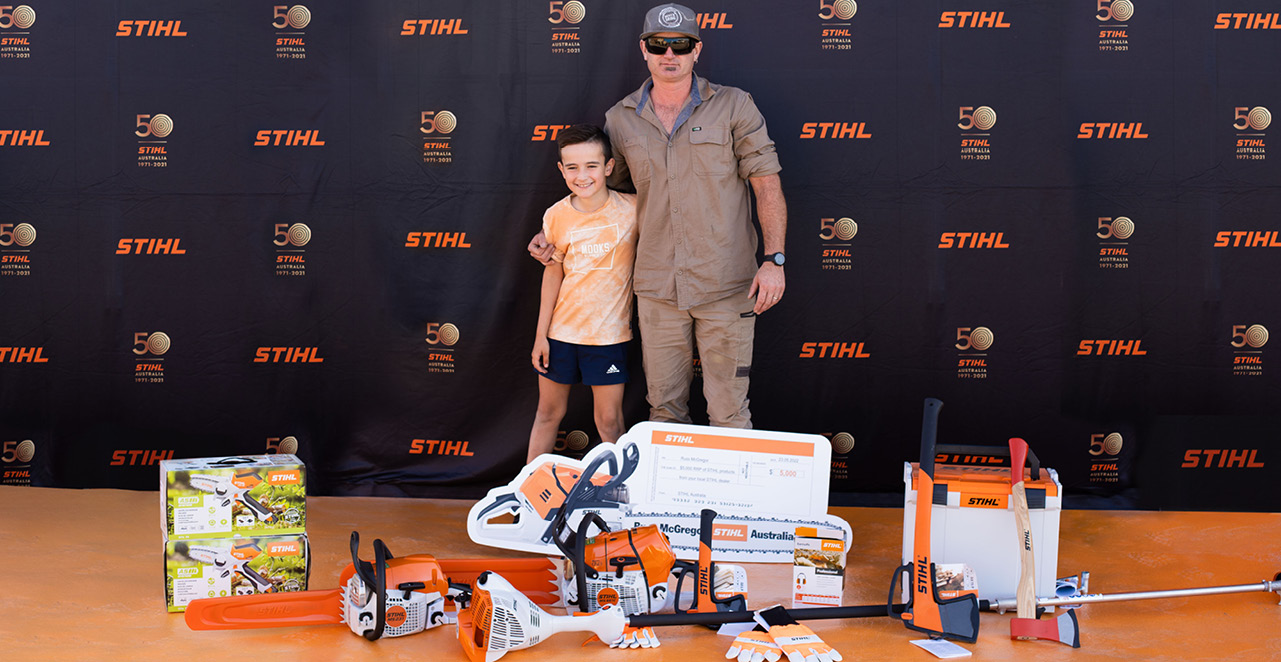 STIHL Australia's biggest fan announced!
STIHL is excited to announce that the winner of its 'Australia's #1 STIHL fan' competition is 38-year-old electrician Russ McGregor from Deep Lead, Victoria.
As well as being awarded the coveted title of STIHL Australia's #1 fan, Russ's entry also earned him $5,000 worth of STIHL product of his choice.
With over 500 entries received, STIHL was overwhelmed by the incredible efforts fans went to, with entries including songs, poems, tattoos and extensive chainsaw collections.
Russ's winning entry showcased his impressive collection of STIHL tools, merchandise and artwork collected over many years.
The announcement comes as STIHL Australia celebrates its 50th anniversary in Australia.
Knowing the brand has an incredibly dedicated fan base who support the 600+ STIHL dealerships across Australia, STIHL was keen to recognise and give back to its loyal and passionate fanbase.
Competition winner and STIHL Australia's #1 fan Russ McGregor said, "It's such an honour to be crowned as STIHL Australia's Number 1 Fan. The prizemoney and tools I've won are incredible, but the title is what I'm most proud of – I've been so excited to tell my friends and family!"
Said STIHL's Director of Marketing Jo Katsos, "We want to congratulate Russ for his stellar entry and dedication to the STIHL brand and look forward to seeing him grow with us for the years ahead."
Footage of the official title and prize presentation to Russ at his local Ballarat STIHL dealership Henderson Mowers & Chainsaws, (along with the reveal of Russ's commemorative tattoo!), can be seen in the video above.
Jo Katsos also shared how impressed the STIHL team has been with the calibre of entries. "Seeing how fans have integrated STIHL into their lives has been amazing. From products being passed down through generations to seeing chainsaws included in wedding ceremonies (yes, weddings!), we're looking forward to continuing being part of even more fan journeys over the next 50 years."
Among the many high-quality entries, STIHL judges were keen to highly commend the efforts of Ben Nitschke, whose 15+ years relationship with STIHL extends to presenting his wife to be with a bespoke STIHL sprocket and cutter engagement ring, an orange and grey themed wedding where the cake was cut with a STIHL chainsaw and a collection of over 80 STIHL high-performance tools.
"It was also exciting to see the younger generations getting involved. Seeing many starting their own small businesses utilising STIHL tools is a testament to the kind of brand and quality products we provide. We know Australian gardens will be in safe hands with the passion shown by the young entrants," remarked Jo.
So thrilled were the judges with the positive impact STIHL quality tools have with youngsters just beginning their professional journey, the STIHL team announced the presentation of two 'Career Starter Prizes'.
15 year old Jayden Cherry from Queensland, a Year 10 student currently undertaking his Certificate 3 in Arboriculture and a STIHL fan for years, selected the brilliant MSA 161 T battery chainsaw from his local dealer, STIHL Shop Nambour, as his 'Career Starter Prize'.
Also awarded a 'Career Starter Prize' was fellow Queenslander, Riley Brockman. 14 year old Riley has his own neighbourhood mowing and grass cutting business, and after trying out several brands of tools, settled on STIHL as being the quality tools best suited to his business. A regular who is well known to the dealer team at his local STIHL Shop at Jimboomba, Riley chose the revolutionary KMA 135 R Kombi battery engine, compatible with the STIHL KombiTools range, as his prize.
With the competition providing a wonderful opportunity for STIHL and its fans to connect and share in the joint pleasure generated by the creation and application of a world-leading range of innovative high-performance tools, STIHL also provided the top 49 runners-up with a prize of a STIHL branded cap and 2 x t-shirts to flaunt their passion and pride.