For maximum power, and minimum fuss, STIHL's AP Battery System boasts over 30 high performance battery-powered machines with long working times, outstanding handling and useful comfort features. This extensive system has a wide range of products with interchangeable batteries designed with professional users in mind, however, it's also perfect for those with larger home gardens to maintain.
Check out five of the most popular professional battery powered garden power tools in STIHL's AP Battery System.
KMA 135 r Battery Kombi Engine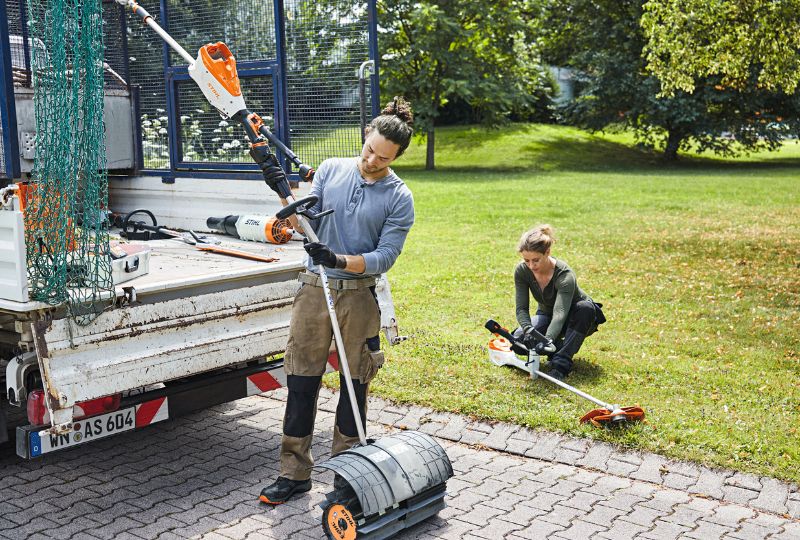 If you have a wide range of tasks to complete outdoors and want to work as flexibly as possible, then the KMA 135 Battery Powered KombiEngine is the perfect solution for you. This battery powered KombiEngine can be used with almost all existing STIHL KombiTools giving you plenty of options to complete your work with a single product.
The speed of the powerful EC motor can be continuously adjusted to one of three speed levels using the control handle which also allows you to set one of these speed levels as an energy-saving mode.
Being battery powered, the KMA 135 R is extremely quiet in comparison to the petrol powered equivalent which is an especially attractive feature for those working in noise sensitive areas such as public parks and playgrounds. And for a high degree of freedom of movement, even in narrow spaces, the STIHL KMA 135 R is equipped with an all-round handle that features a step limiter. This safety features ensures that your feet and legs cannot get too close to the tool.
Click here to check out the KMA 135 R Battery KombiEngine.
FSA 135 Battery Brushcutter
The STIHL FSA 135 battery brushcutter is designed for professional users or owners of larger properties that have areas of grass to mow than cannot be accessed easily or safely by a lawn mower.
Featuring an ergonomic control handle which allows the user to adjust the speed continuously across three different levels, the FSA 135 is designed to to work as efficiently as possible, saving energy where required and thus extending the working time of the machine. It also features an air filter with a metal grille to cool the engine, and an air filter which is incredibly easy to access and clean. addition, this air filter is easy to clean.
As with all tools in STIHL's growing range of battery tools for home users and professionals, they are incredibly quiet and do not require the use of ear protection whilst in action.
Click here to check out the FSA 135.
MSA 220 T Battery  Top-Handle Chainsaw
2023 sees the launch of a brand new battery powered chainsaw capable of the most demanding jobs in tree work. Introducing the new STIHL MSA 220 T; the most powerful battery top handle chainsaw in the STIHL range, designed exclusively for professional use by trained arborists.
With a compact and well-balanced design, the MSA 220 T is easy to handle in awkward or outstretched positions. The intuitive trigger lockout system is simple to use, and the electronic unlock button is within easy reach of your thumb. The status LED will light up green when the chainsaw is ready for use, and the chain brake LED will light up red when the chain brake is engaged, so you can easily see when the tool is good to go. The MSA 220 T also features an adjustable oil pump, allowing you to customise the oil output to match the application or guide bar length at hand.
Paired with the AP 300 S battery and the NEW 3/8 PS3 Pro chain, the MSA 220 T is comparable to the MS 201 TC-M's power output.
Click here to learn more about the MSA 220 T. 
HLA 135 Battery Long-Reach Hedge Trimmer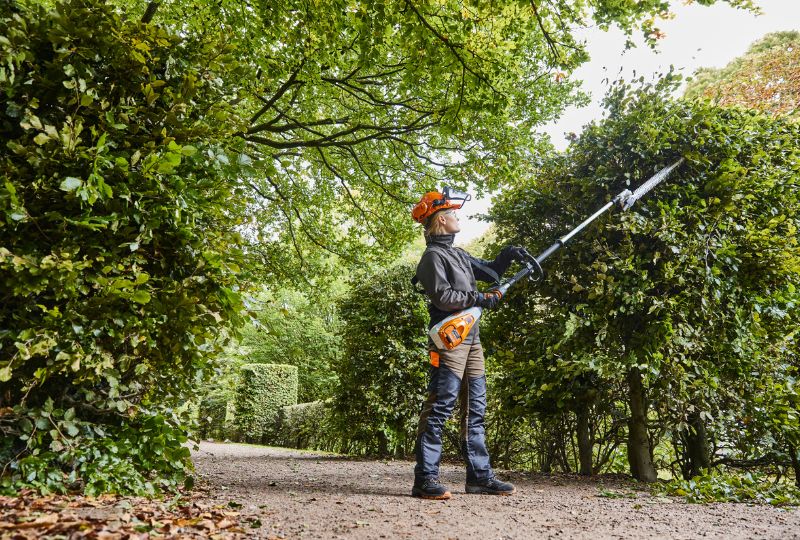 Designed with professional users in mind, the HLA 135 is STIHL's most powerful battery long-reach hedge trimmer to date. It offers the most powerful cut amongst battery hedge trimmers, making it perfect for cutting shrubs, bushes and plants, as well as trimming and pruning thick hedges at all angles. This is thanks to a 60 cm / 24", 145° adjustable double-sided cutting blade, which can also be folded down parallel to the shaft for storage and transport.
It's been fitted with a magnesium gearbox, which helps the machine maintain a light weight too. Plus, this machine has a stroke rate of 4000 rpm, which is the highest of all of STIHL's long-reach hedge trimmers. The recommended battery for the HLA 135 is the AP 300 S.
Click here to learn more about the HLA 135. 
HTA 135 Battery Pole Pruner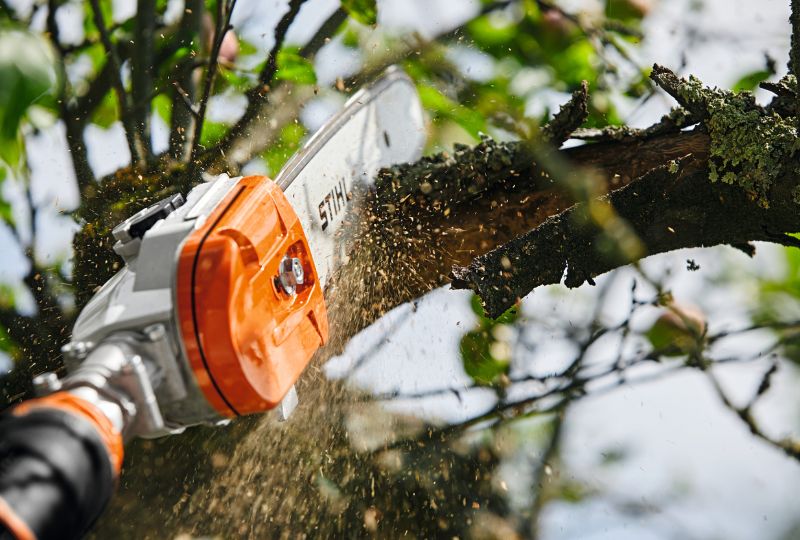 The HTA 135 Battery Powered Pole Pruner is the most powerful battery pole pruner in the AP Battery System. Reaching up to 5m in height, the HTA 135 allows professionals to complete their work safely from the ground rather than climbing the tree, saving plenty of time. The lightweight magnesium gearhead helps with maneuverability and balance, whilst a tough branch hook helps with the removal of loose cuttings from the tree. The recommended battery for the HTA 135 is the AP 300 S.
Click here to learn more about the HTA 135. 
STIHL CONNECTED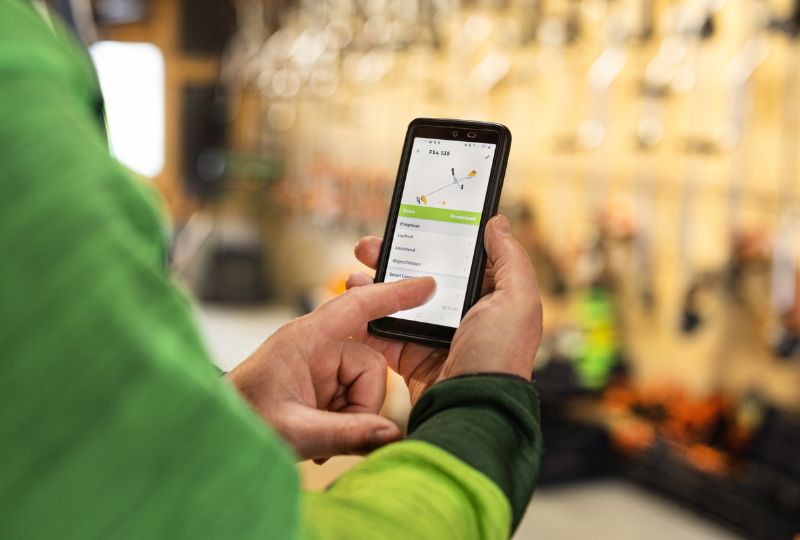 Have you heard of STIHL Connected yet? This smart technology is designed to make your life easier by managing your tools for you. From providing product run times reminding you about upcoming or overdue maintenance, to showing the last location of tools, STIHL Connected takes tool and fleet management to another level.
STIHL connected is useful even if you aren't a professional user as you can keep track of when your tools need maintenance or servicing, similar to service warning light in most modern cars. For the private user, STIHL Smart Connector and STIHL Connected app are all you would need, however for larger fleets the STIHL Connected portal is designed specifically for making the management your tools simple and intuitive.
Learn more about how STIHL Connected can help you manage your fleet.