For occasional home hedge care to professional sculptural maintenance, there is a long-reach hedge trimmer to suit every application in STIHL's growing range of battery powered garden tools.
Designed with the user comfort and safety in mind, each model is offers the same level of quality that users have come to expect from Australia #1 rated brand in garden power tools.
Let's us help you find the perfect model for you.
HLA 56 Battery Long-Reach Hedge Trimmer 
For home gardens, small medium and large, the HLA 56 a lightweight long-reach hedge trimmer perfect for cutting taller and wider hedges and shrubs. It's part of STIHL's AK battery system which now offers over 15 tools including lawn mowers, chainsaws, grass trimmers, blowers – and more!
The HLA 56 allows user to extend their reach by up to two meters, meaning there's no need for a ladder so you can complete your work with your feet planted safely on the ground. If you need to reach that little bit further, also available is an optional extension shaft which will give you an additional 50cm in length.
This versatile tool also features an adjustable cutting head which can be adjusted for trimming between -45° to +90°, so getting that perfect box shaped hedge has never been easier. It also features STIHL's integrated cut protection and droplet shape blades which will guide each branch in the direction that you're cutting, meaning it's almost impossible to miss anything along the way. It also features a tip protector, so, when you're trimming hedges that line fences or bricks for example, you don't have to worry about the moving blades making contact and getting caught or causing damage to your hedge trimmer or the surface your trimming against.
The recommended battery for the HLA 56 is the AK 20 which will comfortably trim up to 350m2 of hedge on a single charge.
Click here to check out the HLA 56.
HLA 66 Battery Long-Reach Hedge Trimmer 
STIHL's growing AP battery system which is designer specifically for large gardens and professional daily use, offers four different options to safety maintain those tall, wide and hard to reach hedges.
The STIHL HLA 66 replaced the HLA 65 in 2021 and has been a fan favourite ever since. With a sleek industrial design, the HLA 66 features improved handling, such as an ergonomic control handle for comfortable left and right hand operation, and the central handle on the shaft which has anti-slip protection. The battery position has also been improved on the HLA 66, and is now located at the center of the axis. This ensures a lower tilting moment, helping to reduce fatigue for the user, allowing them to work for longer periods.
The total length of the HLA 66 is 205cm which includes the 50cm cutting blade, and the recommended battery is the AP 200.
Click here to check out the HLA 66.
HLA 86 Battery Long-Reach Hedge Trimmer 

The next step up is the HLA 86 which, similar to the HLA 66, is an upgrade on the existing HLA 85 and is also powered by the AP 200 battery.
Boasting all of the improved features as seen on the HLA 66, the HLA 86 also features the same weight-reduced, square shaft design as the petrol powered HT 133 long-reach hedge trimmer. With an easy-to-use clamping sleeve for effortless adjustment of the telescopic length, the increased stiffness and ergonomics help protect against twisting and deflection for versatile, more comfortable movement. The total length of the HLA 86 extends between 260-330cm, which includes the 50cm cutting blade.
Click here to check out the HLA 86.
HLA 135 Battery Long-Reach Hedge Trimmer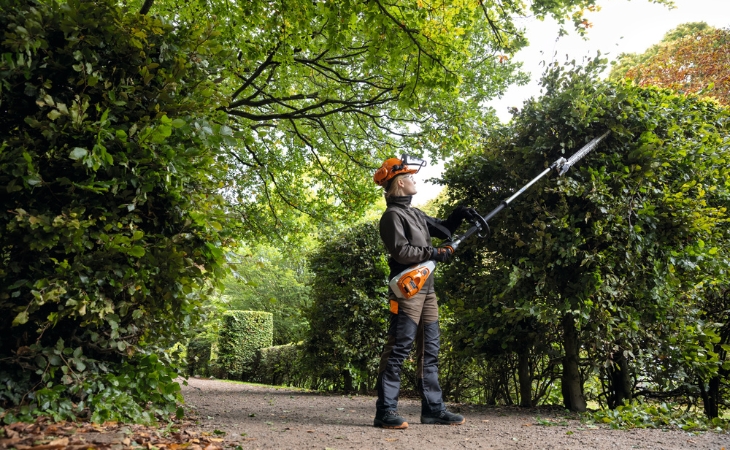 Designed specifically with professional users in mind, the HLA 135 is STIHL's most powerful battery long-reach hedge trimmer to date. It offers the most powerful cut amongst battery hedge trimmers, making it perfect for cutting shrubs, bushes and plants, as well as trimming and pruning thick hedges at all angles. This is thanks to a 50 cm 145° adjustable double-sided cutting blade, which can also be folded down parallel to the shaft for storage and transport.
It's been fitted with a magnesium gearbox, which helps the machine maintain a light weight too. Plus, this machine has a stroke rate of 4000 rpm, which is the highest of all STIHL's long-reach hedge trimmers. The recommended battery for the HLA 135 is the AP 300 S.
Click here to check out the HLA 135.
HLA 135 K Battery Long-Reach Hedge Trimmer 
Also available is the HLA 135 K. Featuring a shorter shaft and a slightly longer cutting blade at 60cm without a loop handle, it is designed for cutting hedges at hip height or low to the ground with ease.
Click here to check out the HLA 135 K.
To view the full range or to find the perfect tool for you, visit the STIHL website or your local STIHL Dealer.