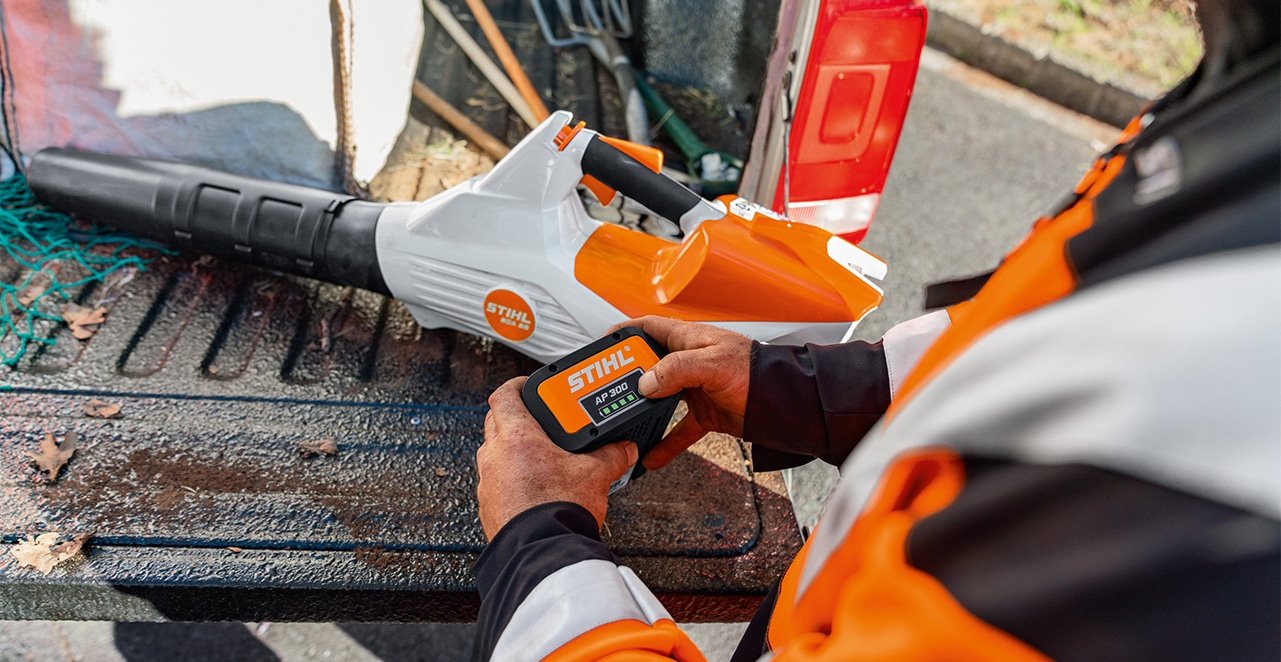 Blowers are perfect for general tidying year-round, and some are even capable of gutter cleaning. There are plenty of options to choose from in the STIHL range, so we've broken down the different types to help you select the perfect model for you.
BATTERY BLOWERS
For the occasional gardener, right through to the professional or regular user, STIHL's battery system continues to grow and offers plenty of options when it comes to blowers.  The range starts with the BGA 45 which is part of the AI Line and is just $199. It's super lightweight at just 2.1kg, incredibly easy to manoeuvre, and features an integrated battery with impressive run time, clearing up to 200m2 or just under a tennis court-sized area of leaves on a single charge. The BGA 45 is perfect for smaller spaces and general tidying around the home.
If you're after something a little more robust to cover a larger area, the BGA 57 is the next step up, and was introduced to the range in 2020 as the new and improved version of the popular BGA 56. The most attractive feature about this blower is that its part of the AK battery system, which means the same battery is compatible with 10 tools perfect for medium to large sized gardens, including a handheld hedge trimmer, long reach hedge trimmer, grass trimmer, two chainsaws, and three mowers. Another great feature this blower and the AK system has is that there are three AK battery options, so the capability of the tool can be adjusted to suit the requirements of your garden. The recommended battery for the BGA 57 is the AK 20.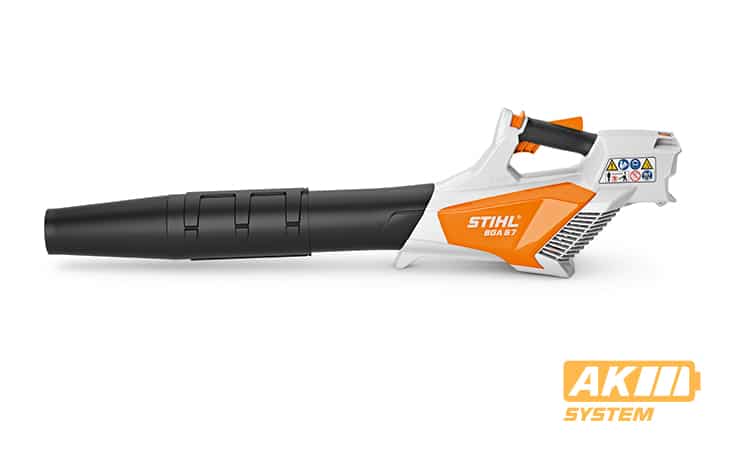 Comfort is at the forefront with the BGA 57. This perfectly balanced blower features an adjustable tube for maximum blowing power close the ground making it incredibly easy to manoeuvre for users of all heights. The low gyroscopic forces make it effortless to handle, and the rubberised grip will allow you to move it with impressive ease.  When it comes to runtime; the BGA 57 is more than capable of clearing up to three tennis courts worth of leaves in a single charge!
The BGA 86 was also introduced to the range in 2020, and is the upgraded version of the BGA 85 boasting 50% more power. The BGA 86 is part of STIHL's AP battery system which boast 28 high performing battery powered tools which are designed for large gardens and professional applications. This new addition to the system features a variable throttle and comes standard with a round multi-purpose nozzle.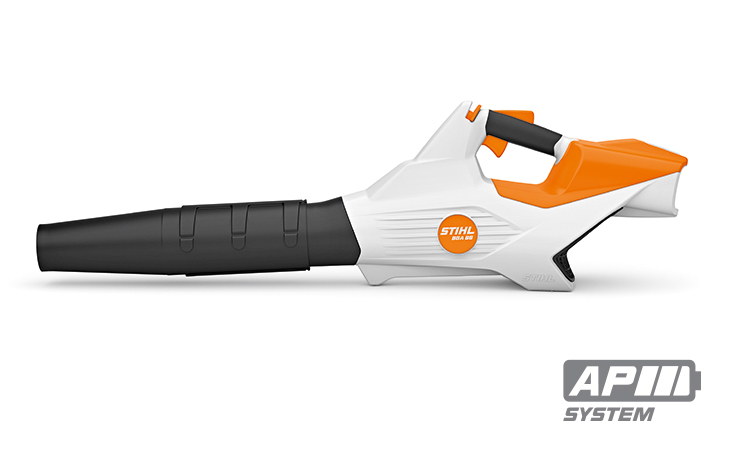 For seriously large areas or for users working over long periods, the BGA 200 also joined the AP battery system in 2020. With a maximum air speed of 302 km/h, this ergonomic and extremely well-balanced blowing powerhouse boasts 1,040 m3/h of maximum air throughput, and is perfect for use on larger properties or by professionals working in noise sensitive environments.
Featuring a three stage tube adjustment at the touch of a button, it comes standard with a round nozzle which is reinforced by a metal ring to reduce wear when operated close to the ground. The soft handle also features a second handle position functionality which allows for better handling during cruise control when combined with a hip pad kit. The cruise control throttle lock is also perfect for those covering large areas, and the optional comfort hip pad kit enables effortless operation. The BGA 200 is powered by STIHL's range of AR backpack batteries or via an AP battery with connecting cord.
PETROL BLOWERS
The BG 56 blower is one of our top sellers, and for a good reason. While it's an entry-level model, it still packs a punch thanks to its 2-MIX engine. Like all tools in the range, STIHL's 2-MIX technology is the result of over 90 years of German engineering excellence. It's developed to maximise the power output while reducing fuel consumption, making it extremely efficient.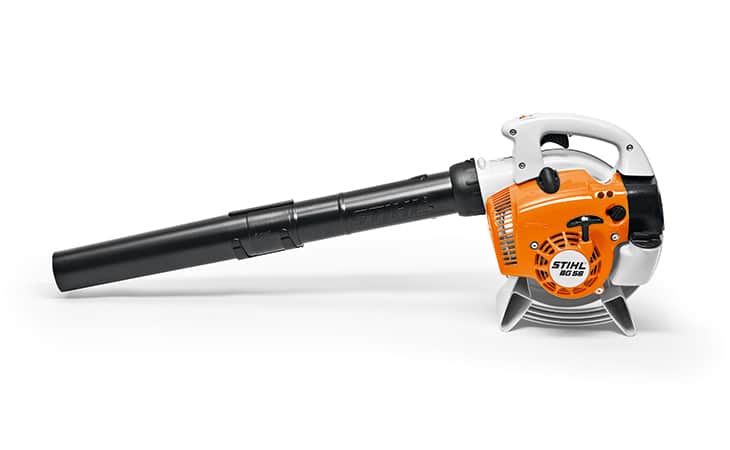 Also available for use with the BG 56 is a vacuum kit, giving you the option of collecting your leaves rather than blowing them into a single location which can be tricky if you're dealing with a lot.  And, if your home is a single storey, the BG 56 is also compatible with our gutter cleaning kit allowing you to safely blast debris from your gutters without the need and risk of using a ladder.
If vacuuming and mulching is something you're going to be doing more often than not, then the SH 56 C-E blower vacuum shredder is for you. While designed to collect and mulch thanks to the metal shredder blade, it also doubles as a handheld blower. This handy tool also features STIHL's patented Easy2start technology, which makes it extremely easy to start and suitable for every user.
For clearing larger areas and for working over more extended periods, a backpack blowers offer maximum power and comfort whilst in use. The range starts with the new BR 350 which is our lightest backpack blower, and consists of five models right through to our most powerful backpack blower, the BR 800 C-E. All models in the STIHL range allow users to clear large areas and work for more extended periods thanks to their ergonomic design and powerful motors.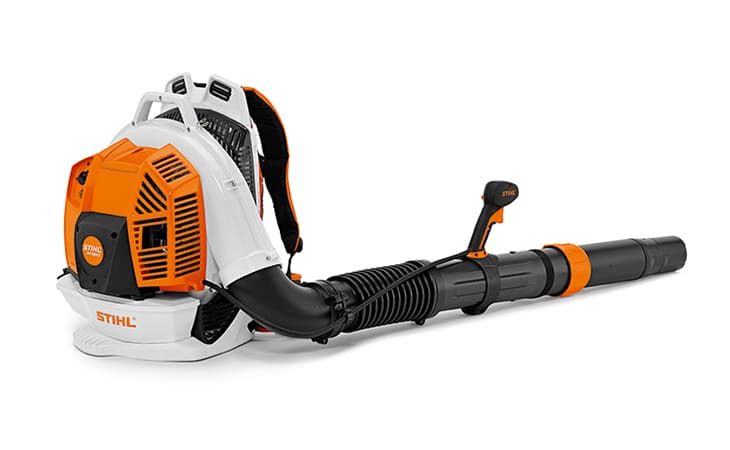 Featuring a multi-function control handle and electronic ignition, there are also many accessories available to complement our backpack blowers, including flat and curved nozzles, a hip belt, a chest belt and a bike handle for easy manoeuvring.
Click here to view the full range, or visit your local STIHL Dealer.