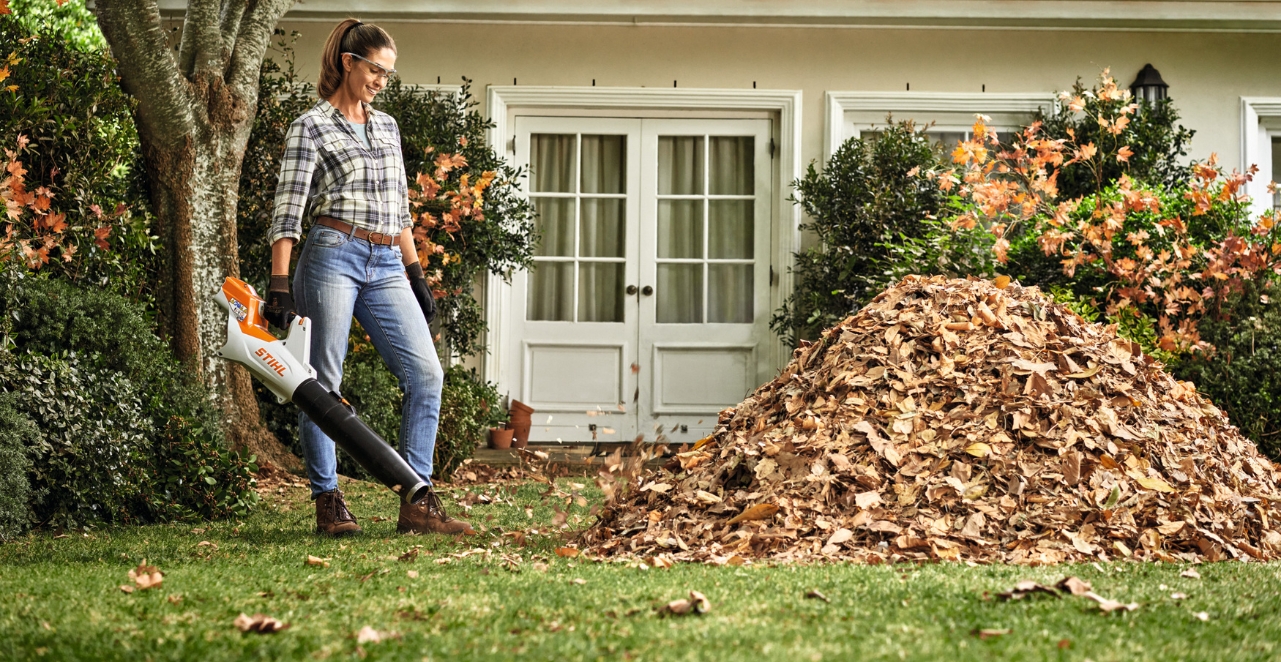 Introducing one of five new tools to STIHL's growing battery range, the BGA 60 blower. Taking the title of being the most powerful blower in STIHL's AK battery system, the BGA 60 is perfect for medium to large sized gardens and excellent at clearing, dirt, leaves and debris. 
This light, compact, yet powerful blower offers a maximum blowing force of 15 newtons, and features a variable speed control trigger which allows the user to adjust the force to suit the task at hand. For example, if you plan to clear leaf litter from your garden beds, you can keep it on a low setting so you don't disrupt the garden, yet still clear away the leaf litter. If you need to clear heavier debris, such as wet leaves, then you can increase the speed where required. 
If you have a really tough job at hand, there is the option to utilise the 'boost mode' which temporarily increase the blowing force which is incredibly handy if you get stuck on something sticky. The blowing force of the BGA 60 on boost mode matches that of our popular petrol powered BG 86 blower. 
Like all STIHL tools, the BGA 60 has a number of different comfort and safety features designed to make light work for the user and increase longevity of the tool. The metal ring at the top of the blower tube is designed to reduce wear and tear on the plastic if you're regularly using it close to a hard surface, such as a gravel driveway, and the length of the tube is easily adjusted with the touch of a button – no twisting required! 
The BGA 60 has been designed so that it;s perfectly balanced when in use, minimizing any strain on your wrists, and the air intake sits at the back on the machine, which means it can be easily used in either your left or right hand. 
The wide base of the BGA 60 is designed to ensure that it will sit safely on the ground when it's not in use so it won't fall over, and the suspension eyelet on the underside allows it to be easily hung on the wall for easy storing in your garage or shed.
The recommended battery for the BGA 60 is the AK 30 which is capable of powering several other tools in the AK system, including lawn mowers, hedge trimmers, grass trimmers, blowers, even chainsaws! 
The BGA 60 is now available Australia wide from your local STIHL Dealer. 
Click here to view the full suite of new German engineered battery powered tools launching this spring.