There's no better feeling in winter than sitting around an open fire, enjoying the warmth and crackling of the wood. The next best thing might be heading out on a cold winter morning with a couple of chainsaws to get into the bush and stock up on firewood. I love heading out with my sons and mates to do this for a bit of quality time with the boys.
Before you head out, it pays to do your research ahead of time. Firstly, check where you are permitted to collect firewood from. Secondly, research what type of trees produce the best firewood in your area.  You're also going to want to take something to sharpen your chainsaw chain with so you're always cutting with a sharp chain.
You want to find a tree that's already dead and either partially fallen but held off the ground, or still standing – never chop a tree that's still got some juice in it. You know you've got it right if you can see a tight grain when you cut into the wood – there aren't too many better feelings to cut into a new log and see that dry, tight grain!
This is where I find the STIHL Rapid Hexa chain really comes into its own – it makes it much easier to chop through the big suckers with far less strain. This is particularly noticeable on the beautiful hardwood timbers that burn well. Click here to learn about this latest innovation in chainsaw chain.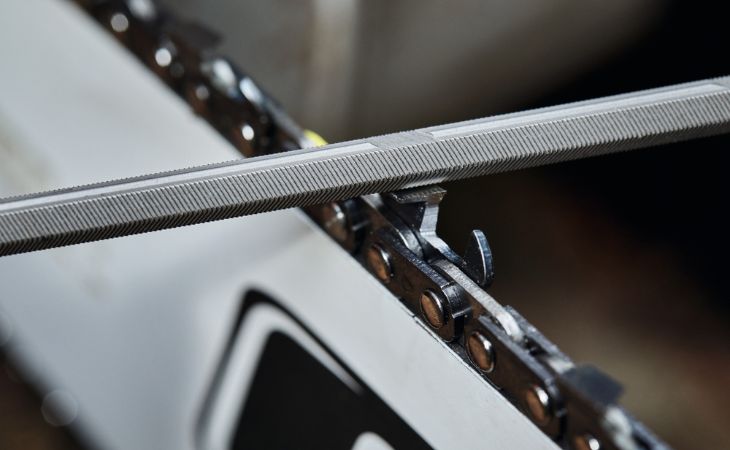 A chainsaw is a powerful piece of equipment, so safety is key here (Mrs. T demands it!). We always make sure we're wearing the proper protective gear;  a helmet with face protection, safety glasses, earmuffs, gloves, protective legwear and safety boots. When cutting, you have to make sure you keep a solid stance on the ground and brace to absorb any kickback impact. Always start your chainsaw on the ground and wait until it's going at full throttle before you cut through the wood.
Once you've cut your timber to a workable size, you want to set it up so that it's held off the ground a bit, so that you don't run the risk of your chain being dulled by hitting the ground. It bloody frustrates me when I see my son's blunt yet another chain cutting through to the dirt. You can just wedge a log or use a sawhorse underneath the log you want to cut, and use a roll-over lever to turn the log and make sure you get an even cut. For standard chain, sharpening is incredibly easy with the 2-in-1 file. Click here to check out STIHL's tips on how to do this. 
One thing that I find makes all the difference for drying and burning is debarking the log, you can do this before chopping or during. Debarking also helps when stacking the chopped wood.
When it comes to chopping the firewood up, I simply use an axe or log splitter. The workout this provides is incredible, it helps me appreciate just how powerful the STIHL TIMBERSPORTS® athletes are. You want to chop your wood into roughly 40cm sections. Anything bigger won't fit in most fireplaces, and I find that 40cm pieces just stack beautifully, which helps it to dry out properly.
Many people don't realise that firewood is best when it has had a proper opportunity to dry out. Depending on various factors such as the wood and the climate, it is best firewood is given a couple of months to dry before burning. This makes your stacking even more important. It's great to have a neat stack but remember to let air circulate through the stack.
You should also never stack directly against your house. This limits the air flow and can cause troubles with rot or termites spreading to your home. A gap of just a couple of inches will do.
So when you kick back and watch the footy next, enjoy the warmth and atmosphere the open fire provides. Collecting and preparing the firewood is hard work, but incredibly satisfying and helps you to enjoy the crackle from the fireplace even more.
Check out STIHL's range of battery and petrol chainsaws here or visit your local STIHL Dealer.