2019 was a year of firsts for STIHL with a record breaking number of new products added to the range, giving home users and professionals more choice, power and flexibility than ever before. 2019 also saw the introduction of self-propelled and automated mowing options to the STIHL range, allowing users to maintain their lawn care quickly and efficiently, all while producing a high quality result.
MOWERS THAT MOVE YOU
The RMA 460 V and RMA 510 V are the latest mowers to join an already impressive and growing range of battery lawn mowers. Both models are self-propelled, and are designed to clear the way quicker with automatic ECO mode, flow optimised blades and variable speed propulsion for the most efficient mowing experience available yet.
The RMA 460 V is part of AK battery system which consists of nine tools, including a long-reach hedge trimmer, a handheld hedge trimmer, two chainsaws, a blower, a grass trimmer and two other mowers. The range also offers three battery options, so you can choose a battery to suit the requirements of your garden.
The RMA 460 V is capable of clearing up to 222m2 on a single charge using the AK 30 battery, and features a cutting deck that is 46cm (18in) in diameter allowing you to cover more ground in less time. And, for more mowing and less stopping, the RMA 460 V features a dual battery slot and a whopping 60L grass catcher.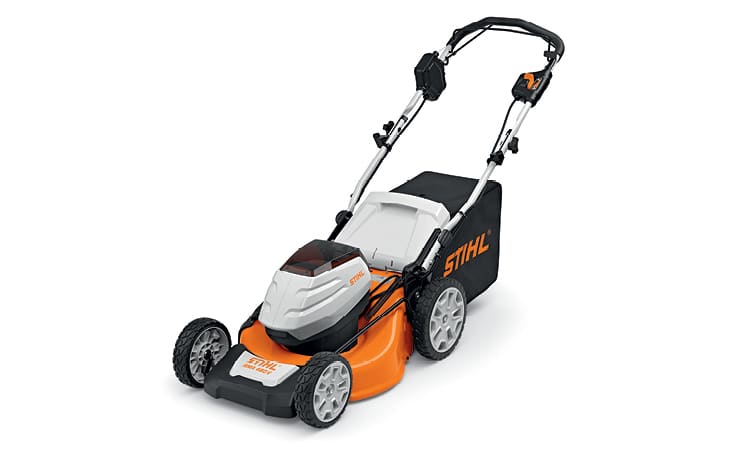 If you're after something to take you that little bit further, the RMA 510 V features a large 51cm (20in) cutting deck, and can cover 286m2 of lawn on a single charge using the AP 300 S battery. This mower is great for those with large gardens or for professional use, again featuring the dual battery slot and an even larger catcher at 70L. This mower is part of the AP battery system, so the battery used to power the RMA 510 V is also compatible with over 25 other tools in the STIHL battery range.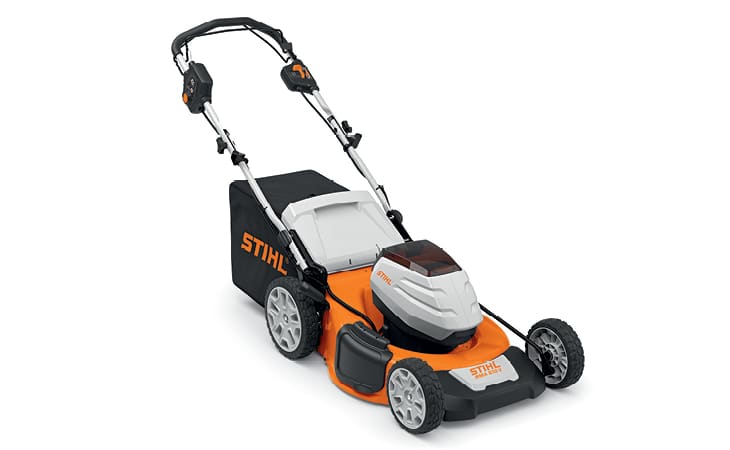 With a drive speed of 1 – 4.5km on both mowers, the self-propulsion can be set to suit your stride, ranging from a relaxing stroll to a brisk walk. The cutting height on both mowers can be easily adjusted to suit the season and the needs of your lawn with a single lever. The height of the cutting deck can be set as low as 25mm, and as high as 100mm, which is particularly handy during the warmer months when a little extra lawn growth protects your roots from the harsh sun.
Be sure to check out our top tips from the team of experts at the Royal Botanic Gardens Victoria to keep your lawn in shape all year round. 
MORE TIME FOR OTHER PROJECTS
If you're looking to free up more time for other projects around the house, or if you simply want to spend more time enjoying your garden rather than maintaining it, then the new iMOW robotic mowers are for you. Not only does iMOW automatically keep your lawn tidy and trim all year round, once programmed, it mows like an absolute perfectionist by utilising optimum mowing paths, making sure your lawn is cut evenly all over.
The RMI 422 P and the RMI 632 P were introduced to the STIHL range in 2019 to cover lawns of all shapes and sizes right up to 4,000m2. Both incredibly quiet and requiring very little attention or maintenance from the owner, both models will mow your lawn automatically based on its needs. And, if you have obstacles like trees or posts, the built-in sensors will safely react to moving and static objects by redirecting the machine to cut in another direction.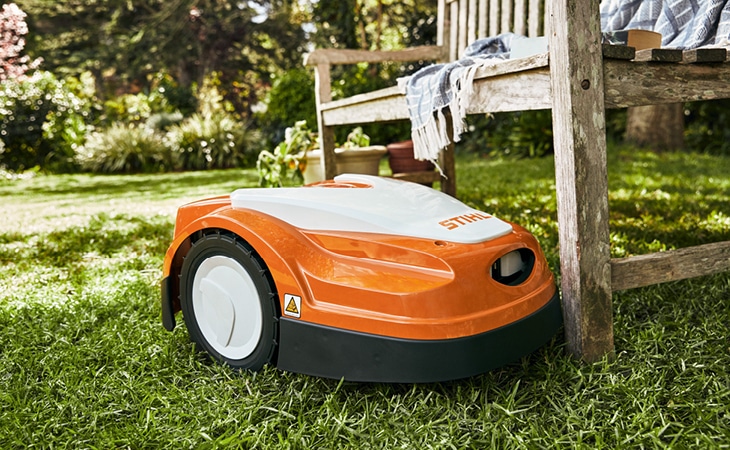 The most attractive feature about the iMOW is that it mows and cares for your lawn all at the same time. While mowing, it shreds the grass clippings very finely, which fall back onto the lawn acting as an effective natural fertiliser, also known as mulching. Not only does this provide vital nourishment to your lawn to help it to grow thick and healthy, it also means collecting and disposing of grass clippings is a thing of the past!
The STIHL iMOW is one of the fastest robotic mowers on the market. To make sure the quality of the cut is of the highest standard, iMOW adjusts its working speed according to the gradient of the terrain and the length of the grass to leave your lawn with a precise finish all year round.
And if you're worried about installation, don't be. Unlike some other models available on the market, your approved and qualified iMOW Dealer will handle all of the tricky bits for you and be available for any after sales advice or care that's required so you get the absolute best from your robotic mower. ClIck here to learn more about iMOW and to find your nearest approved iMOW Dealer.