Your lawn is already naturally equipped to get through the cold season. However, with a proper autumn lawn care routine, you can avoid being caught off guard by major or minor damage once spring comes around again. The most important thing to do is properly clear your lawn before winter sets in.
Remove Autumn Leaf Litter
Remove leaf litter and fallen debris as the first step to prepare your lawn for the change in weather. This prevents the cold-season mold and fungus that can develop in damp conditions – if the lawn is left covered up in during the cooler months, oxygen cannot circulate, which makes it vulnerable to pests and disease.
While this can be done manually with a rake, you can also do this task in half the time by using your lawn mower to help you. Just be sure to remove any larger twigs beforehand, and make sure you've got your catcher on. Set your mowing height nice and high, as the airflow will allow you to collect them up, and remember, it's easiest to collect them when they are not too thick on the ground and they are dry. Best not to do this after a week of rainfall!
While you're at it, you might be thinking about the leaf litter that's covering your garden beds. This is actually fine where it is, provided it's not too dense. A thin layer will actually protect against frost, and will also provide a habitat for small garden creatures.
Feeding and rejuventating
Feeding is an essential part of lawn care, and the autumn feed has a special role in looking after your lawn. Fertilisation in late autumn will give your lawn a dose of nutrients that will help it to survive the cooler weather. If you've done your last mow before winter, it's a great time to fertilise your lawn. A fertiliser spreader will make life easier here, and ensure that nutrients are spread evenly over the entire lawn.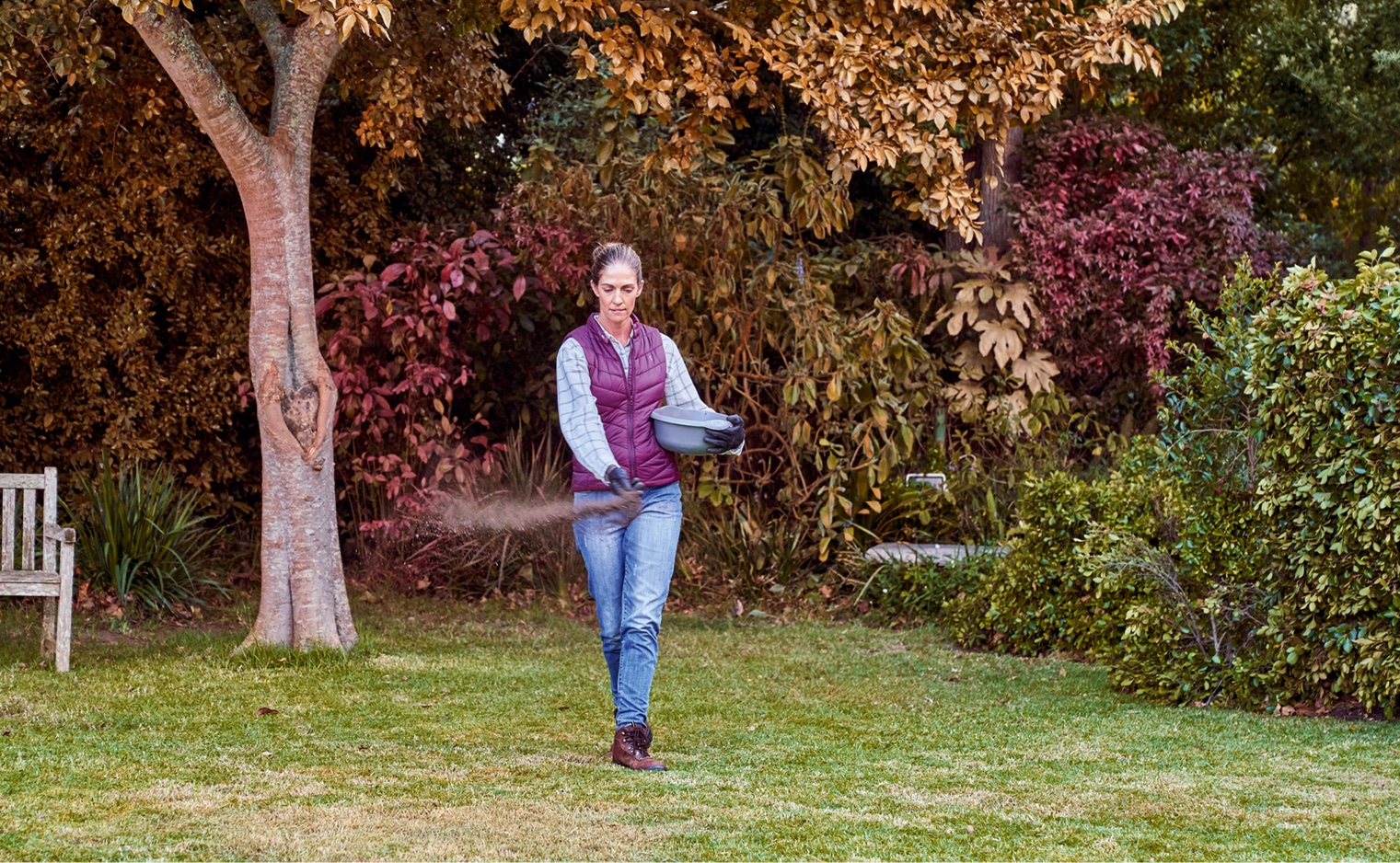 As a rule, autumn lawn feed should be applied before the first ground frost, and after mowing at the end of the season. Your lawn's metabolism naturally pauses between 10°C and 5°C, so you should look at the previous year's temperatures to gauge the best time. If it's consistently below 10°C from mid-May, you should be fertilising during April.
For your autumn lawn care routine, opt for special fertilisers that will prepare your lawn for the low temperatures, frost, and moist air that come with the coldest months. Potassium is an important part of the fertiliser mix, as it helps your lawn to resist frost and disease. The potassium in the fertiliser gets into the cell fluid and lowers the freezing point of the grass cells, increasing the plant's hardiness against frost. The potassium also has a beneficial effect on the metabolism of the grass.
Mowing Height during Autumn
Cut your lawn to the usual height – around 5 cm. This will stimulate growth which is important before the cooler weather settles in and the rate at which your grass grows will slow.
The last cut of the season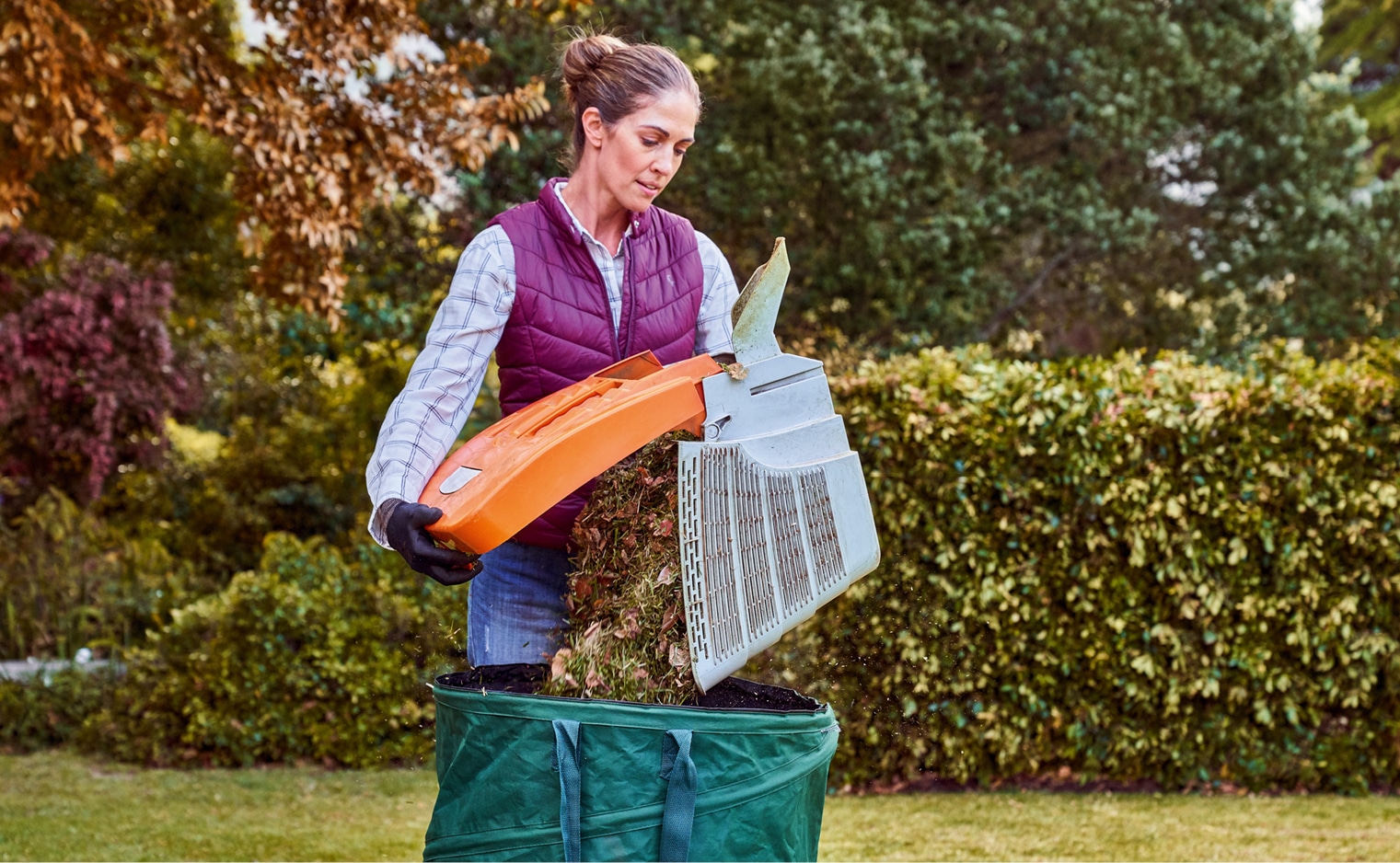 Your last cut before winter should be a low one, as this will reduce the risk of fungus taking hold. We recommend that you use your catcher for this mow, as it won't be possible to grass cuttings from the ground once the temperature drops, and it may smother the surface of your lawn. It's important to time your last mow of the season well. Make sure you do this before the morning frost arrives, and on a dry day. Ideally a cloudy one too!
Care for your lawn mower, too
Another way to care for your lawn is to care for your lawn mower! Remember to give it a good clean after each use, as you'll slowly start using it less often and built up grass clippings can become stuck and difficult to remove. Inspect your blades too – sharp mower blades are vital to a healthy lawn.
Check out our guide on how to identify dull mower blades, including some tips on how to get the most out of them. Alternatively, visit your local STIHL Dealer.