37-year old Laurence O'Toole from Doncaster, Victoria has axed the competition and his own Australian record at the 2019 STIHL TIMBERSPORTS® Australian Champions Trophy in Geelong, securing his place at the STIHL TIMBERSPORTS® World Champions Trophy in Sweden next month.
O'Toole battled it out against 14 of Australia's best STIHL TIMBERSPORTS® athletes in the Original Extreme Sport, chopping and sawing through four blocks of wood in a new Australian record time of just 1:06.84, beating Tasmanian Kody Steers by 4.54 seconds in a thrilling Grand Final of the knock-out competition.
O'Toole's victory sees him win the top prize of $20,000 and the opportunity to represent Australia at the World Champions Trophy in Sweden next month, where he will compete against the world's best STIHL TIMBERSPORTS® athletes from 12 countries including New Zealand, USA, Canada and Germany.
O'Toole has already tasted victory on the world stage and will be looking to claim his second STIHL TIMBERSPORTS® World Title in Sweden to follow up his victory in England last year.
"I worked really hard for this competition, starting training back in January specifically for this event, so it's great to come away with the win," O'Toole said.
"I knew it was going to take a time close to the Australian record to beat Kody as he was on fire all afternoon and had the momentum with him after knocking out some big names. In the final, I cut a ripper underhand and standing block and just managed to sneak ahead of him in the single buck. It's great to get the win and I'm looking forward to representing Australia in Sweden next month."
O'Toole had a consistent day on route to the final, starting out by taking one of the four automatic spots in the quarterfinal after a qualification time of 1:21.40 in the time trial round. In that quarterfinal, he went up against Rookie World Champion Daniel Gurr who he comfortably beat in a time of 1:29.20 to set up a semi-final with the western Australian Brent Rees. Rees pushed O'Toole to the end but proved too strong again, winning with a time of 1:22.42 in the semi-final to meet Kody Steers in the Grand Final.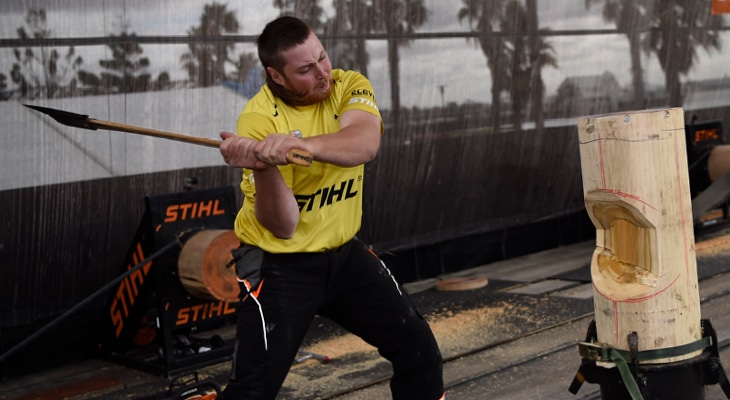 Steers endured a tougher route to the final, which may have taken its toll. After a disappointing 9th place in the qualification time trial, he faced three time World Champion Trophy winner Brad De Losa in the eight final. In a close race Steers came out on top with a time of 1:19.33 to setup a quarterfinal with the fastest man of the qualification Glen Gillam. Gillam almost matched his time of 1:16.03 from the time trial, but Steers shifted into second gear to win by just over one second. In the semi-final he faced Brayden Meyer, another former World Champions Trophy winner, and once more edged out his opponent, this time not as comfortably; a video replay was needed to split the athletes by just 0.01 seconds.
Supported by the City of Greater Geelong, over 5000 spectators turned out to watch Australia's top STIHL TIMBERSPORTS® athletes battle with razor-sharp axes and high-powered chainsaws in the bid to be crowned Australia's Champion.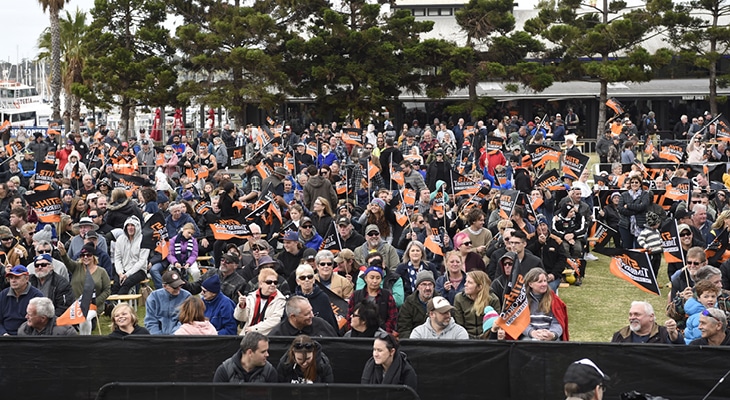 STIHL TIMBERSPORTS® Event Director Lee Gooch said the event was a huge success in Geelong, with great athletes and exceptional competition across the day.
"We had a great turn out here in Geelong today with many fans travelling from interstate too, there is real momentum building with the series in Australia which is great to see as the level of performance, competition and professionalism from the athletes is a real spectacle to witness live " Gooch said.
"We're excited to see what O'Toole can do on the international stage when we head over to Sweden for the STIHL TIMBERSPORTS® World Champions Trophy next month."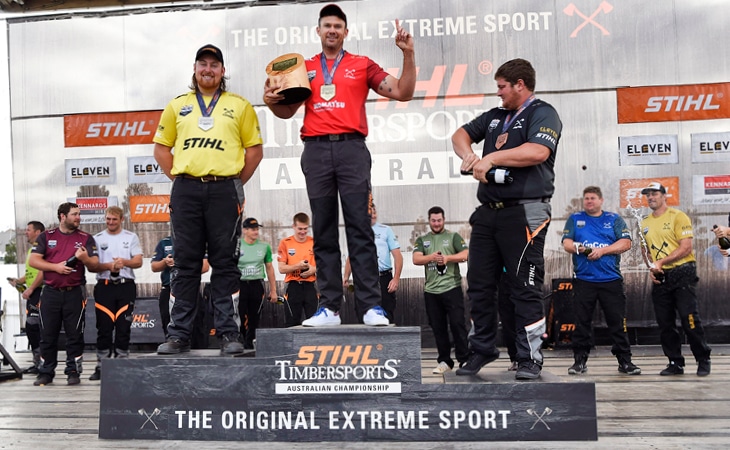 STIHL TIMBERSPORTS® Champions Trophy is an international extreme sports competition series comprising of four intense saw and axe disciplines including the Underhand Chop, Standing Block Chop, Single Buck Saw and the STIHL Stock Saw. Athletes complete the four disciplines back-to-back in a one man relay format.
The STIHL TIMBERSPORTS® World Champions Trophy will see the world's best fight to claim the prestigious spot of Global Champion in Gothenburg, Sweden on May 25. The Rookie World Champion will also be crowned at the event, as Tasmania's Josh Bakes takes on the world's best up-and-coming athletes to claim the honours in the under 25 division.
Missed out on the action? View the full livestream on the STIHL TIMBERSPORTS Facebook page.