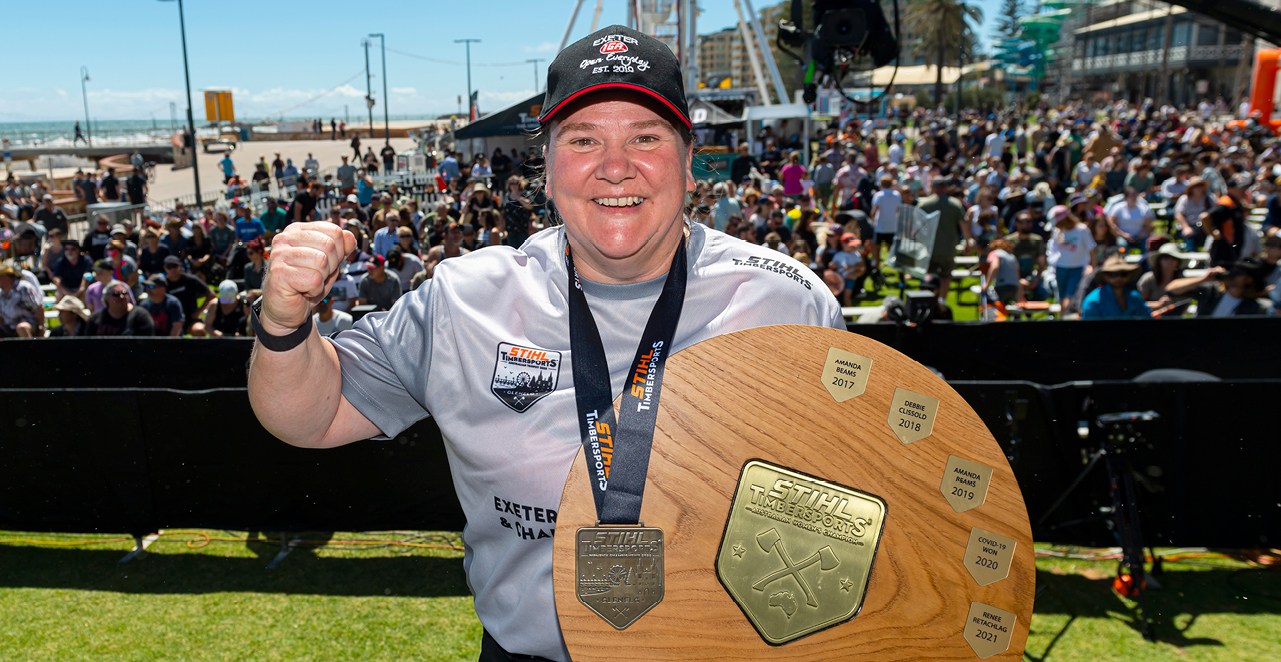 Amanda Beams from Winkleigh, Tasmania, axed the competition at the 2022 STIHL TIMBERSPORTS® Australian Women's Championship in Adelaide today with personal bests in all three disciplines, including setting a new world record in the Underhand Chop.
Beams battled it out against 6 of Australia's best STIHL TIMBERSPORTS® athletes following the qualifying round yesterday and narrowly missed out on a perfect score after Jodie Butel took out top spot in the Single Buck with a time of 29.01, just shy of her PB.
Beams set a world record with the Underhand Chop, recording a time of 31.00 seconds. Across the other two disciplines, the Single Buck and Stocksaw, Beams set two personal bests of 33.71 seconds (an improvement of 5 seconds) and 15.33 seconds, respectively.
It was an incredibly close competition, with the athletes in 6th, 5th, 4th and 3rd tying on points but it was their individual times that set the ladies apart.
Beams was excited about her win, saying that her training has paid off. "I'm ecstatic about the win, last year was a really hard year so it's great to see the training and work paying off. A lot of hard work goes into what we do and there's something about getting up on the stage and it not going to plan but you've got to keep it together," Beams said.
The comradery between the female athletes was admirable, showcasing the true Australian tradition of sportsmanship with Beams saying any of the athletes could take the top spot.
"Any girl is capable of winning this event. We've got girls knocking at the door and it takes just one bad discipline. Shout out to the people in the crowd. If you're not here it doesn't add to the emotion and adrenaline so thank you," Beams said.
Runner up Maddison Kirley was emotional on the podium, with this year's competition marking her comeback since having a baby in 2021. "It's fantastic. Every year I've competed I've made the podium but yet to take out top place. As long as STIHL keeps running it we'll be here, it's great to compete alongside these ladies," Kirley said.
STIHL TIMBERSPORTS® Event Director Renee Kitto said the event was a huge success in Glenelg, with great athletes, exceptional competition and an over-excited crowd egging athletes on across the day.
"STIHL TIMBERSPORTS® was at capacity today at Jimmy Rose Park in Glenelg, it's great to see so many people supporting the athletes in South Australia," Kitto said.
"Our athletes are examples of brute strength, determination and athleticism and it was incredible to watch Amanda Beams give her all across the three disciplines to take out top spot."
FINAL WOMEN'S RANKINGS
Amanda Beams (TAS) – 17 points
Maddison Kirley (NSW) – 10 points
Renee Retschlag (QLD) – 9 points (1:37.67)
Jodie Beutel (QLD) – 9 points (1:50.06)
Katrina Head (QLD) – 9 points (1:54.52)
Kris Brown (TAS) – 9 points (1:56.40)
For more information, visit www.stihl.com.au/timbersports