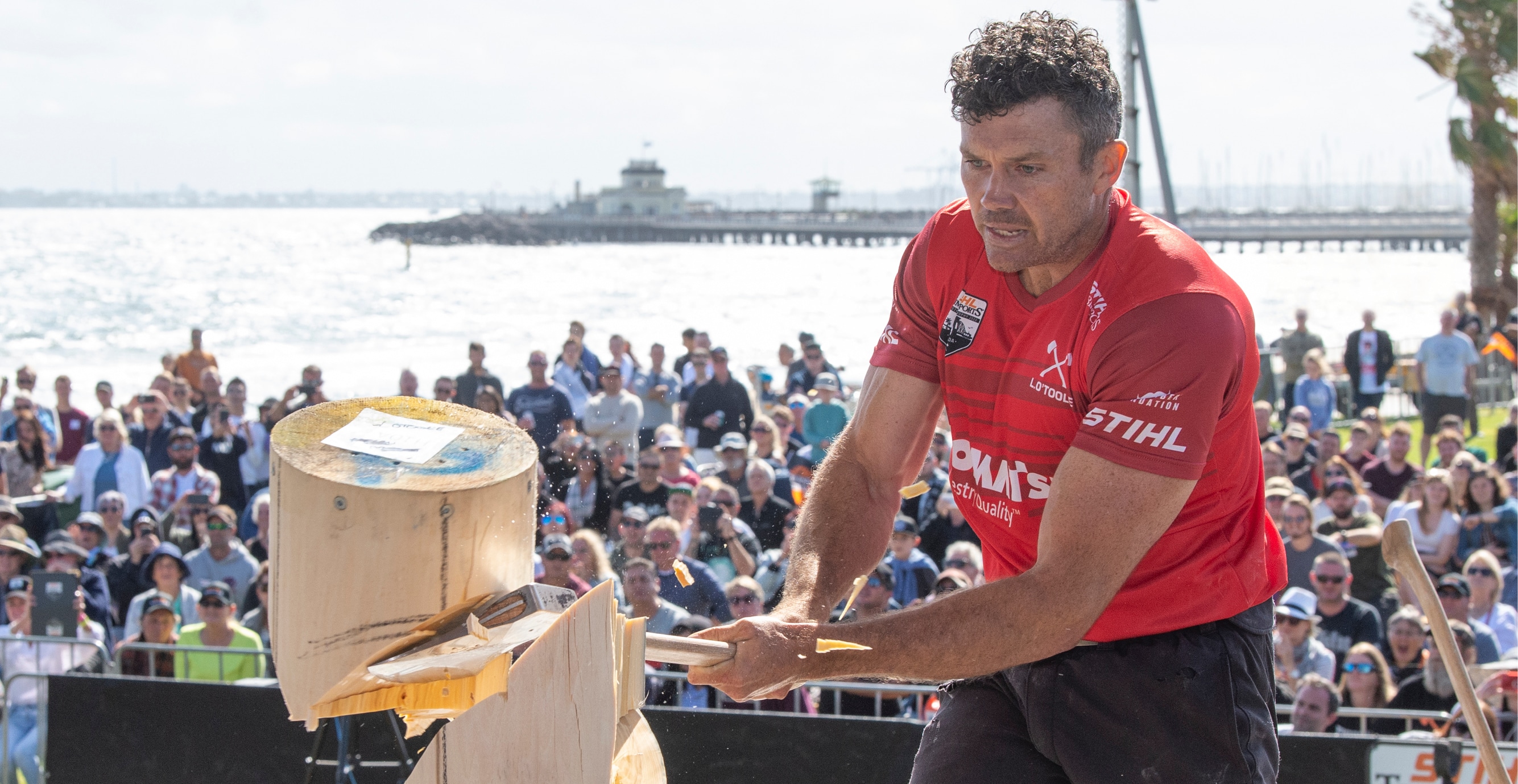 Australia's top STIHL TIMBERSPORTS® athletes will be chopping and sawing once again on to the St Kilda foreshore on Saturday 8th May for the 2021 Australian Trophy & Australian Women's Championship.
The Original Extreme Sport is back live after a series of virtual events in 2020. The Australian Trophy was the last competition in the global series to be contested live with a crowd, taking place in early March 2020 before strict lockdown laws put events internationally on hold.
The Trophy format is the sport's most physically demanding competition; athletes are required to chop and saw four logs in four different disciplines back-to-back in grueling knockout match-ups, the top athletes aiming to do so in under 60 seconds.
Victorian's Laurence O'Toole & Brayden Meyer battled it out in the 2020 Australian Trophy Grand Final, O'Toole was the victor by the narrowest of margins booking his spot at the World Trophy to be held in Austria last May. Unfortunately, as the pandemic worsened and the World Trophy was cancelled meaning O'Toole did not get the chance to battle for another world title.
"It's great to have a competition in the calendar for 2021, hopefully travel restrictions locally allow the competition to go ahead and we can have a decent crowd too. I'm not expecting to be able to travel to the World Trophy if I win again, but that doesn't affect my will to win, I've won the Australian Trophy two years in a row now so it would be great to continue my winning streak" Laurence O'Toole commented.
Laurence will be competing against 13 athletes in St Kilda, with his biggest competition coming from fellow Victorian and 2019 World Champion Brayden Meyer, three-time World Trophy winner Brad De Losa from New South Wales and two-time Australian Trophy winner Mitch Argent of Queensland.
"The Trophy format is one I really enjoy, it's a challenge both physically & mentally, one slip up or one lapse in concentration in this knock-out format and bang you're going home. I'm sure Brayden, Brad & Mitch will be looking to stop my winning streak" O'Toole continued.
The event will also host the STIHL TIMBERSPORTS® Australian Women's Championship for the first time, with the competition usually held in the second half of the year, brought forward to take place in May. Event Director Lee Gooch was excited to be able to extend the entertainment on offer in St Kilda and display the country's top female athletes in the Original Extreme Sport.
"It was unfortunate that we couldn't hold a women's championship in 2020 due to the pandemic, but it's great to bring the competition forward to May to coincide with the Australian Trophy. The crowd at St Kilda last year was amazing with over 5000 people turning out over the course of the day, many were disappointed that the event didn't run for longer so we are adding the women's championship to give the fans what they want; more axe-ion!"
Amanda Beams will be looking to defend her 2019 Australian Championship title against five of the country's top females in the sport. Beams fiercest rival, three time runner-up, Maddie Kirley from Victoria is expecting a baby and so unable to compete, but victory won't be a walk in the park for Beams with Queensland trio Renee Retschalg, Jodie Beutel & Katrina Head, Victoria's Adele Deverell & Tasmania's Kris Brown all looking to take the top spot in 2021 across the 3 round competition.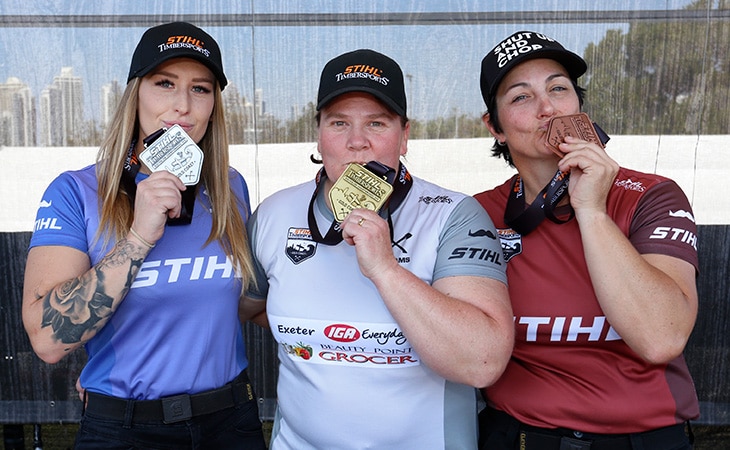 The event will be once again free to enter, but due to Covid-19 event restrictions, it is recommended that fans arrive early to guarantee entry. The event will include food trucks, licenced bar and music through until close.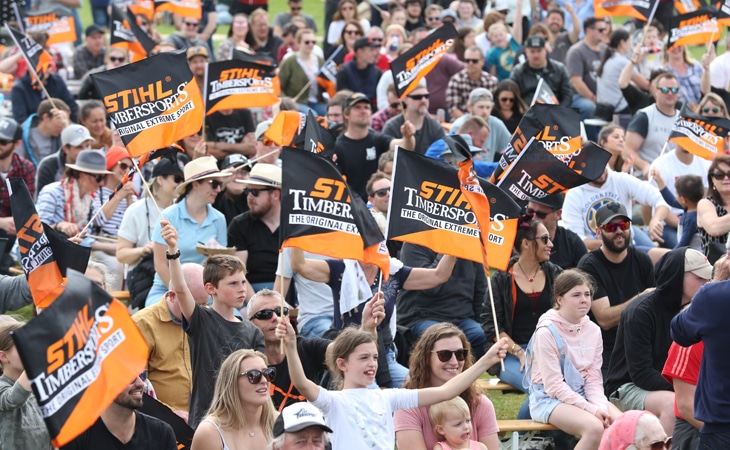 Date: Saturday 8th May 2021
Location: St Kilda Foreshore (between Republica & Stokehouse)
Parking: Available at Palais Theatre (fees apply)
Entry: Free (but limited to one person per sqm – estimated 800-1000 people capacity)
Gates Open: 11:30am
Australian Trophy Time Trial: 12:00 – 13:00
Women's Championship: 13:00 – 14:00
Australian Trophy: 14:30 – 17:00
*Times are AEST and are subject to change.
All competitions will be streamed live on the STIHL TIMBERSPORTS® Australia Facebook & YouTube Channels.
For further information regarding the event, please contact: csc@stihl.com.au
For Media & PR enquired please contact: timbersports@thrivepr.com.au