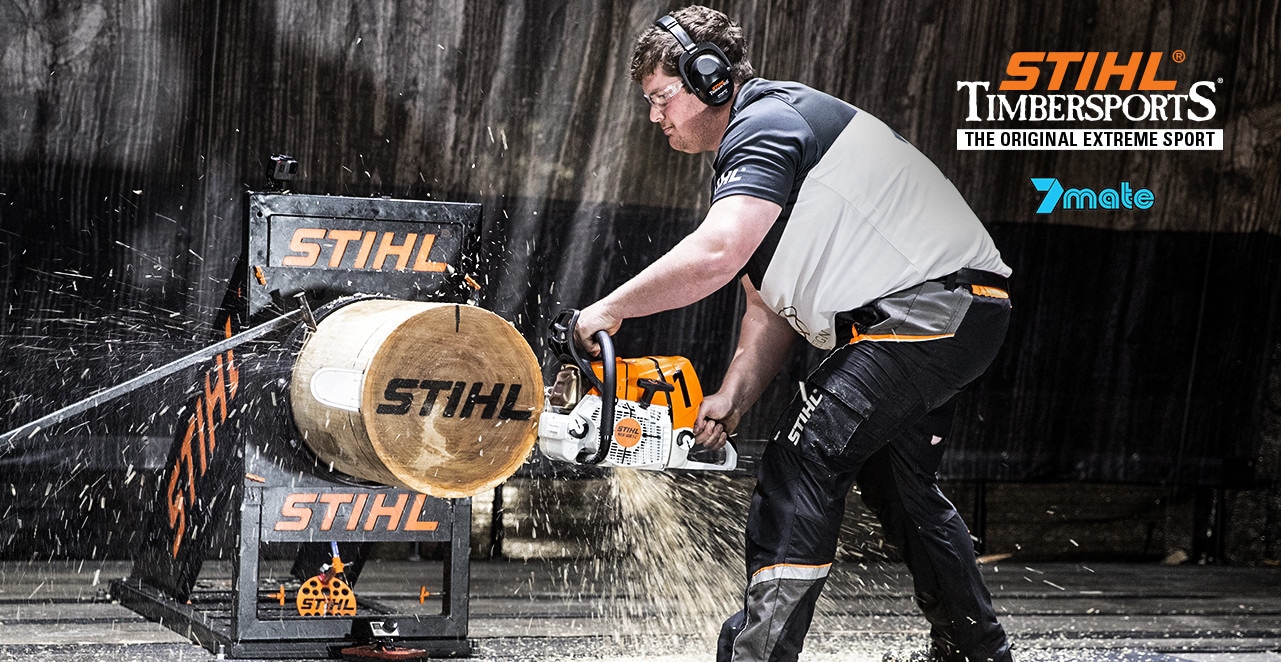 STIHL TIMBERSPORTS® is back on 7mate with our biggest schedule ever!!!
Starting on Saturday 6th October 2018 and running through until 8th June 2019 we have secured an amazing 35 slots for STIHL TIMBERSPORTS® TV episodes. Follow the journey of the Australian Chopperoos as they battle on home turf before heading overseas to take on the world!
The schedule starts off with a recap on the 2016 and 2017 series before premiering the 2018 series in the New Year.
If you don't manage to catch the episodes when they air you can watch on 7Plus or our YouTube Channel the day after each episode airs.
Full Schedule:
| SPOT | MONTH | DATE | TIME | SERIES | EPISODE | COMPETITION |
| --- | --- | --- | --- | --- | --- | --- |
| 1 | OCTOBER | 6 | 12:30 - 1:00pm | 2016 | 1 | Australian Championship (Repeat) |
| 2 | | 13 | 12:30 - 1:00pm | 2016 | 2 | Australian Championship (Repeat) |
| - | | 20 | - | - | - | No episode - Live sport on 7mate |
| 3 | | 27 | 12:30 - 1:00pm | 2016 | 3 | Australian Championship (Repeat) |
| 4 | NOVEMBER | 3 | 12:30 - 1:00pm | 2016 | 4 | Australian Championship (Repeat) |
| 5 | | 10 | 12:30 - 1:00pm | 2016 | 5 | Australian Championship (Repeat) |
| 6 | | 17 | 12:30 - 1:00pm | 2016 | 6 | Australian Championship (Repeat) |
| 7 | | 24 | 12:30 - 1:00pm | 2016 | 7 | World Championship (Repeat) |
| 8 | DECEMBER | 1 | 12:30 - 1:00pm | 2016 | 8 | World Championship (Repeat) |
| 9 | | 8 | 12:30 - 1:00pm | 2016 | 9 | World Championship (Repeat) |
| 10 | | 15 | 12:30 - 1:00pm | 2016 | 10 | World Championship (Repeat) |
| 11 | | 22 | 12:30 - 1:30pm | 2017 | 1 | Australian Champions Trophy |
| 12 | | 29 | 12:30 - 1:30pm | 2017 | 2 | World Rookie Championship |
| 13 | JANUARY | 5 | 12:30 - 1:30pm | 2017 | 3 | World Champions Trophy |
| 14 | | 12 | 12:30 - 1:30pm | 2017 | 4 | Australian Championship |
| 15 | | 19 | 12:30 - 1:30pm | 2017 | 5 | Australian Championship |
| 16 | | 26 | 12:30 - 1:30pm | 2017 | 6 | World Championship |
| 17 | FEBRUARY | 2 | 12:30 - 1:30pm | 2017 | 7 | World Championship |
| 18 | | 9 | 12:30 - 1:00pm | 2018 | 1 | Australian Champions Trophy |
| 19 | | 16 | 12:30 - 1:00pm | 2018 | 2 | Australian Champions Trophy |
| 20 | | 23 | 12:30 - 1:00pm | 2018 | 3 | World Rookie Championship |
| 21 | MARCH | 2 | 12:30 - 1:00pm | 2018 | 4 | World Rookie Championship |
| 22 | | 9 | 12:30 - 1:00pm | 2018 | 5 | World Champions Trophy |
| 23 | | 16 | 12:30 - 1:00pm | 2018 | 6 | World Champions Trophy |
| 24 | | 23 | 12:30 - 1:00pm | 2018 | 7 | Australian Championship |
| 25 | | 30 | 12:30 - 1:00pm | 2018 | 8 | Australian Championship |
| 26 | APRIL | 6 | 12:30 - 1:00pm | 2018 | 9 | Australian Championship |
| 27 | | 13 | 12:30 - 1:00pm | 2018 | 10 | Australian Championship |
| 28 | | 20 | 12:30 - 1:00pm | 2018 | 11 | World Championship |
| 29 | | 27 | 12:30 - 1:00pm | 2018 | 12 | World Championship |
| 30 | MAY | 4 | 12:30 - 1:00pm | 2018 | 13 | World Championship |
| 31 | | 11 | 12:30 - 1:00pm | 2018 | 14 | World Championship |
| 32 | | 18 | 12:30 - 1:00pm | 2018 | 1 | Australian Champions Trophy (Repeat) |
| 33 | | 25 | 12:30 - 1:00pm | 2018 | 2 | Australian Champions Trophy (Repeat) |
| 34 | JUNE | 1 | 12:30 - 1:00pm | 2018 | 5 | World Champions Trophy (Repeat) |
| 35 | | 8 | 12:30 - 1:00pm | 2018 | 6 | World Champions Trophy (Repeat) |