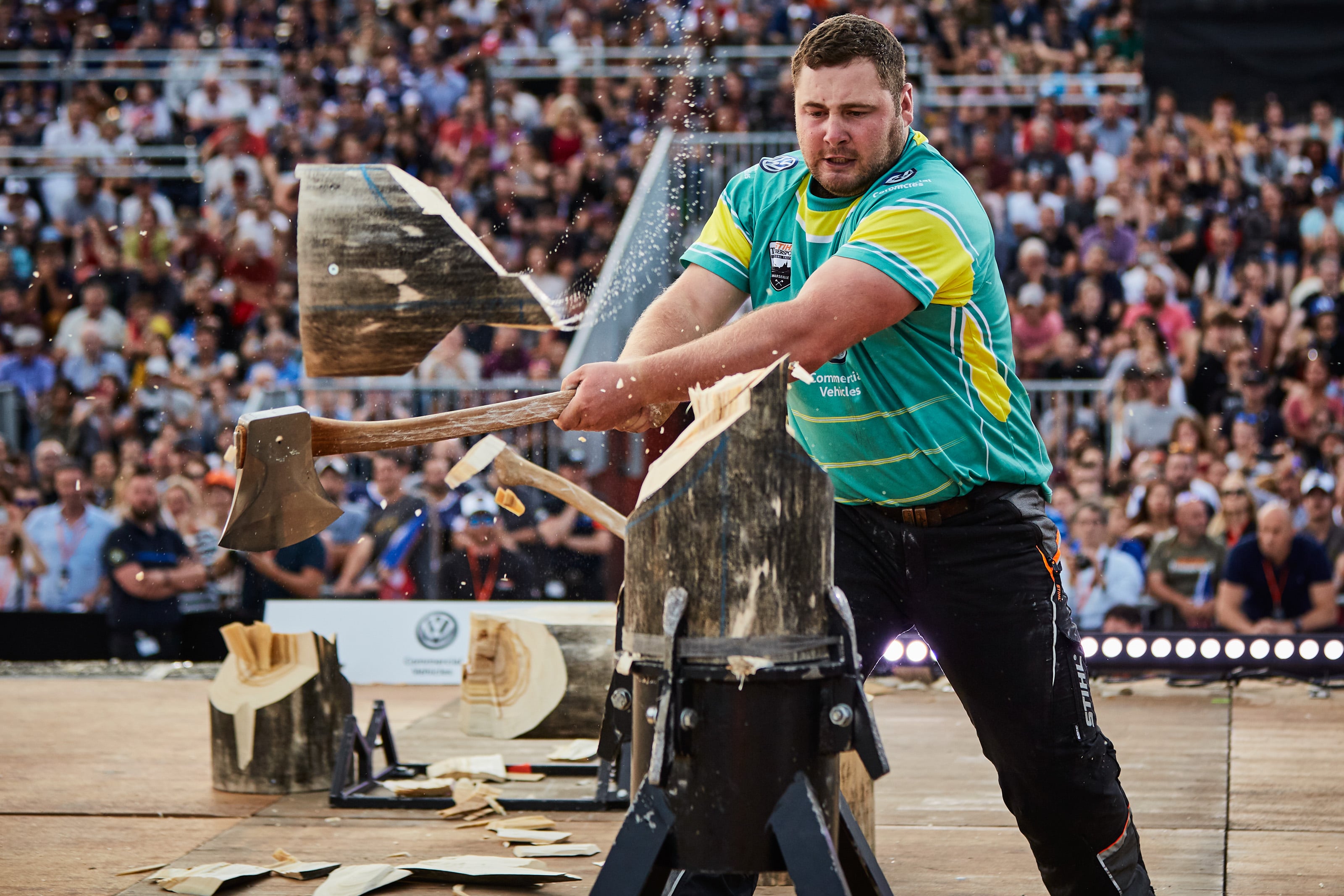 2020 STIHL TIMBERSPORTS® Australian Trophy
Saturday, 7th March
St Kilda Beach Reserve, St Kilda
FREE ENTRY!
Where is the STIHL TIMBERSPORTS® Australian Trophy being held?
The competition will be on the grass area directly next to the St Kilda Sea Baths across from St Kilda Beach. If you look on Google Maps, the location is marked as 'St Kilda Festival'. For those that know the area, the closest landmarks are Stokehouse and Republica on Jacka Blvd. Click here to view the location on Google Maps.
What is the best way to travel to the STIHL TIMBERSPORTS® Australian Trophy, is there parking nearby?
As with any inner-city event, public transport is your best option, however there are also a number of parking options nearby.
BY CAR: The closest parking to the event is at the Palais Theatre on Jacka Blvd in St Kilda which costs $12.60 per day. Also nearby, but a little more expensive, is St Kilda Sea Baths which can be located at 10-18 Jacka Blvd in St Kilda, and costs $22 per day.
BY TRAM: The number 3 / 3a, 16 and 96 trams all run along The Esplanade in St Kilda. Get off at stop #136 which is just 50 metres from the event location.
BY BUS: The number 606 bus stops on Jacka Blvd in St Kilda, and runs from Elsternwick train station right through to Fisherman's Bend in Albert Park where various other trams and trains past through.
BY TRAIN: The closest train station to the event is Balaclava station, which links to the city loop. Upon arrival at Balaclava, jump on the #16 tram and get off at stop #136 on the Esplanade. If you feel like a walk, it will take you 15-20 minute straight down Carlisle Street to get to St Kilda Foreshore.
If you're taking public transport, click here to plan your journey.
How do I get a ticket to the STIHL TIMBERSPORTS® Australian Trophy?
Entry to the event is absolutely FREE! We do advise you turn up early to guarantee yourself a seat!
Will there be seating at the STIHL TIMBERSPORTS® Australian Trophy?
Yes! There will be bench seating directly in front of the stage for approximately 600-800 people. If you wish to bring your own camping chair for a bit more comfort, there will be an area available for you to set up camp. There will also be an area for standing and picnic blankets too. We can't guarantee a seat for all fans, so we suggest you are early to avoid disappointment!
Will there be food and drinks available at the STIHL TIMBERSPORTS® Australian Trophy?
Thanks to the Food Truck Carnival Co., there will be a selection of Melbourne's top food trucks alongside a licensed bar selling beer, wine, pre-mixers and soft drinks from 12pm to 10pm*. Water fountains are also available on the bay trail for you to fill up your water bottles.
*Times subject to weather.
Will I be able to purchase merchandise at the STIHL TIMBERSPORTS® Australian Trophy?
The Extreme Gear Merchandise stand will be selling a wide range of STIHL TIMBERSPORTS merchandise items including caps and t-shirts – even toy chainsaws! Credit or debit card payments and cash sales will be available from 12pm – 6pm.
What time will the action start and finish at the STIHL TIMBERSPORTS® Australian Trophy?
The gates will open at 12:00pm with first chop at 12:30pm. It is estimated that the grand final will commence at 5:00pm, although we will be assessing weather conditions throughout the day which may have an impact on the schedule.
The full schedule as it stands is as follows:
Gates Open: 12.00PM
Qualification Time Trial: 12:30PM -1:30PM
Knockout Rounds: 2:00PM – 5:00PM
Grand Final: 5:00PM – 5:30PM
Ceremony: 5:30PM
Food Truck Carnival Open: 12:00PM – 10:00PM
Gates Close: 10:00PM
Who is competing at the STIHL TIMBERSPORTS® Australian Trophy?
The Australian Trophy will feature 15 of the highest-ranking STIHL TIMBERSPORTS® athletes from around the country, who will go head-to-head in a series of knockout match-ups.
Your 2020 Australian Trophy athletes are:
Laurence O'Toole (Watsonia, VIC) – 2019 Australian Trophy Winner
Brad De Losa (Lithgow, NSW)
Mitch Argent (Blackbutt, QLD)
Brayden Meyer (Broadford, VIC) – 2019 Australian and World Championship Winner
Jamie Head (Redcliffe, QLD)
Brent Rees (Perth, WA)
Glen Gillam (Toongabbie, VIC)
Kody Steers (Sheffield, TAS)
Matt Gurr (Deloraine, TAS)
Daniel Gurr (Deloraine, TAS)
David Reumer (Mittagong, NSW)
Chris Owen (Grafton, NSW)
Jake Dingle (Mundubbera, QLD)
Josh Bakes (Sheffield, TAS)
Brodie Dingle (Eidsvold, QLD)
What do Athletes win at the STIHL TIMBERSPORTS® Australian Trophy?
Our athletes are competing for the chance to represent Australia at the upcoming STIHL TIMBERSPORTS® World Trophy which will take place in Vienna, Austria on the 21st May. They will also win $20,000 in prize money and have their name engraved in the history books of STIHL TIMBERSPORTS® Australia as the 2020 Australian Trophy Champion.
Can I bring my dog to at the STIHL TIMBERSPORTS® Australian Trophy?
If your dog doesn't mind chainsaws and loud music, then they are more than welcome to bring them to the event. We do ask you keep them on a lead and be mindful of other fans during the event.
Will I be able to get autographs from the athletes at the STIHL TIMBERSPORTS® Australian Trophy?
Yes, you can! Our athletes will be more than willing to sign any merchandise or autographs. The best time to get autographs will be at between 12:00 and 12:30pm out the front of the main stage and after the ceremony at approximately 5:30pm.
What wood do they chop at the STIHL TIMBERSPORTS® Australian Trophy?
For the Australian Trophy, all sawing wood will be Hoop Pine from Blackbutt in Queensland, and for chopping, the wood will be Poplar from the Blue Mountains region. Both plantations are re-growth forests that have a forestry management plan. All chopped wood will be processed and used for mulch.
How does the STIHL TIMBERSPORTS® Australian Trophy work?
In each match-up, athletes will have to complete four disciplines back-to-back: Stock Saw, Underhand Chop, Single Buck and the Standing Block Chop. The fastest athlete from each match-up will progress to the next round, culminating in a grand final between the last two remaining competitors.
If you have any questions about this weekend's event, don't hesitate to send us a message on the STIHL TIMBERSPORTS® Facebook page.