On the 28 May 2022 New Zealand's Jack Jordan sawed his way to STIHL TIMBERSPORTS® World Trophy glory in his first ever international Trophy event, defeating American's Jason Lentz in the Final, with Australian axe-legend Brad De Losa finishing third.
Jordan set the fastest time of the whole competition on his way to the Final, before holding his nerve in a tense showdown to defeat Individual World Champion Lentz by ten seconds to claim the title. De Losa easily saw off the challenge of Poland's Michał Dubicki in the small final.
The World Trophy returned after a two-year absence in front of a raucous crowd of 3,500 at Rathausplatz, Vienna, Austria. After an opening Time Trial, the athletes went to toe-to-toe in a heart-racing head-to-head knockout format, taking on four iconic TIMBERSPORTS® disciplines – Stock Saw, Underhand Chop, Single Buck and Standing Block Chop – one after the other in each round.
Three-time World Trophy Champion De Losa set a strong marker in the opening Time Trial round, finishing top of the standings in 1:05.32, ahead of Lentz. Following a fourth-place finish in the Time Trial, Jordan showcased his strong form in the Round of 16 by producing a sensational sub one minute time (58.07) to beat Rookie World Champion Jack Argent. Meanwhile, Germany's Danny Martin scored a stunning personal best of 1:07.86 but it was not enough to stop Lentz in his tracks.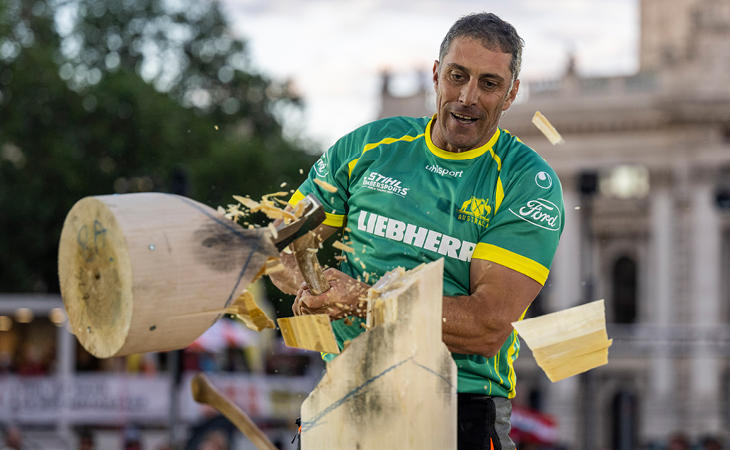 The Quarter Finals saw De Losa easily defeat Koen Martens (Belgium) while, in one of the heats of the night, Sweden's Ferry Svan scored a personal best of 1:00.92. The relentless Lentz squeezed into the Semi Finals in 58.49. Jordan and Dubicki progressed comfortably after Emil Hansson (Sweden) and Marcel Dupuis (Canada) were respectively disqualified.
Jordan then produced the shock of the night with a 1:01.03 to defeat favourite De Losa (1:05.20) in a breath-taking contest. Lentz joined him in the Final after posting a time of 1:05:16, to leave Dubicki (1:12.49) to face De Losa in the Small Final.
De Losa bounced back from the Semi-Final disappointment to take third place with a time of 1:07.28 in the Small Final. Jordan, who had been unshakeable throughout the competition, produced another impressive time of 1:03.16, helped by an imperious performance on the Underhand Chop, to claim his first individual international title. Lentz came home in 1:13.16 to leave the American in second place.
Jack Jordan, newly crowned World Trophy Champion, said: "It is awesome, I never thought I could win something as big as this against the best athletes in the world."
Jason Lentz, speaking after finishing second, said: "It is awesome to finish on the podium against a great group of guys from all over the world, it is an honour to compete against them."
Brad De Losa, who finished third on the podium, added: "It was a great competition. I was a little bit disappointed that I didn't get into the final but look, I gave it my all and just made a couple of little mistakes."
For more information and all results from the World Trophy head to https://data.stihl-timbersports.com/
If you missed the action from the World Trophy:
Head to the STIHL TIMBERSPORTS® Australia Facebook page to watch the recorded live stream.
Catch up on STIHL TIMBERSPORTS® with Australian TV Episodes on 7MATE:
STIHL TIMBERSPORTS® Australia airs every Saturday at 12:30pm (AEST). The TV series follows the Australian athletes as they compete on home soil and across the globe each year. Episodes following the 2022 series will air late June 2022. All past seasons can be viewed at the STIHL TIMBERSPORTS Australia YouTube page.