For professionals and homeowners alike, there's a model for almost every application in STIHL's growing range of battery chainsaws. And, with more and more users making the switch to battery power, it's easy to understand why.
Firstly, battery chainsaws are so impressively quiet that they can be used in high density suburban areas and in noise sensitive environments such as schools and parks without an issue. All models in the range, no matter how big or small, also benefit from low vibration and zero emissions, while being incredibly easy to start.
Read on to get to know the different models available in the STIHL range.
MSA 120 C-B & MSA 140 C-B
The MSA 120 C-B is our entry level battery chainsaw and is part of our incredibly popular AK battery system, which is one of its most attractive features. The same battery that powers this model is also compatible with 9 other high quality, high performing battery garden power tools, all of which are designed for medium to larger sized gardens.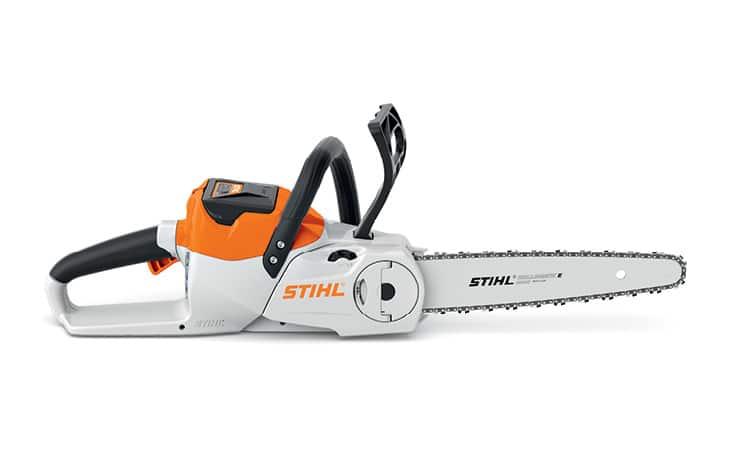 This handy 36V chainsaw is perfect for cutting firewood to length and pruning back trees around the home. It's also light and compact, making it a great camping companion. On a single charge using the recommended battery which is the AK 20, it will cut up to 100 10x10cm logs. It also features our tool-free quick chain tensioning system allowing you to adjust your chain easily and on the go, and weighs in at just 3.8kg including the battery, meaning users of all levels of ability are able to use it.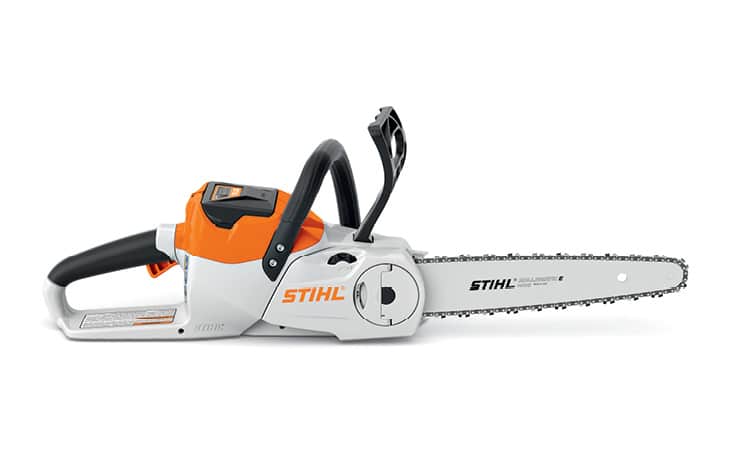 For a little more power, the next step up is the MSA 140 C-B which also sits within the AK battery system, however delivers up to 25% more cutting performance than the MSA 120 C-B.
MSA 160 C-B
The MSA 160 C-B is part of our AP battery system which consists of over 25 commercial grade tools designed for use in larger gardens and by professionals.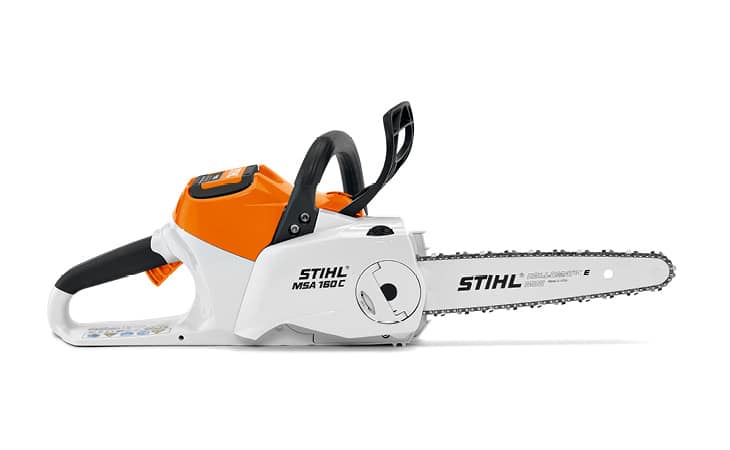 This model features a 30cm/12" Rollomatic E-Mini guide bar with 1/4″ P Picco Micro 3 chain designed to reduce the weight of the tool considerably while maintaining a high cutting capacity, and is capable of making 190 cuts on a single charge with the AP 300 S battery. And, like all models in STIHL's range of standard battery chainsaws, it also features our quick chain tensioning system.
MSA 200 C-B
The MSA 200 C-B is the next step up in the AP battery system. Offering the perfect combination of high torque and an impressive cutting capacity, it is great for a range of tasks from garden maintenance and cutting firewood through and wood working for both homeusers and professionals.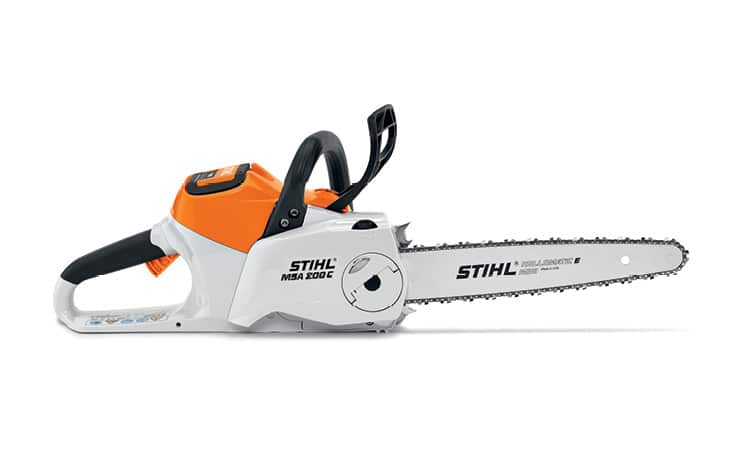 Like all battery tools, there's no need to worry about noise when using the MSA 200 C-B thanks to the quiet EC motor. It's 1/4" PM3 saw chain has been designed especially for the MSA 200 C-B, which achieves outstanding cutting power and smooth running behaviour.
The recommended battery for the MSA 200 C-B is the 300 S, which allows it to make up to 300 cuts on a single charge.
MSA 220 C-B (NEW!)
Our top of the range battery chainsaw needs little introduction. Released in late 2019, the MSA 220 C-B was touted the first battery chainsaw to join the ranks of petrol chainsaws, boasting an impressive chain speed of 24 m/s.
The MSA 220 C-B comes standard with the STIHL exclusive 3/8″ Picco Super 3 (PS3) full chisel saw chain and has a guide bar length of 40cm/16″. The chain has a strong cut and a low kick-back, and its wider kerf also makes light work with the felling wedge.
Click here to read more about the MSA 220 C-B. 
MSA 161 T
Also available in the range is the MSA 161 T top-handle chainsaw, which is the new and improved version of its predecessor, the MSA 160 T. Professional tree workers were champing at the bit to get their hands on this 36V top-handle battery chainsaw when it launched in 2019 which features an impressively powerful motor, and a chain speed of 16 m/s – 40% higher than the MSA 160 T.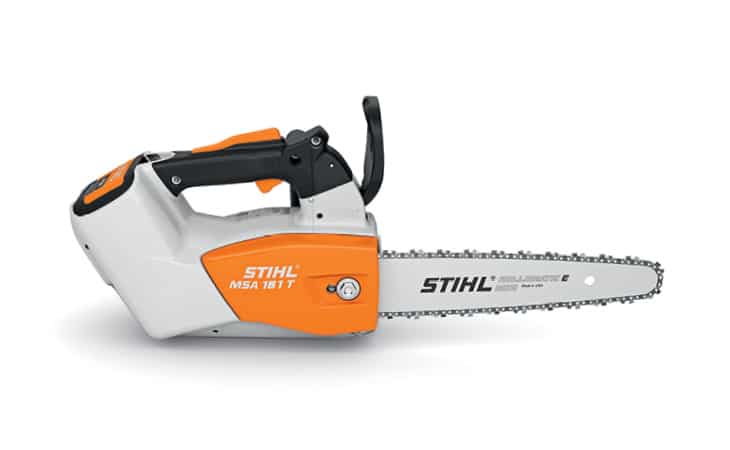 Whilst the number of cuts and run time is the same as the MSA 160 T using STIHL's existing range of AP batteries, the MSA 161 T is capable of performing these cuts much faster. In back to back comparisons, the MSA 161 T was achieving a cutting speed of 39 cm²/second, compared to 34 cm²/second with the MSA 160 T. This top-handle chainsaw has a very precise cutting behaviour thanks to the ¼" P chain, which gives a consistently clean, efficient and smooth cut.
Click here to view our full range of battery chainsaws, or visit your local STIHL dealer.