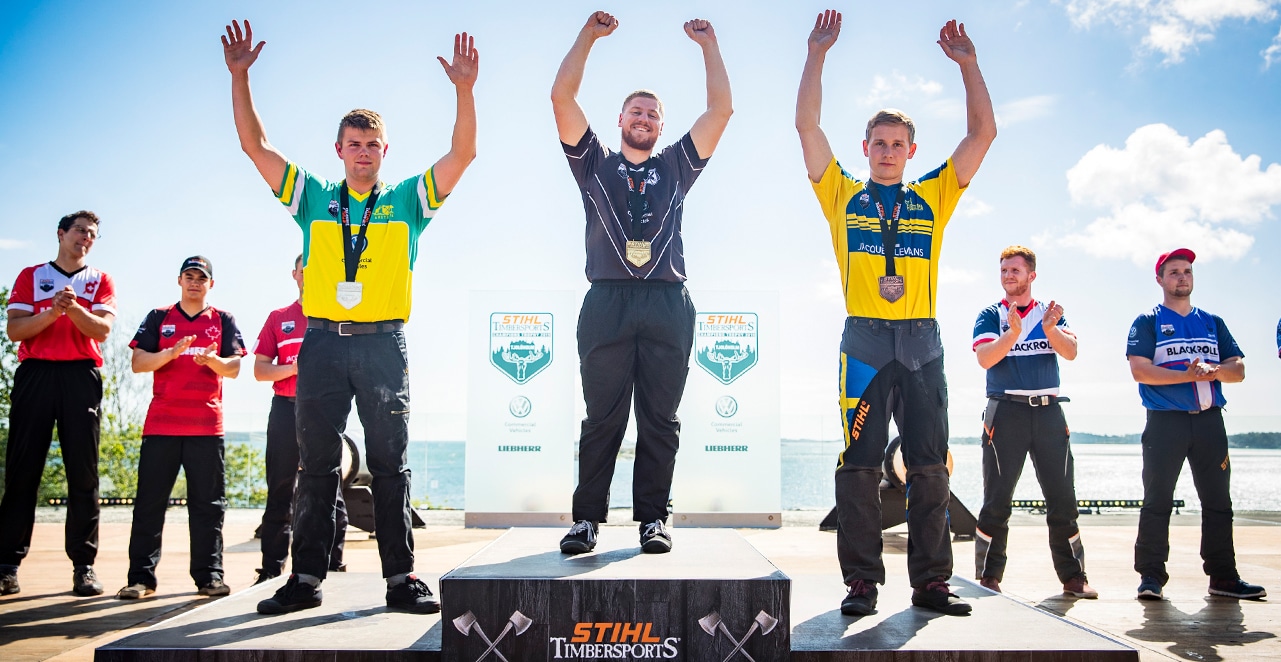 Josh Bakes set a new world record, two national records and three personal bests at the 2019 STIHL TIMBERSPORTS® Rookie World Championship at Tjoloholm Castle in Gothenburg, Sweden over the weekend, but fell just short of claiming gold in the Under 25 division of the original extreme sport.
After four wood chopping and sawing disciplines, the 21-year-old from Sheffield, Tasmania finish tied in 1st place on 32 points with New Zealand's Chris Lord. The championship was decided by a countback of overall times giving the New Zealander victory by just 0.23 seconds.  The Rookie World Championship showcased the world's best up-and-coming STIHL TIMBERSPORTS® athletes from 10 countries in the under 25 division, including USA, Canada, Germany, Sweden and Great Britain
Despite his new World Record, Bakes' day didn't start too well. He finished down the pack in the first discipline, the STIHL stocksaw, with a time of 12.96 seconds, and whilst a personal best for Josh, it only earned him four of 10 points on offer, leaving him one point behind his main rival, Chris Lord of New Zealand.
Bakes bounced back in the first axe discipline, the standing block, taking 2nd overall with another personal best time of 17.61 seconds, but Lord trumped Bakes again with a time of 14.33 seconds to claim maximum points and a two point lead with two disciplines remaining.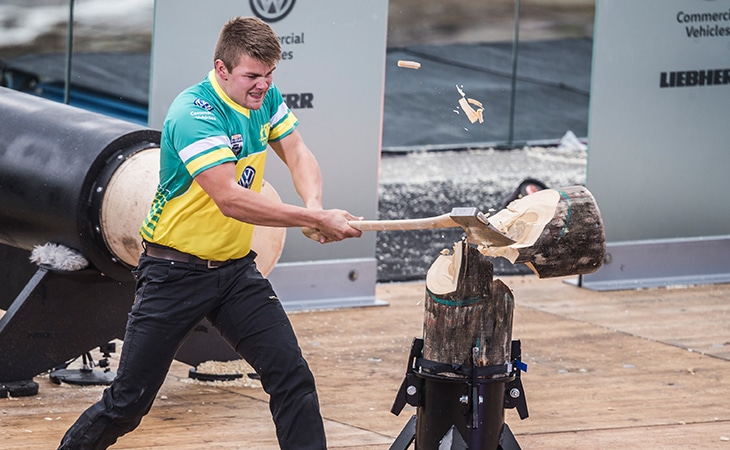 In the third discipline the single buck saw, Bakes got one back on Lord setting another personal best of 11.04 which was also a national record. Lord finished just behind Bakes making the gap just one point with one discipline remaining.
Bakes needed to beat Lord in his favourite discipline, the underhand chop, and hope one of the other eight competitors could place between them. Lord set a time of 18.72 in the second to last heat, leaving Bakes a target of 15.74 seconds to tie on points and give the Aussie victory on countback of overall times.  Bakes delivered a new world record of 15.98 seconds but fell agonisingly short of claiming the gold medal which went to Lord on countback as the pair were tied on 32 points.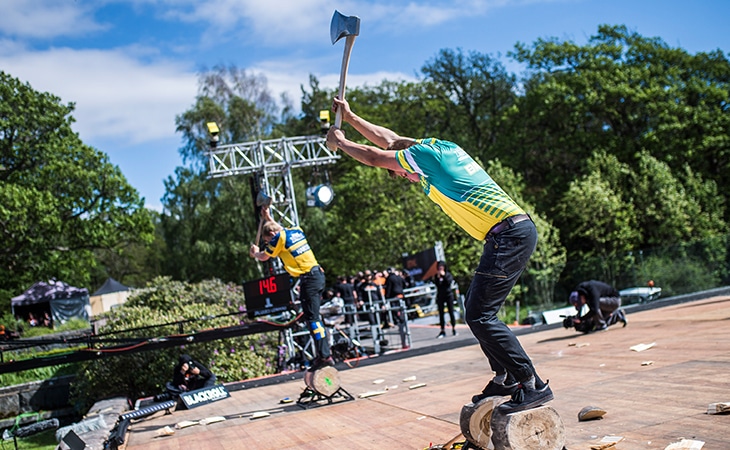 Speaking with Bakes after his victory, he said "it's obviously very disappointing to lose by such a small margin, but Chris had a great day today and managed to put in a great time in the standing block that proved to be the deciding factor. To set a new world record in the underhand chop was a nice sweetener, but I'd rather the gold medal was around my neck. 2nd place and a silver medal is a great achievement and I can go home proud and knowing I did everything I could, but just fell short. I'll be competing in the Pro series now back in Australia and I hope to be back on the world stage soon".
Australia's Laurence O'Toole also won silver in the main event, the World Champions Trophy. The 38 year old from Doncaster, Victoria made it to the final of the knockout competition which sees athletes cut four blocks of wood in quick succession with both axes and saws, where he finished just one hit behind. O'Toole was chasing his 3rd World Title of the year but the six time American Champion, Matt Cogar, proved to be just too strong. Read the full story here.
Both Laurence O'Toole and Josh Bakes will next be in action at the 2019 STIHL TIMBERSPORTS Australian Championships on 14th and 15th September in the Gold Coast where they'll be looking to qualify for a spot on the Chopperoos team heading to the World Championships in Prague on 1st and 2nd of November.
FINAL RANKINGS STIHL TIMBERSPORTS ROOKIE WORLD CHAMPIONSHIP 2019
Chris Lord (NZL) 32 Points (57.36sec)
Josh Bakes (AUS) 32 Points (57.59sec)
Emil Hansson (SWE) 28 Points
Finn Neusinger (GBR) 24 Points
Loic Voinson (FRA) 22 Points
Peter Ritsch (AUT) 21 Points
Matyas Kilma (CZE) 19 Points
Rainer Shooter (USA) 18 Points
Connor Morse (CAN) 12 Points
Killian Schmid (SUI) 8 Points