VICTORIAN Brayden Meyer has been crowned the Individual World Champion after winning gold at the 2019 STIHL TIMBERSPORTS® World Championships in Prague, Czech Republic, overnight.
Donning the green and gold guernsey, the 24-year-old from Broadford powered through six saw, axe and chainsaw disciplines, accumulating 75 points to triumph over fierce competition from 12 competing countries, including Germany, Canada, USA and Australia's biggest rivals, New Zealand.
Meyer had a near-perfect day, placing first and taking maximum points in the Underhand Chop, Stocksaw, Standing Block Chop and Springboard disciplines, and placing second even in his least favourite discipline, the Single Buck.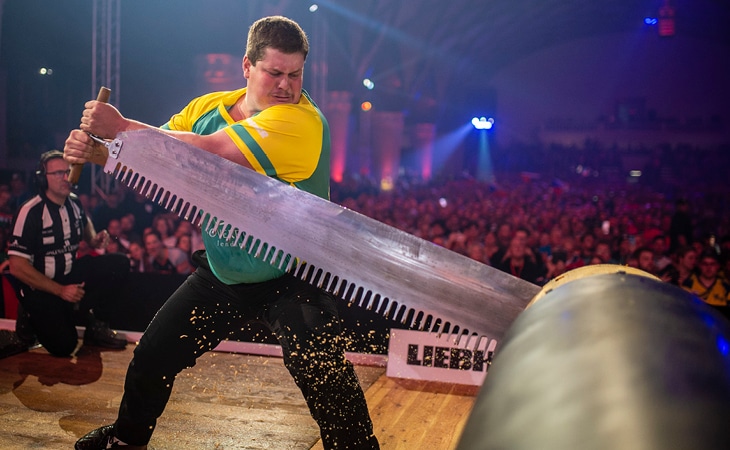 As Meyer entered the stage for the final heat of the night in the Hotsaw, he was tied for first place with Cassidy Sheer from the USA, but knew three complete cookies on the ground would be enough to claim a minimum of six points and the world title.
The winning moment was a sight for saw eyes for the Australian fans who travelled to the Czech Republic to support Meyer when, following his Hotsaw cutting out on the first cookie, Meyer stayed calm under pressure and re-started his saw successfully to complete his cuts within the allowed 60 seconds.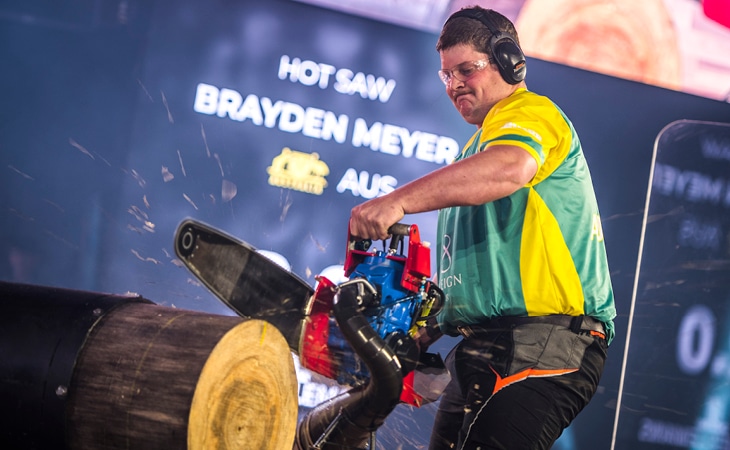 This is Meyer's first Individual World Championship win, after taking home the bronze when he was just 20-years-old in 2015, and follows his Chopperoos teammate Laurence O'Toole's win at last year's World Championships.
STIHL TIMBERSPORTS® World Champion Brayden Meyer said: "It's an unbelievable feeling, to win the World Championship for the first time is my life goal."
"I knew I only needed to make a safe cut in the Hotsaw, but that's not something we usually train for or the saws are built to do – they like going fast! I managed to stay calm when it cut out, get it going again and thankfully managed to come away with the win," Meyer continued.
Meyer's win is the icing on the cake after the Australian Chopperoos made history on Saturday morning, winning their sixth Team World Championship and cementing their title as one of Australia's most successful sporting teams of all time.
Led by captain Brad De Losa, Australia came out on top of 20 competing countries, including Canada, New Zealand, Poland and the US, in a team relay across four thrilling axe and saw disciplines.
Six-time world title winner and captain Brad De Losa (NSW) competed on the Single Buck, with Laurence O'Toole (VIC) on the Stocksaw, Mitch Argent (QLD) on the Standing Block Chop, and Brayden Meyer (VIC) on the Underhand Chop. Glen GIllam (VIC) also competed in earlier rounds.
STIHL TIMBERSPORTS® is an international extreme sports competition series which sees the country's best athletes compete against each other – and the clock – across heart-racing disciplines based on traditional logging skills.
FINAL RANKINGS – INDIVIDUAL 
Brayden Meyer, AUSTRALIA – 75 Points
Cassidy Scheer, USA – 66 Points
Shane Jordan, NZ – 63 Points
Ben Cumberland, CAN – 55 Points
Christophe Geissler, SWI – 48 Points
Michal Dubicki, POL – 35 Points
Ferry Svan, SWE – 30 Points
Martin Rousal, CZH – 24 Points
Danny Mahr, DE – 11 Points
Pierre Puybaret, FRA – 11 Points
Elgan Pugh, GBR – 8 Points
Koen Martins, BEL – 6 Points
Click here for full standings and results.