A global leader in chainsaw innovation, STIHL chainsaws deliver professionals a host of ingenious features to make timberwork of all kinds easier, more effective and more enjoyable.
The world's first chainsaw with electronically controlled fuel-injection. Magnesium pistons. Unprecedented power-to-weight ratios. These are just some of the game-changers that demonstrate an unwavering commitment to engineering excellence in all that STIHL do.
A range unlike any other, STIHL professional chainsaws provide tree, forestry and agricultural professionals with a selection of high-performance machines that deliver incomparable power, reliability, safety and manoeuvrability.
Detailing his teams' experience in applying STIHL tools to meet the challenges of professional felling, ripping, blocking and pruning, in the following article Charlie Carroll, Manager of Arboriculture Royal Botanic Gardens Victoria, shares how each STIHL chainsaw fits into a professional kit.
MS 881: The most powerful series-production chainsaw in the world.
What more needs to be said? The extreme high performance delivered by the MS 881 makes it ideal for professional felling and processing large trees. If you've got big timber, this is THE saw you want in your kit.
Driven by STIHL's powerhouse 2-MIX engine technology, high cutting performance and superior power are accompanied by efficient fuel usage. Fitted with a HD2 air filter to keep even the finest dust away from the engine and ensure a particularly long service life, the intelligent filter design and material facilitates easy cleaning.
MS 661 C-M: The all-day powerhouse.
Weighing in at just 7.4 kg and with an impressive output of 5.4 kW, the MS 661 C-M boasts an impressively low-power-to-weight ratio for this chainsaw class.
Because it's not just power that counts when you're harvesting large timber, but also every gram of weight.
When blocking and ripping logs all day, and processing timber for the chipper, even the most skilled professionals appreciate a lighter, more manoeuvrable machine that doesn't hold back on power and performance.
The STIHL MS 661 C-M also features M-Tronic fully electronic engine management, which uses a microchip to control the engine's ignition timing and fuel supply.
No matter if you're just starting up, working away or restarting your chainsaw after a break, M-Tronic takes perfect control of ignition timing and fuel dosage whatever the operating status, and with electronic precision. It even takes account of external conditions like temperature, elevation and fuel quality. Letting you get off to a perfect start so you can concentrate on the job at hand, whether you're felling, pruning or bucking, the MS 661 C-M will start first time, every time.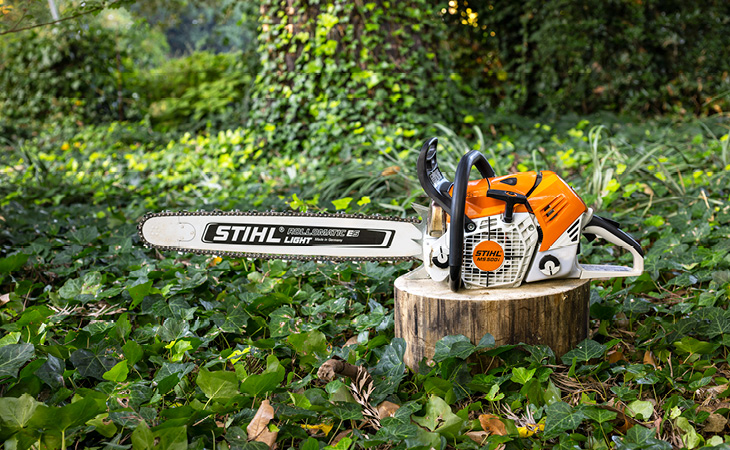 MS 500i: The world's first chainsaw with fuel-injection technology.
An engineering and innovation tour de force, the MS 500i is the F-1 of chainsaws. The chainsaw that changes everything, this power-packed muscle machine is faster, more powerful and lighter than any chainsaw in its class.
The world's first electronically controlled fuel injection chainsaw, starting is easy and reliable in all operating conditions, with 0-100 acceleration reached in a breathtaking 0.25 seconds. Weighing just 6.2kg with a displacement of 79.2cm3, its 1.24 kg/kw power-to-weight ratio is industry leading.
Redefining versatility, the 500i has quickly become the tree professionals' favourite with its ability to be used across both big tasks and smaller applications, establishing it as a go-to tool for all day use.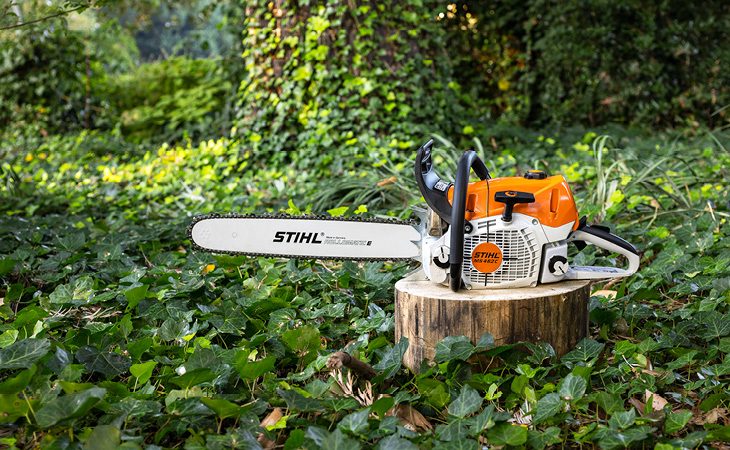 MS 462 C-M: The mid-weight must-have.
The lightest high-performance saw in the 70 cm³ cubic capacity class, the MS 462 C-M is a favourite among tree professionals.
An extremely powerful saw perfectly suited to tree felling and blocking up, the MS 462 C-M provides professionals with a manoeuvrable mid-weight chainsaw option.
Fitted with M-Tronic as standard, after starting the MS 462 C-M can immediately power up to full speed, with the amount of fuel required precisely calculated by the system and supplied as needed, ensuring optimal engine performance at all times.
A host of other features including economical 2-MIX engine technology, HD2 air filter, captive bar nuts and tool-free fuel caps which all combine to make a day's work easier and more efficient.
MS 400 C-M: The versatile powerhouse.
The weight and manoeuvrability to block down a tree. The power to block up a log as a ground-saw. The ability to assist in felling applications when things are a little complicated.
The brilliantly engineered MS 400 C-M delivers professionals all this and more, thanks to the ingenious application of a revolutionary magnesium piston within its high-performance engine.
Affecting a game-changing 14% increase in displacement and 14% less weight as compared to the rugged MS 362 C-M, the MS 400 C-M presents users with an unprecedented power-to-weight-ratio, unlocking higher levels of chainsaw performance across power, torque maximum speed and handling, and making the MS 400 C-M THE lightweight, powerful chainsaw for your kit.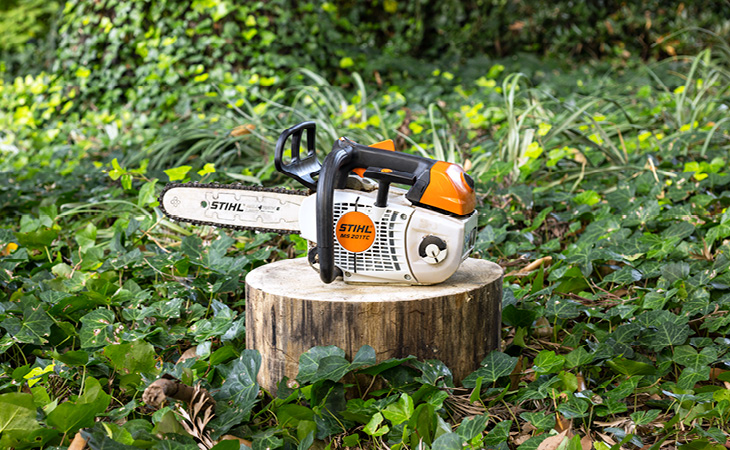 MS 201 TC-M: STIHL's most powerful top handled chainsaw.
Very robust, very balanced and very lightweight, the MS 201 TC-M is STIHL's most powerful top handled chainsaw, specially designed for working in an aerial environment. A tree professional's dream, it comes as standard with M-Tronic and 2-MIX technology, providing optimum engine performance from the start. The captive nut on the sprocket cover allows for quick changing of the chain. The lightweight guide bar reduces the overall weight and keeps the saw perfectly balanced.
As different bar lengths, wood types and sawing techniques require different amounts of oil, to ease the workday pressures, the intelligent application of a controlled-delivery oil pump allows the user to select just the right amount of oil for the job at hand.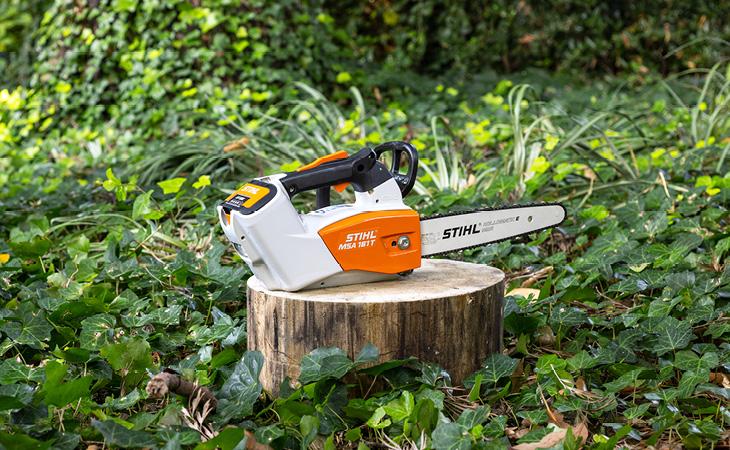 MSA 161 T: Work smarter, not harder.
Engineered for everyday use by professionals, the extremely quiet, lightweight and powerful MSA 161 T battery chainsaw has revolutionised chainsaw capability for climbing and being used aloft in trees.
Fitted with an extremely energy efficient, lightweight and compact STIHL electric motor, the MSA 161 T runs quietly and generates very low vibrations, making it ideal for aerial work and use in noise-sensitive areas.
Chain technology specifically designed for application across a light, compact chainsaw such as the MSA 161 T combines exceptional cutting performance and quality with great user comfort, allowing operators to work smarter not harder.
To see and handle the STIHL professional range in person and access expert information and advice on each model talk to your local STIHL dealer. Find your local STIHL dealership here.
To ensure optimal chainsaw performance and care, STIHL has developed a range of specially formulated fuels, oils, lubricants and solvents for use across the Professional Chainsaw range.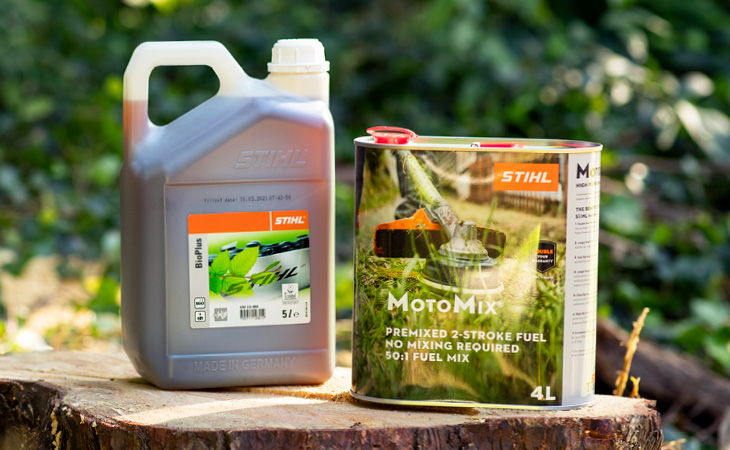 STIHL MotoMix®
A premium performance fuel, MotoMix® is free from ethanol with virtually no olefins and aromatic compounds. Promoting deposit-free and clean burning and the production of fewer emissions of engine-harming substances, MotoMix® ensures optimal engine performance.
STIHL BioPlus
STIHL BioPlus chain and bar lubricant is a vegetable-based high-performance lubricant that works brilliantly across both temperate and hot climate zones with no loss of lubrication or adhesion. Specifically created with the environment in mind, it degrades completely in the soil in a very short time and has been recognised with a Blue Angel environmental award, Germany's leading eco-label accreditation for over 40 years.