STIHL MotoMix® is an optimised 50:1 premixed fuel suitable for all two stroke engines. This patented fuel formula which uses STIHL's own premium HP ultra is the clean and fuss free alternative for owners of petrol powered tools. There are many benefits that make MotoMix® the perfect partner for your petrol powered tools, here are just a few of them!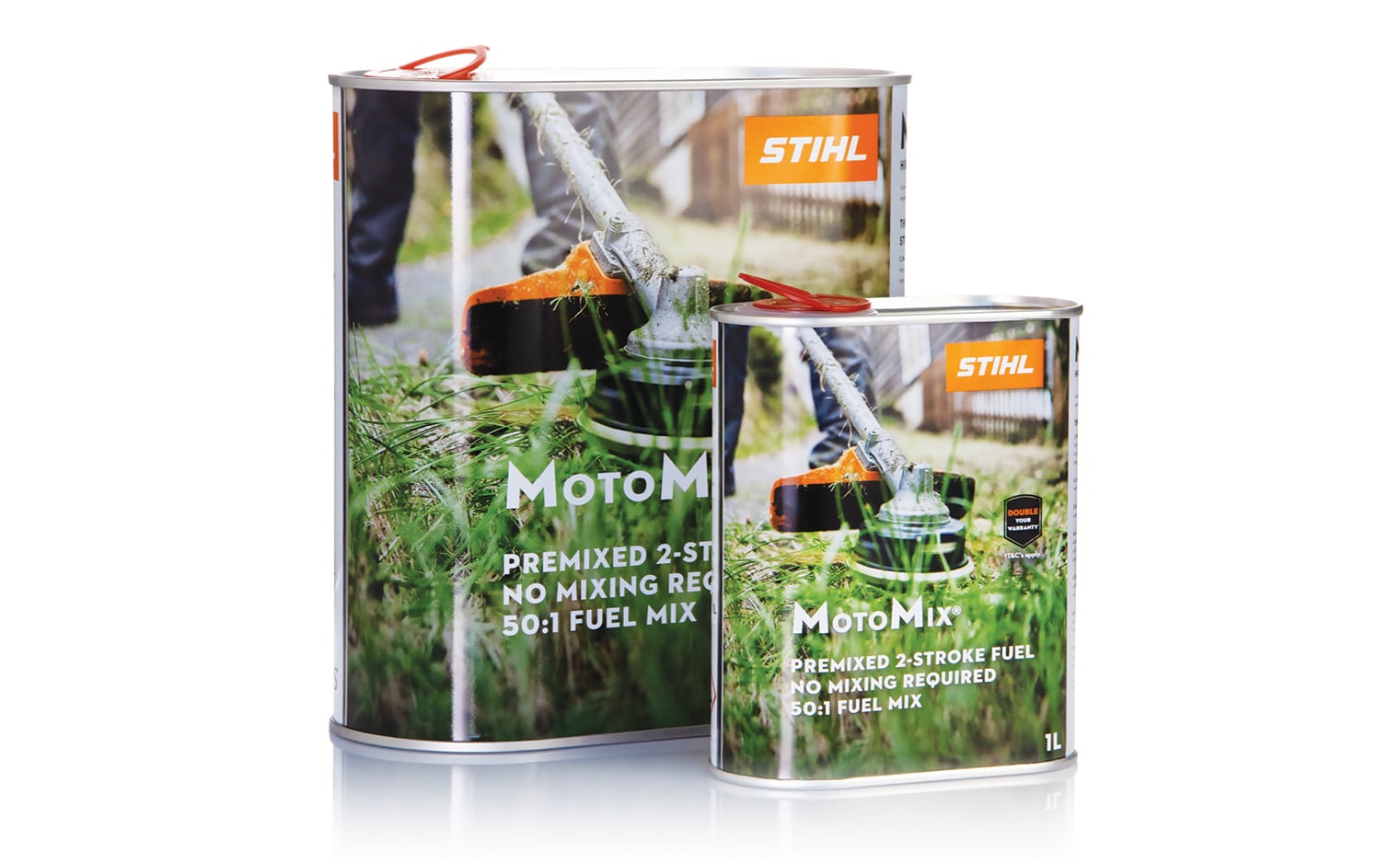 No more mixing!
STIHL MotoMix® is premixed and ready to go! It's a perfect blend of fuel and STIHL HP ultra oil, which means the hassle of measuring and mixing is a thing of the past. The best part about using premixed fuel, is that it leaves no room for error. MotoMix® is clean, convenient and ready to go, so you can spend less time preparing, and more time getting the job done.
HIGH PERFORMANCE
STIHL MotoMix® has been designed purposefully for two-stroke engines so it can deliver the high level of performance you've come to expect from your STIHL tools at all times. It has outstanding lubricating properties, it's deposit-free and clean burning, and it produces fewer emissions of substances that can harm your machine
Better protection
MotoMix® uses HP Ultra oil which is STIHL's highest quality two-stroke oil. This premium mix will reduce clogging and piston jamming which is usually caused by deposits, while avoiding ignition failure and blocked valves. Overall, using STIHL MotoMix® will extend the time between servicing and general maintenance, and reduce the costs associated.
Environmentally conscious
Another advantage of MotoMix® is that it's a much cleaner choice. Emission-wise, it's free from ethanol and has virtually no olefins and aromatic compounds. So, in comparison, it's a much more environmentally friendly option.
Longer lasting
Did you know that STIHL MotoMix® fuel can stand the test of time? STIHL recommend storing it in a dry and dark place with an average temperature of up to 20°C. Doing this will extend it's shelf life up to five years! This means you won't have to buy a new batch of fuel if you aren't using your STIHL tools every day, which also makes MotoMix® an economical choice.
Patented formula
When it comes to 2-stroke engines, we know how to make the ideal fuel that best suits STIHL machines. If you are using MotoMix®, the way the tool starts, accelerates and runs matches the way STIHL intended the machine to be used. And because of STIHL's patent, MotoMix® can't be copied, so MotoMix® is always the best option for your machine.
STIHL MotoMix® is available exclusively at your local STIHL Dealer.