Trim your Autumn trees and hedges
Your trees and hedges will have grown considerably throughout Spring and Summer. As their growth slows in Autumn, it's a good idea to give them a quick tidy before Winter hits. Trimming your hedges is something that will most likely need to be done a couple of times in Autumn, maybe three depending on the species of plant and where you live. Once in the early period of the season, then again before the plants go into their Winter dormancy (or slow period).
I don't like to cut my hedges too hard in Autumn as they don't bounce back as quickly. Lightly maintaining the existing shape is what you are after on all of your Autumn prunes.
Remember to keep the clippings to give back to your garden.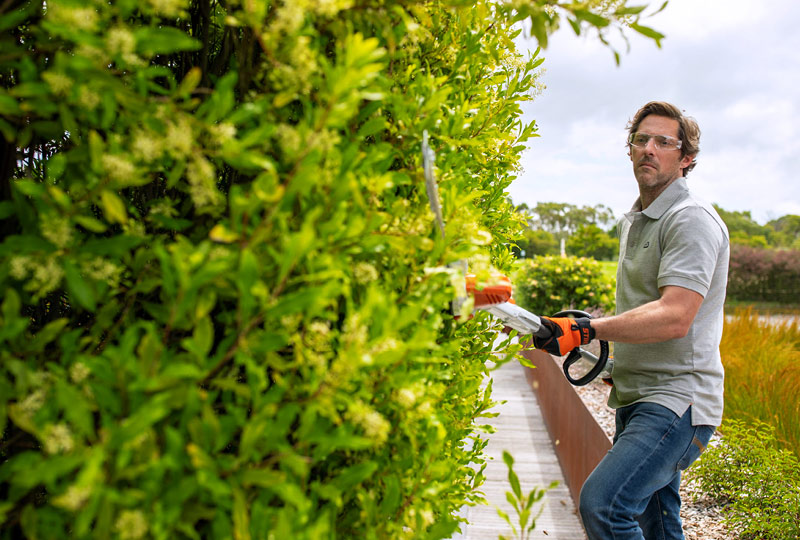 Charlie's top tips for pruning
To save time, lay a tarp beneath trees and hedge to catch all the cuttings.
Don't trim back too hard, plants won't bounce back like they would if shaping in Spring and Summer.
When cutting the side of the hedge, start from the bottom and swing the hedge trimmer upwards in an arc while cutting. Stop cutting to walk forward, lower hedge trimmer and then repeat.
Cut the top of the hedge by holding the cutting blades at an angle of less than 10 degrees.
Use STIHL resin solvent or multi-spray to clean trimmer blades and remove any sap between uses. It creates a cleaner cut which is good for your plants, too.
Check blades are sharp before storing trimmers for Winter (your local STIHL dealer can help with this).
Shred trimmings to create mulch, this will create rich soil and nourish plants ahead of the cooler weather.
Charlie's top battery tools for pruning
For low hanging branches, you can't go past the GTA 26 Battery Garden Pruner. This versatile tool has wide range of uses including the pruning of trees and shrubs, cutting up garden waste, DIY projects and building with wood.
For your hedges in small to medium gardens, the HSA 56 from the STIHL AK Battery System is capable of trimming over 140m of hedges (up to 2 metres high) on a single charge.
And for high or wide hedges the HLA 56 Long-Reach Hedge Trimmer (also part of the STIHL AK Battery System) is a great option. With a total length of 2.1m and an adjustable blade angle, you will master those tall and hard- to-reach hedges in no time.
Love gardening? For the latest news, tips and advice, subscribe to the STIHL newsletter here.