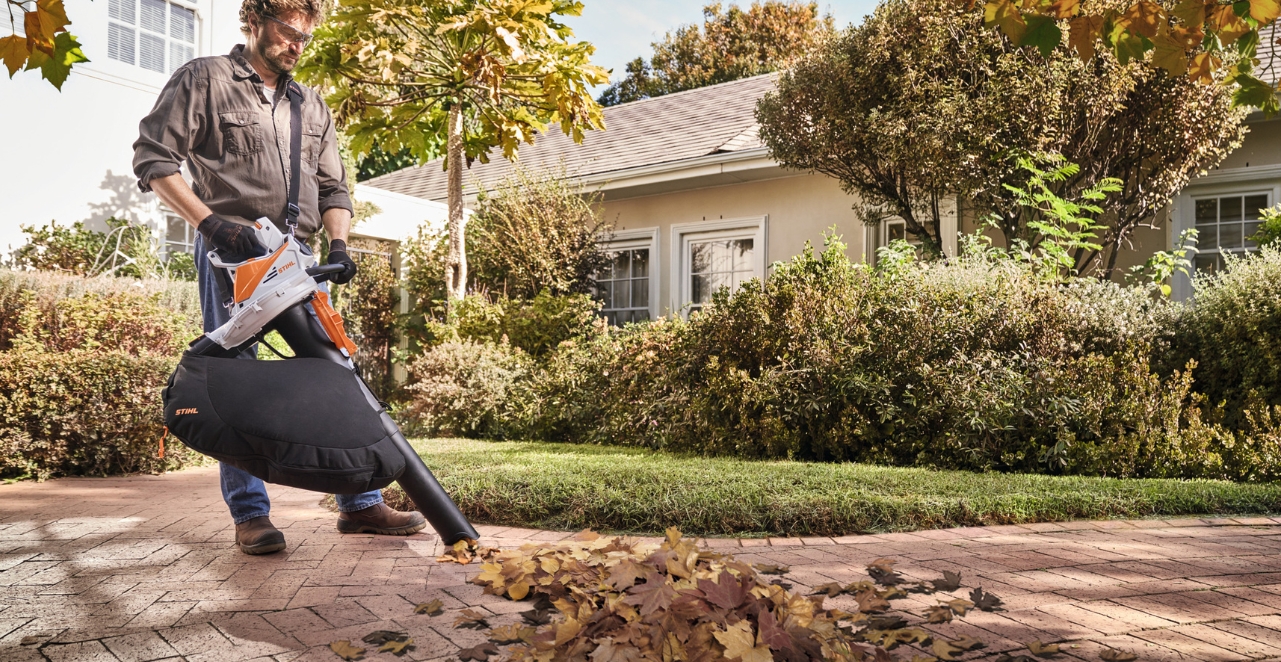 Introducing the first battery vacuum shredder to the STIHL range joining a suite of equally impressive tools in STIHL's AK battery system which has been purposely designed with home users in mind.
This feature-packed multifunction tool doubles as a blower, and a vacuum shredder. Simply tidy up leaves and debris  with the blowing function, and then switch to the vacuum to collect and shred before adding this garden waste to your compost. 
Switching between the two working modes can be done easily, quickly and without the use of any special tools to ensure there is minimal disruption to the user whilst working. The handle also rotates to guarantee user comfort no matter which mode is being used.
The blowpipe can be adjusted in two steps to suit the size of the operator, so whether you're tal, or on the shorter side, you'll be able to work comfortably. When using the SHA 56 In suction mode, the front handle and the supplied padded carrying strap add an extra layer of comfort, too. 
The tip of the suction tube has been designed in a way that allows it to glide easily over hard surfaces without getting caught on the material being collected.  At the same time, sophisticated details guarantee that the suction tube glides more easily over hard surfaces and does not get stuck on the material to be vacuumed up.
It's asymmetrical design increases the legroom between the user and the machine, and the air sucked in is blown away from the user due to the air-permeable material on one side. A zipper with cord allows the catcher bag to be opened and emptied comfortably, even when wearing work gloves, and the extra large diameter of the blower wheel opening makes it a breeze to clean. 
The SHA 56 is the perfect tool for year round cleaning, especially if you have deciduous trees on your property. 
The recommended battery for the SHA 56 is the AK 20 which is capable of powering several other tools in the AK system, including lawn mowers, hedge trimmers, grass trimmers, blowers, even chainsaws! 
The SHA 56 is now available Australia wide from your local STIHL Dealer. 
Click here to view the full suite of new german engineered battery powered tools launching this spring.