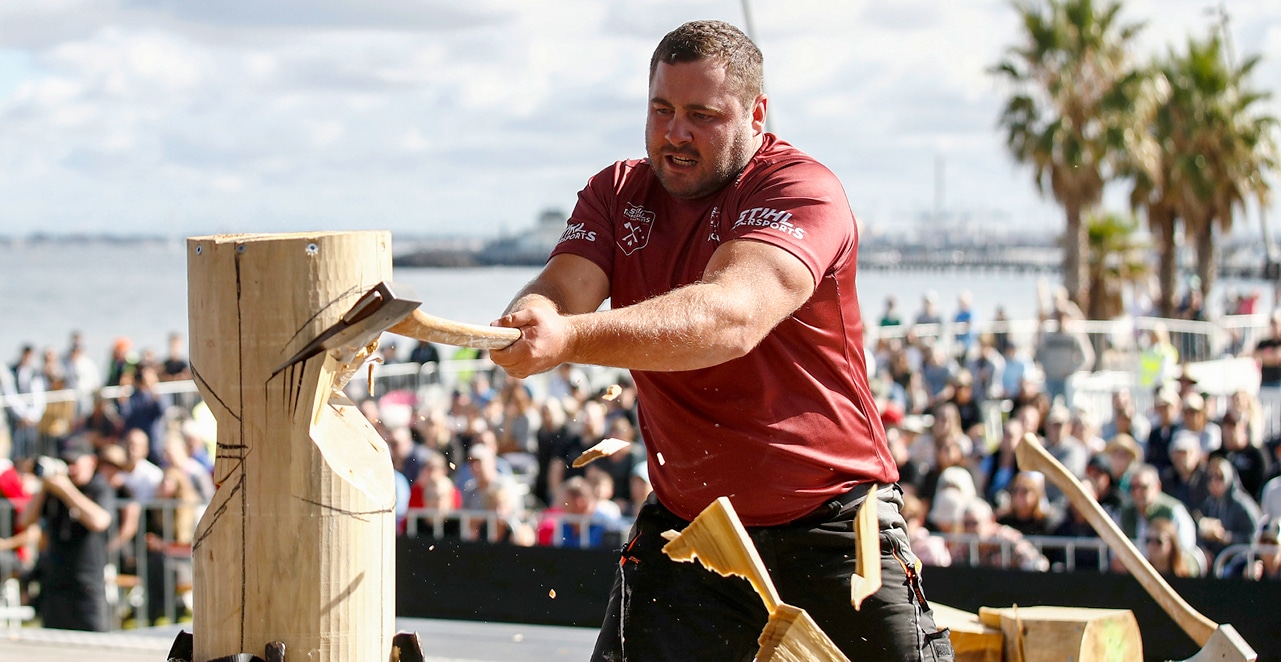 Mitch Argent from Blackbutt, Queensland, axed the competition at the 2021 STIHL TIMBERSPORTS® Australian Trophy in St Kilda.
Argent battled it out against 13 of Australia's best STIHL TIMBERSPORTS® athletes in the Original Extreme Sport, chopping and sawing through four blocks of wood in a time of just 1:24.57, beating Victorian and reigning world champion Brayden Meyer by 8.57 seconds in a thrilling Grand Final of the knock-out competition.
This marks the third year that Argent has nudged out the competition to claim the STIHL TIMBERSPORTS® Australian Trophy, the champion thrilled to add another trophy to his collection.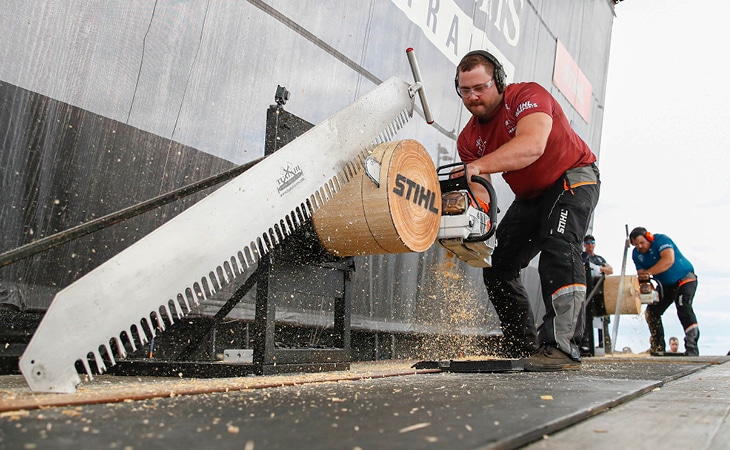 "It was a big day and I had to dig deep. The boys were really tough competition, but it's good to take out the competition in the end" Argent said.
On the way to the final he placed second in the time trial with a time of 1:15.29 to advance to the knockout stages where he beat Chris Owen in the quarter finals in 1:24.08 and Brad De Losa in the semi final in 1:18.62.
The Australian Trophy featured the 14 highest-ranking TIMBERSPORTS® athletes in the country, who went head-to-head in a series of knockout match-ups. In each match-up, athletes completed four disciplines back-to-back: Stock Saw, Underhand Chop, Single Buck and Standing Block Chop. The fastest athlete from each match-up progressed to the next round, culminating in a grand final between the last two remaining competitors.
Thousands of spectators converged on the St Kilda Foreshore to watch Australia's top STIHL TIMBERSPORTS® athletes battle it out with razor-sharp axes and high-powered chainsaws.
STIHL TIMBERSPORTS® Event Director Lee Gooch said the event was a huge success in St. Kilda, with great athletes and exceptional competition across the day.
"We had over 2,000 people watching STIHL TIMBERSPORTS® live on the St Kilda foreshore this year, an incredible turnout considering our last competition had to be held virtually due to the pandemic. There was a spot of rain, however it wasn't enough to dampen the spirits of the roaring crowd and the athletes pulled out some incredible performances," Gooch said.
"Our athletes are examples of brute strength, determination and athleticism and it was incredible to watch Mitch give his all across all four disciplines to take out the top spot."
FINAL RANKINGS (TOP FOUR)
Mitchell Argent, Blackbutt, Queensland
Brayden Meyer, Broadford, Victoria
Laurence O'Toole, Watsonia, Victoria
Brad De Losa, South Bowenfels, New South Wales
For more information, visit www.stihl.com.au/timbersports.