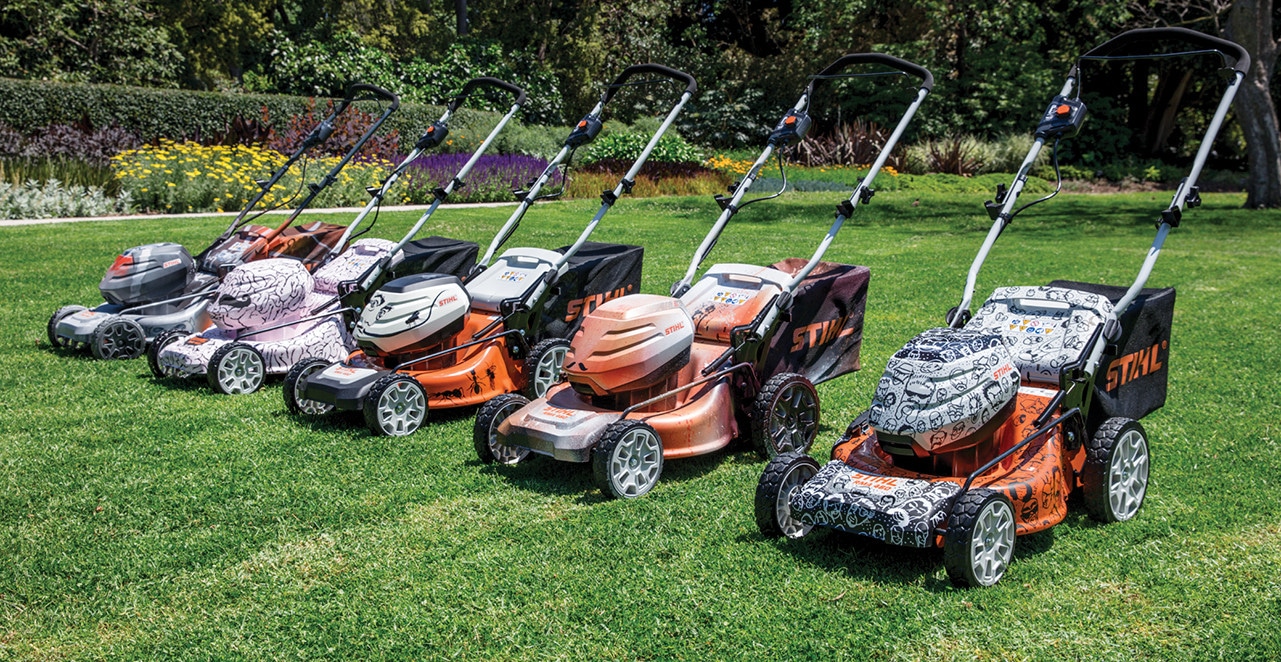 To celebrate our major partnership with the Movember Foundation and to raise additional funds, we teamed up with local Melbourne street artists from Juddy Roller to create five custom one-of-a-kind STIHL RMA 460 Battery Lawn Mowers to be auctioned off, with all proceeds going towards the many initiatives that the foundation support.
To demonstrate these bespoke mowers, we held a media call at Melbourne's picturesque Royal Botanical Gardens last week where we mowed a giant Mo' into the lawn with help from our friends at Movember and the artists behind the mower masterpieces.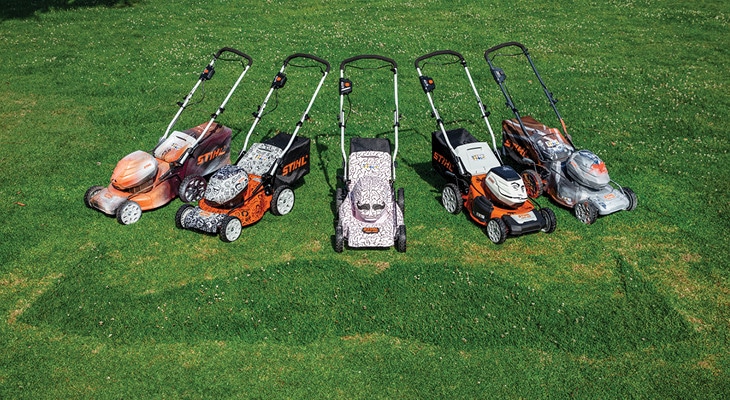 Each artist was tasked with creating a design inspired by one or more of the main causes that Movember focus on; mental health, suicide prevention, testicular cancer and prostate cancer.
Artist: Robyn Grove
"Men's health, both physical and mental, is an issue affecting the whole community. Every man is a son, father, brother, husband, grandfather, uncle or a mate. Testicular or prostate cancer, mental health and suicide are all issues we should face together. As a woman, I'm proud to stand beside my mates and bring these issues to attention. Perhaps the most famous mo' of all time was on the face of Salvador Dali, the Surrealist painter. He manicured it to perfection, so what better way to capture the theme "Mow-vember" than with his moustache. He famously posed with a fly on the tip, so I've referenced that, with ants another one of his favourite themes."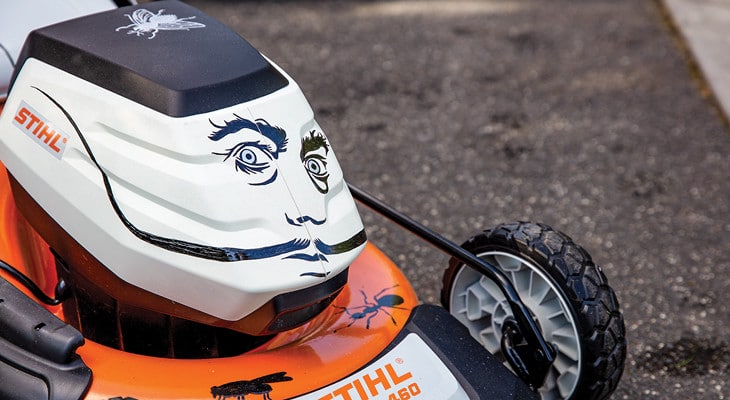 Artist: Kitt Bennet
"The ever important theme of mental health inspired me to create a piece that touched on the brain. I believe the negative stigma that surrounds mental health comes from a lack of education and fear of the unknown. The brain is a delicate part of the human anatomy and is subject to health issues, much the same as treating a broken arm. When any part of the body has a problem, it is important to treat it. My piece aims to remind the viewer that our brain is a part of the machine that is our body. Maintenance may be required at times, and that's ok."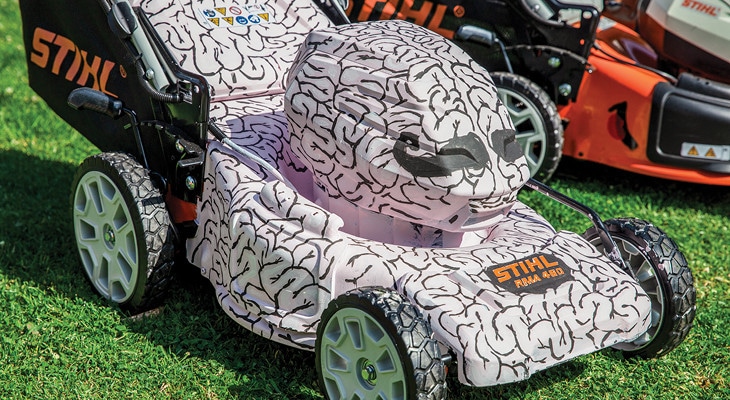 Artist: Ben McGill
"Mental health can affect anyone. That's why I decided to create faces of varied people from all walks of life. The "mo" is also iconic in Australian history and pop culture, and is often something that makes people smile. That's why my "mo men" are not drawn in a detailed or serious way; because although mental health is a very serious issue, the stigma attached to it needs to be broken down so people can speak openly and honestly about their problems."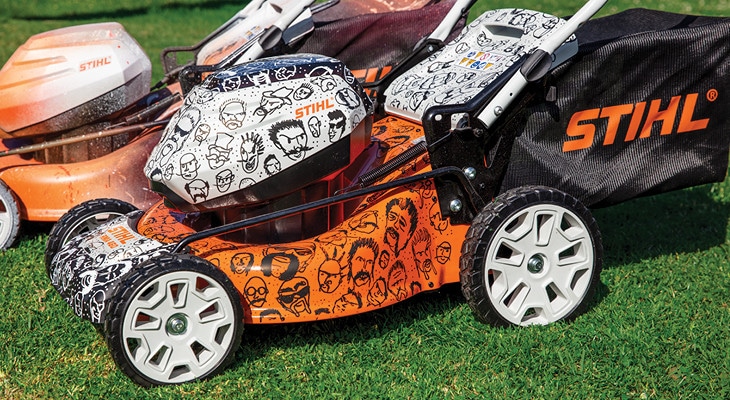 Artist: Resio
"My approach to painting the mower was really gestural and free flowing. Using my graffiti background, I tried to capture that aesthetic by using expressive paint splatters and drips, mimicking the often overactive thoughts and emotions in the mind, trying to bring them all together to create calmness and cohesion."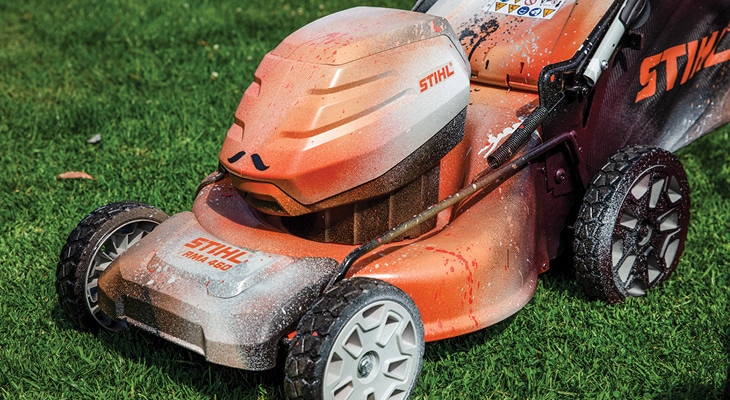 Artist: Welin
"My work is quite abstract, like the way the mind works. There are personalities within that abstract realm that come and go throughout our lives. These personalities are just parts of ourselves, sometimes good and sometimes not. They can manifest themselves in different shapes and forms. I wanted the characters and personality traits of these forms to be present in this work, but make them light-hearted and meaningful too, hence the funny mo's."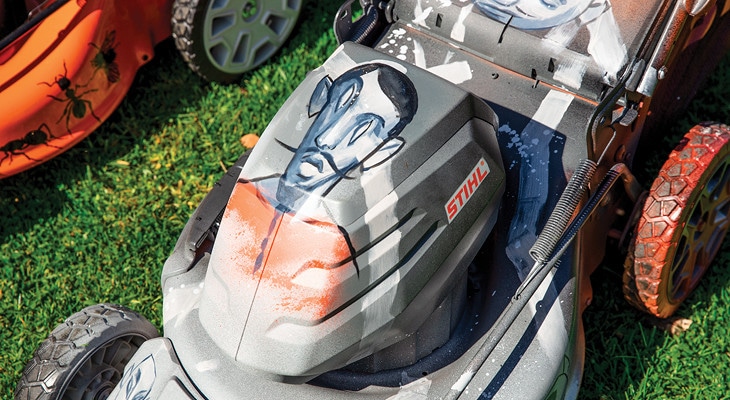 As a family-owned and operated business STIHL has a seen a number of staff and dealers' families affected by men's health issues and they are proud to be a major partner with Movember to give back to the communities in which they work.
Men die on average six years younger than women for reasons that are largely prevented by participating in regular health checks and conversations about mental well being.
To make one (or more!) of these custom state of the art mowers yours, head to galabid.com/auction/stihl to bid now.
Auction closes on the 30th of November.