STIHL has a long history of innovation, beginning when company founder Andreas Stihl patented the first electric chainsaw back in the 1920s.
In 2022, the STIHL chainsaw range continues to advance the industry across product power, performance, efficiency, usability and environmental sustainability.
STIHL's commitment to always deliver the best possible chainsaw experience extends to every component of the machine. From engine to chain to oils and lubricants, insight, imagination and inspiration drive the continual development and evolution of a high-quality product range that delivers greater performance and usability, along with greater sustainability.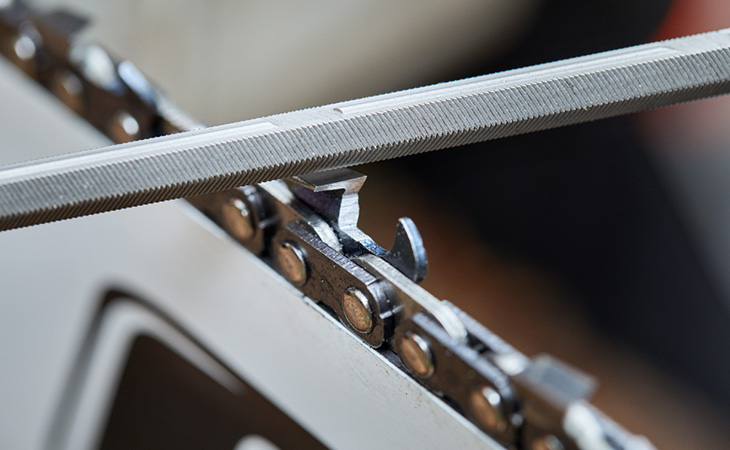 The new STIHL Rapid Hexa chainsaw chain and file, launched in 2022, exemplifies STIHL thinking.
It's not often developments in chainsaw chain technology cause a global stir, but that's exactly what STIHL Rapid Hexa has done.
A radical approach to chainsaw chain technology, the Hexa offers professional forestry and agricultural professional chainsaw operators a 10% cutting performance boost and a much enhanced sharpening experience unlike anything else on the market.
This has been achieved through the development of a patented 'V' shaped cutting tooth and the accompanying hexagonal file.
A key feature of the new chain technology, the top plate kerf of each cutting tooth is narrower, leading to an improvement in cutting speed and efficiency.
A second optimisation is the 25° sharpening angle. Testing has found that a slightly reduced angle performs better in diagonal felling cuts, which is ideal for arborists and tree surgeons alike.
Finally, the most striking update to the chain is the 60°, V shaped side plate angle. The hexagonal file sits perfectly in the tooth's profile, leading to simplified and faster sharpening. With Rapid Hexa it's easy to achieve a high-quality cutting edge and, due to the less acute angle of the leading cutting corner, the tooth is less prone to wear and therefore stays sharper for longer.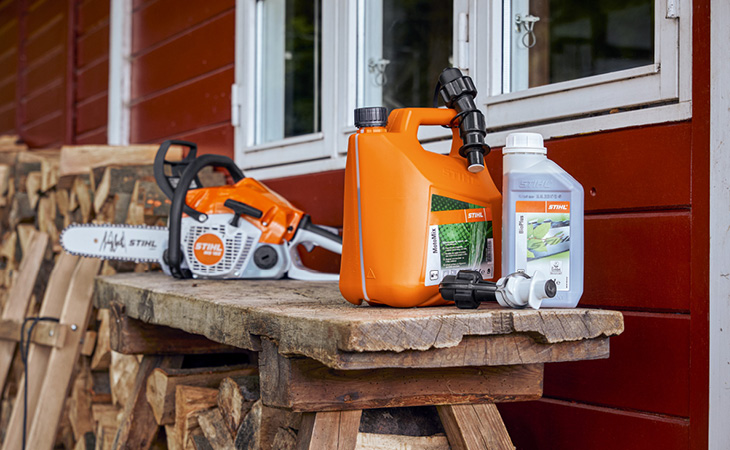 With a commitment to detail and an understanding that every individual component has a role to play in chainsaw performance, usability, efficiency, and sustainability, STIHL has focused on developing its own in-house range of oils, lubricants and solvents that not only care for the chainsaw, but the planet as well.
A premium performance fuel, MotoMix® is free from ethanol and has virtually no olefins and aromatic compounds, making it groundbreakingly low on emissions. While outstanding lubricating properties promoting deposit-free and clean burning, and the production of fewer emissions of engine-harming substances, ensure it is high on performance.
Specifically developed to be quickly 100% bio-degradable and accredited as a non-water pollutant, the breakthrough qualities of STIHL's BioPlus vegetable-based, high performance lubricant have been acknowledged with a globally recognised Blue Angel environmental award.
These latest innovations sit alongside other industry-recognised breakthroughs that are now informing chainsaw technology globally, including the STIHL 2-MIX engines and the introduction of electronically-controlled fuel injection.
The STIHL 2-MIX engines set new standards for increasing overall engine efficiency, enhancing fuel efficiency and reducing emissions for a 2-stroke petrol engine, while the revolutionary MS 500i chainsaw, the world's first ever petrol chainsaw with electronically-controlled fuel injection, completely rewrote the rulebook.
Smashing the boundaries of chain speed to deliver an astonishing acceleration of 0-100km/h in 0.25 seconds, the MS 500i has been engineered to deliver the best power to weight ratio of any production chainsaw on the market. Sensor-controlled fuel mixing means that optimum engine power is achievable at all times, ensuring the saw will run perfectly time and time again, while its lightweight construction featuring a light flywheel delivering low gyroscopic forces means that the saw won't twist in the operator's hands, delivering greater precision and control with each cut.
The most exciting thing about chainsaw technology in 2022 is that, courtesy of the constant striving by STIHL's designers and engineers to develop and deliver revolutionary, state-of-the-art products, who knows what will be possible with chainsaws by the year 2030?
All we do know is, if the last ten years have taught us anything, that the best is yet to come.