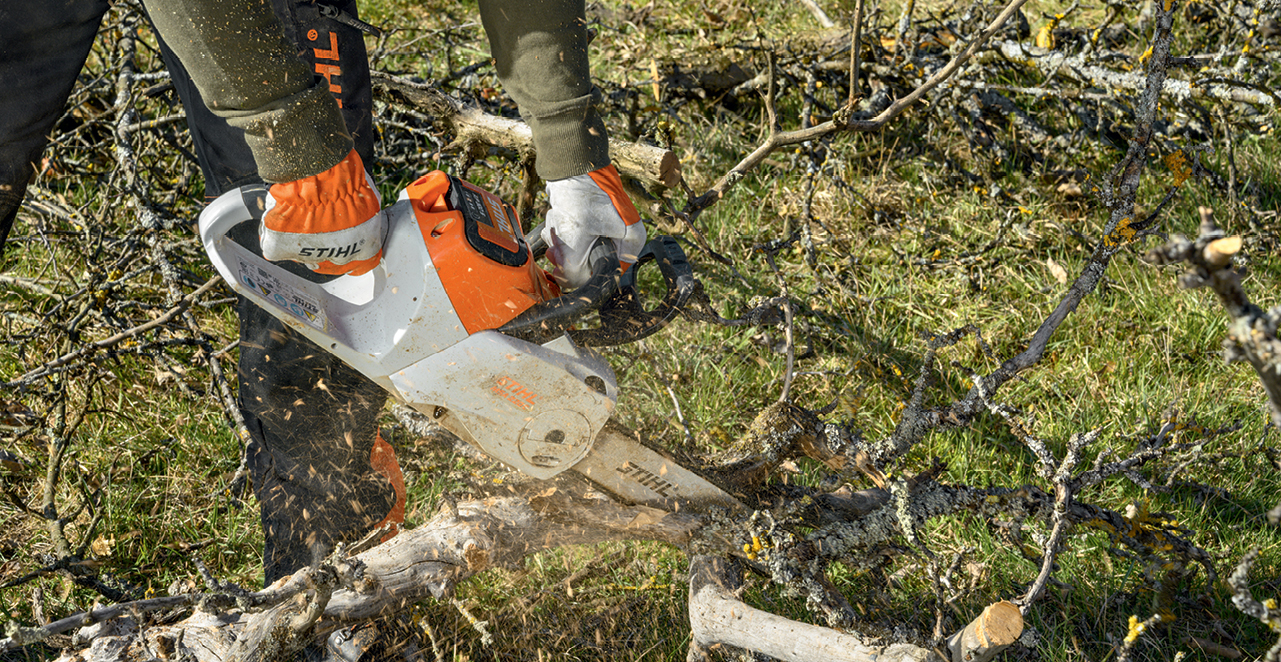 With an extensive range of powerful chainsaws, from lightweight all-rounders through to powerful workhorses, there's a STIHL chainsaw for every job. With so many models to choose from, there are three key points to consider when choosing a chainsaw.
1. The size of the job:
The first factor to consider is the type of tasks you will be using it for, followed by how often you'll be completing these tasks.
2. Your experience level
While some may think that bigger means better, that's not always the case when it comes to chainsaws. Not only is it important to choose a model suited to the tasks you'll be using it for, it's just as important to choose a chainsaw that's comfortable for you to handle and suited to your experience level.
3. The power source
There are three options to choose from, battery, petrol, and electric, all of which are great in their own ways and suited to different users and tasks.
Read on to learn more about the different models available in the STIHL range, which will help you answer these three questions.
HOMEOWNER CHAINSAWS
For light work around the home including pruning and chopping up firewood for the fireplace, or if you're after a camping companion to keep you warm on your annual family trip, one of our homeowner chainsaws will do the trick.
As a rule of thumb, the guide bar on your chainsaw shouldn't be too much bigger than the largest log you plan on cutting.
The MS 170 petrol chainsaw is attractively priced at just $249, and comes with all of the safety features users have come to expect from the number one selling brand of chainsaws worldwide. It's incredibly lightweight at just 3.9kg, and comes standard with genuine STIHL 3/8" PICCO MINI 61 PMM3 chain and a 14"guide bar.
The MSA 120 C-B is one of our most popular homeowner chainsaws, and for good reason. Being battery powered, it's incredibly quiet which is great for use in suburban areas. It's also been designed with ergonomics in mind, making it really comfortable to handle while being super lightweight, allowing the user to use it for various different tasks, such as cutting firewood, pruning, or even a little DIY project.
If you're worried about runtime, the MSA 120 C-B can cut up to 100 10x10cm logs on a single charge. Or, if you're after a little more power, the MSA 140 C-B delivers up to 25% more power.
Both models are part of the AK battery system, which offers three different batteries all capable of powering 9 high quality, high performing tools for medium to larger sized gardens. View the full AK battery system here. 
If you're after a traditional electric chainsaw, the MSE 141 C is great for cutting firewood around the home and pruning trees. It's also very light at just 4.1kg, and a steal at just $199.
LANDOWNER CHAINSAWS
For more heavy duty tasks such as clearing storm damage or felling trees at home, one of our landowner chainsaws in the best choice.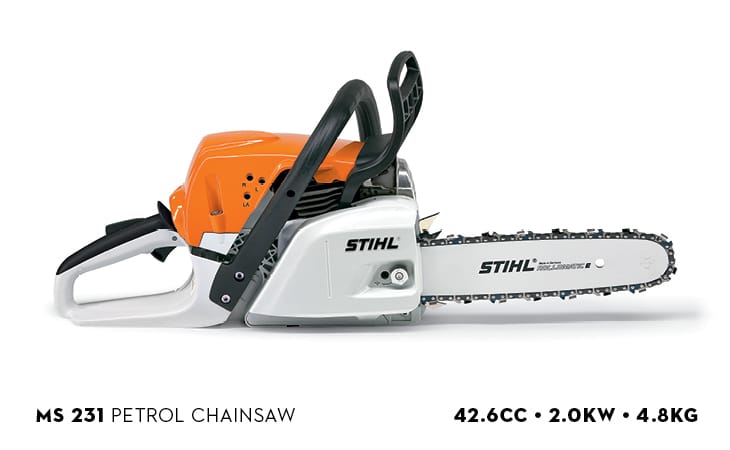 The MS 231 2-MIX chainsaw features an 18" guide bar and is a great mid-range option capable of small and medium sized tasks.  It features side-mounted chain tensioning for safe and easy adjusting, a long-life air filter system for long cleaning intervals, and tool-free fuel caps for easy refueling.
Also available is the MS 231 C-BE, which features STIHL's Easy2Start technology for effortless starting every time, along with tool-less chain tensioning.
The MS 311 is the next step up, and is a great option if you're after a little more power for felling and cutting dense wood types. This high performance chainsaw is incredibly fuel efficient making it one of our best-selling landowner chainsaws.
The MSA 220 C-B is the most powerful STIHL battery chainsaw to date, and the most powerful tool in the STIHL battery range. Sitting above the MSA 200 C-B, this saw is best suited with the AP 300 S battery to deliver unrivaled cutting performance.
The MSA 220 C-B comes standard with the STIHL exclusive 3/8″ Picco Super 3 (PS3) full chisel saw chain with a guide bar length of 40cm/16″. The chain has a strong cut and a low kick-back, and its wider kerf also makes light work when partnered with the felling wedge.
The MSA 220 C-B is part of the AP battery system which offers multiple battery options to suit over 25 professional grade tools.
Read more about the new MSA 220 C-B here.
PROFESSIONAL CHAINSAWS
For day to day commercial use or if you'll be working for long periods of time, our professional range of chainsaws has a number of different models.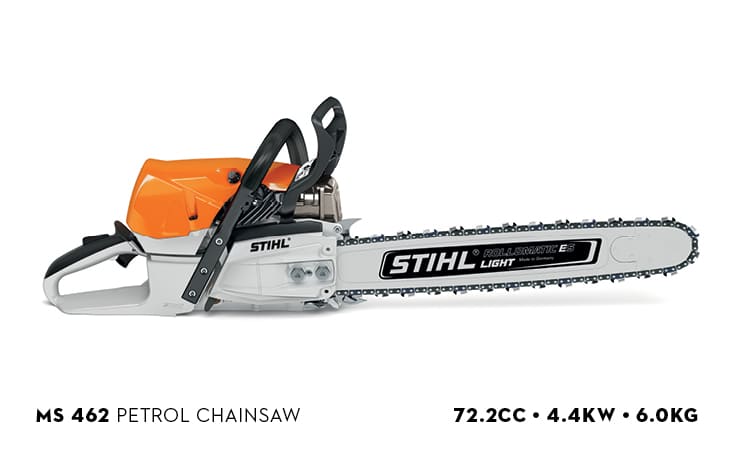 The MS 462 C-M was specially engineered for the professional user who desires more power with less weight and thus less user fatigue from their chainsaw in daily forestry work. At just 6kg, the MS 462 C-M is the lightest-ever STIHL chainsaw produced in its fuel-powered class. It features an excellent power-to-weight ratio for added maneuverability tested by professionals in the field.
The next generation STIHL M-Tronic™ engine management system electronically controls ignition timing and fuel metering, and the saw auto-adjusts for changes in its operating environment, such as changes in altitude and fuel quality, for optimal performance.
STIHL cemented their position as a technology leader with the highly anticipated launch of the world's first electronic fuel injected chainsaw in 2019.  With the best power to weight ratio in its class, the STIHL injection technology in the MS 500i not only provides the chainsaw of the future with incredible torque, but also ensures rapid acceleration of the saw chain from 0 to 100 km/h in just 0.25 seconds.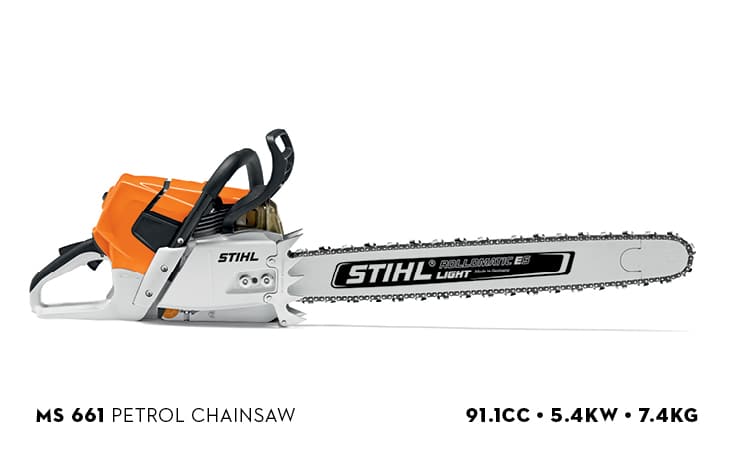 The MS 661 C-M has been a reliable favourite among professionals from all over the world for many years. The MS 661 C-M is a rugged all-rounder equipped with STIHL's environmentally friendly 2-MIX engine technology for less fuel consumption, less emissions and outstanding cutting performance. In addition the MS 661 C-M features a heavy duty (HD2) air filter system with a radial seal which keeps out fine dust particles.
The MS 661 C-M is fitted with STIHL's M-Tronic™ electronic engine management system which enables the saw to automatically adjust to varying fuel grades, changes in altitude and temperature and as there are no manual carburetor adjustments, starting this saw is easier than ever before, simply push the start level to the on position and pull.
To view the full range and find the perfect model for you, visit your local STIHL Dealer.