Australia's top STIHL TIMBERSPORTS® athletes will be chopping and sawing on Saturday 5th March for the 2022 Australian Trophy and Australian Women's Championship.
The free event will kick off at the Jimmy Melrose Park on the Glenelg foreshore, with gates opening at 11:30am. The first event is the Qualification Time Trial at midday, followed by the Women's Championship at 1pm. The Australian Trophy event will start from approximately 2.00pm. The supporting festival runs through until 8pm with food trucks, music and a licensed bar.
Argent, the man to beat
Three-time Australian Trophy winner Mitch Argent of Queensland battled it out against 13 of Australia's elite STIHL TIMBERSPORTS® athletes at the 2021 Australian Trophy, where he was crowned Champion. However, due to the pandemic and continuing boarder closures, Argent was not able to represent Australia at the 2021 World Trophy in Germany.
"It was unfortunate that I could not go over and compete in the 2021 World Trophy but hopefully I get the chance to go this year," says Mitch. "Would be good to go to the worlds with my brother Jack Argent, he is the Rookie that will represent Australia in the 2022 World Rookie Championship in May."
For the Australian trophy, Mitch will be competing against 13 of the country's top athletes at Glenelg. His biggest competition will come from the Victorian Laurence O'Toole, who will be looking to take back the crown after his wins in 2019 and 2020. Also hot on his heels will be the three-time World Trophy winner, Brad De Losa from New South Wales and the 2019 World Champion, Brayden Meyer.
"It's great to be competing again after nearly a year of no competitions," continues Mitch. "I have been training and am ready to compete for the trophy title. The trophy format is a hard and gruelling competition but you have to dig deep and keep going to take that win. I know Laurence has been training over the last few months and will be one to watch out for. Brayden Meyer is also a fierce competitor I came up against in the 2021 AUS trophy final, and there was only seconds between us."

Image caption: Mitch Argent in action at the 2021 event in St Kilda, VIC.
This year's event will also play host to the STIHL TIMBERSPORTS® Australian Women's Championship for the second time. After last year's successful competition, the top female athletes are back to showcase their strength and agility in this original extreme sport.
Renee Retschlag from Kilcoy, Queensland will be looking to defend her 2021 Australian Championship title. In an incredibly close competition in St Kilda last year, Retschlag grabbed the top spot by a mere 6 seconds, as Jodie Beutel tied with Renee on 13 points. It came down to overall time for these two exceptional athletes.
Over the last two years of competitions, Queenslander Katrina Head and Tasmania's Kris Brown have been moving up the STIHL TIMBERSPORTS® ladder. But with the comeback of Maddison Kirley, there will be some epic battles between these athletes. One of the country's top females in the sport, Amanda Beams will also be looking to come back and take the top spot. The three-round women's competition consists of Underhand Chop, Stock Saw and the Single Buck Disciplines.

Image caption: Renee Retschlag, Jodie Beutel & Katrina Head with their 2021 Women's Championship medals.
FULL EVENT DETAILS
STIHL TIMBERSPORTS® Australian Trophy & Women's Championship 2022
Location: Jimmy Melrose Park, Esplanade, Glenelg South, SA
Date: Saturday 5th March, 2022
Entry: Free community event
Click here to open Google Maps: https://goo.gl/maps/H59yTVEGseGE9dG87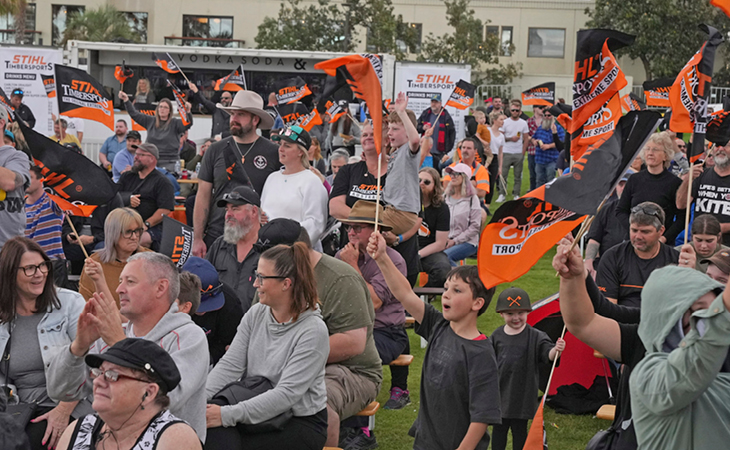 EVENT SCHEDULE
Thanks to the support of the City of Holdfast Bay, entry is free but space may be limited to 2000 attendees if restrictions are in place. To secure your seat, it's recommended you arrive early.
Please note, times are subject to weather and are estimates only.
Gates Open: 11:30AM
Qualification Time Trial: 12:00PM – 1:00PM
Women's Championship: 1:00pm – 2:00pm
Knockout Rounds: 2:00PM – 4:00PM
Grand Final: 4:00PM – 4:30PM
Ceremony: 4:30PM
Food Truck Carnival Open: 12:00PM – 8:00PM
Gates Close: 8:00PM
Australian Trophy, CONFIRMED ATHLETES:
Mitch Argent – QLD, Brayden Meyer – VIC, Laurence O'Toole – VIC, Brad De Losa – NSW, Glen Gillam – VIC, Kody Steers – TAS, Josh Bakes – TAS, Brodie Dingle – QLD, Blake Meyer – VIC, Chris Owen – NSW, Jake Dingle – QLD, David Reumer – NSW, Brent Rees – WA
Australian Women's Championship, CONFIRMED ATHLETES:
Renee Retschlag – QLD, Jodie Beutel – QLD, Katrina Head – QLD, Kris Brown – TAS, +2 more athletes to be added after the Women's qualification round on Friday the 4th of March.

Image caption: Brayden Meyer and Mitch Argent at the 2021 Australian Championship in St Kilda, VIC.
How the trophy works
The sport's most physically enduring and extreme format sees athletes go head-to-head in a series of knockout match-ups. In each match-up, athletes will complete four disciplines back-to-back: Stock Saw, Underhand Chop, Single Buck and Standing Block Chop. The fastest athlete from each match-up will progress to the next round, culminating in a grand final between the last two remaining competitors, where the winner will be crowned. Sixteen athletes are ranked for the competition, from whence the winner advances to the World Trophy. From there, they will compete against the qualifiers from Europe, USA, Canada and New Zealand. The World Trophy is held in May each year, usually in Europe.
How to watch
There is nothing quite as thrilling as experiencing STIHL TIMBERSPORTS® LIVE! However, if you can't make it to Glenelg, you can catch all of the axe-ion via the live stream on our social channels:
Facebook: https://www.facebook.com/stihltimbersportsAUS
YouTube: https://www.youtube.com/c/STIHLTIMBERSPORTSAustralia
Instagram: https://www.instagram.com/stihltimbersportsau/
Highlights of the action will also air on 7mate later in the year. You can watch the latest episodes of the series on 7mate every Friday at 4:30pm, Saturdays at 12:30pm and Sunday's at 9:30am.
Want more? Catch up with all the action from previous seasons at https://7plus.com.au/stihl-timbersports or view the latest content on social media.
For further information regarding the event, please contact: csc@stihl.com.au
For media and PR enquiries, please contact: timbersports@thrivepr.com.au