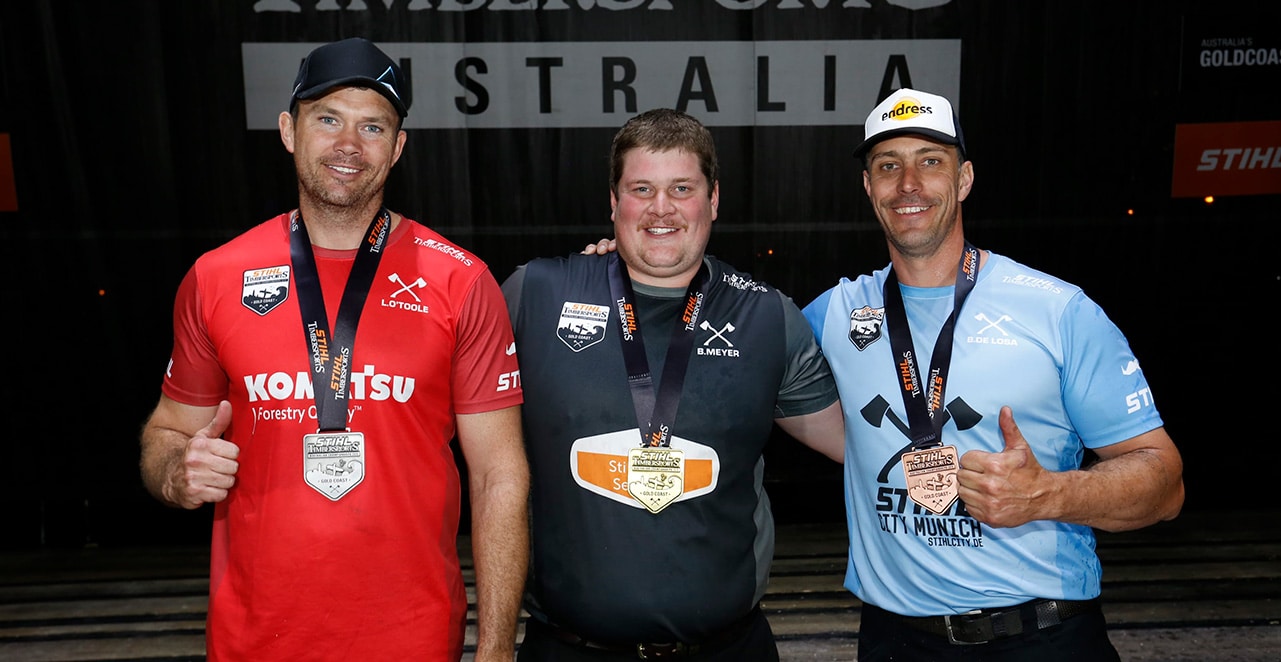 It was a record breaking day on the Gold Coast at the STIHL TIMBERSPORTS® Australian Championships, with world records, national records and personal bests galore to thrill just over 5000 spectators throughout the day. Brayden Meyer set four new Australian records on his way to claiming the Men's Championship, David Reumer set a new Rookie World Record in the standing block to help him win in the under 25 Rookie Championship, and Amanda Beams followed suit in the Women's Championship smashing her own Australian record in the underhand chop to take out first place. The day also saw Laurence O'Toole set a new Australian Record in the Hotsaw, and Gerald Youles a Rookie World Record in the Underhand Chop.
Whilst records tumbled, the final results weren't as clean cut as you might think. All three championships ended with a tie on points for first place, meaning the sum of overall times was required to name the winners.
In the Women's Championship, Amanda Beams, Maddison Kirley and Jodie Beutel were locked on 21 points after all three disciplines, but it was Amanda Beams' overall time of 1:30.15 that was over 10 seconds faster than Maddison, and 40 seconds faster than Jodie.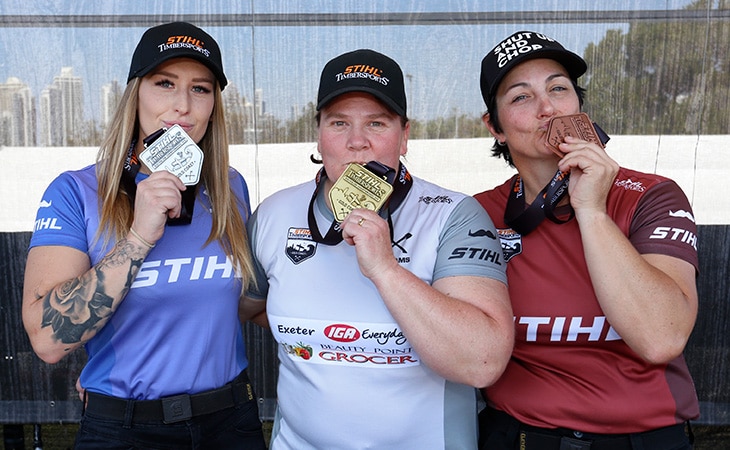 Click here to view the full results from the 2019 STIHL TIMBERSPORTS Women's Championship. 
David Reumer (NSW) and Gerald Youles (QLD) were having a state of origin style clash all day. It looked like it would be Youles' day after he set a new Rookie World Record in the Underhand Chop and beat Reumer in the Stocksaw to open up a two point lead. However, the New South Welshman came home with a wet sail setting a new Rookie World Record in the Standing Block, and a personal best in the Single Buck to take maximum points and tie for the lead on 24 points apiece.
Countback of overall time was implemented to break the tie and it was only 0.02 seconds that separated the pair in the favour of David Reumer. Jack Argent from Queensland placed 3rd.
Click here to view the full results from the 2019 STIHL TIMBERSPORTS Rookie Championship. 
Surely the day couldn't get even more exciting, or could it? Well in true STIHL TIMBERSPORTS® fashion, it certainly did! With a spot on the Chopperoos team up for grabs and all 12 athletes wanting a shot at the individual gold in Prague, our titans really put on a show for a huge crowd. Brayden Meyer (VIC) came flying out of the blocks to set two new Australian records in round one and take the maximum 36 points on offer for the Underhand Chop, Stocksaw and Standing Block. Meyer stood eight points clear of reigning world Champion Laurence O'Toole (VIC), and nine points clear of Mitch Argent (QLD) who was clearly making use of home ground advantage.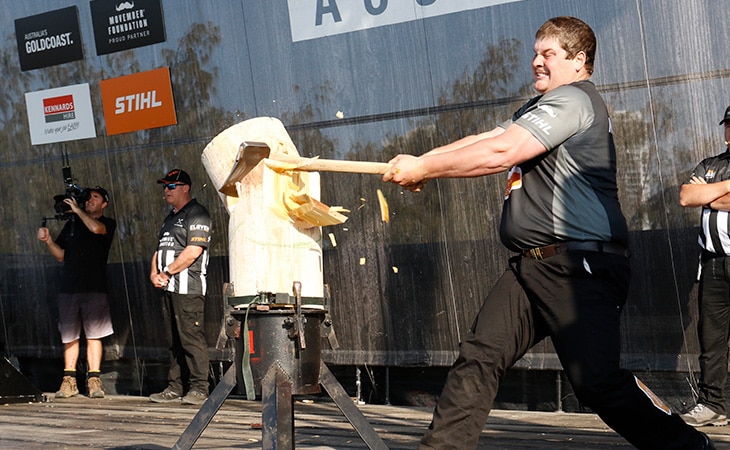 In round two we lost four athletes thanks to the new knock-out format, the points also double per placing meaning a mistake now could make or break your day. O'Toole ended his chances of regaining his title with a surprising last place in the Single Buck, and Meyer let the lead slip to just 2 points placing second last after a nervy run.
Brad De Losa (NSW) started to make his charge for the title with a new Australian record, and Glen Gillam was just 0.04 seconds behind him to tie in 2nd place on 38 points with Mitch Argent. Normal service was resumed for Meyer in the Spring Board setting his third Australian record for the day taking a massive 3.37 seconds off his own previous record. O'Toole looked to bounce back too finishing just 0.7 seconds off Meyer to move into 3rd place tied with De Losa who finished a disappointing 5th for the discipline. Queenslander Argent pulled away from the pair to sit second, just six points off Meyer in first place on 56 points with one discipline to go; the Hotsaw.
For the Hotsaw, only the top six placed athletes took to the stage and the first four athletes in Head (6.03), De Losa (6.10) and Gillam (6.93) all set lightning fast times. O'Toole made a late bid for the title with a new national record of 5.91 secs, but a disqualification for Argent meant Brayden Meyer only needed seven points for victory, or six points to tie and go to count back of overall times. With the luxury of 19.5 seconds up his sleeve thanks to three new national records under his belt, Meyer knew three cookies on the ground at a leisurely pace would give him victory.
In what was probably the slowest 7.52 seconds of his life, the 24 year old from Broadford, Victoria won the Australian Championship for the second time in his career.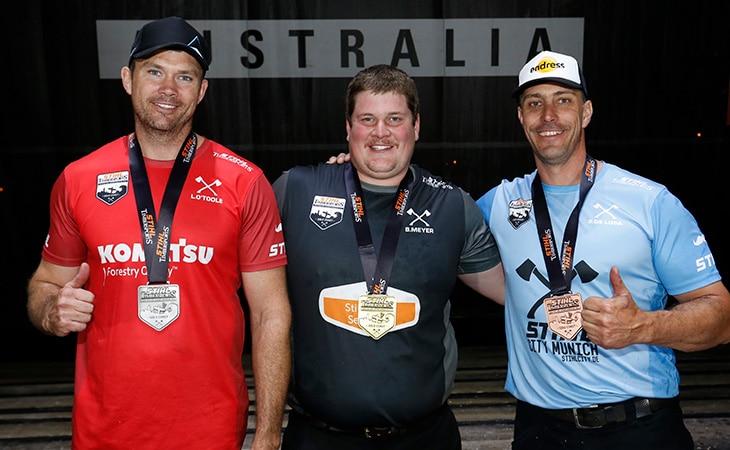 Final Standings:
1st Brayden Meyer
2nd Laurence O'Toole
3rd Brad De Losa
4th Glen Gillam
5th Mitch Argent
6th Jamie Head
Brayden now heads to Prague on 1st and 2nd of November where he will compete in the Individual World Championship and in the Chopperoos team in the Team World Championship. In Prague the Chopperoos will be looking to claim their 6th World Title after achieving the feat in 2011, 2014 2015, 2016 and last year in 2018.
Joining Brayden in the Chopperoos will be Brad De Losa (Captain), Laurence O'Toole, Glen Gillam and Mitch Argent, they will leave for Prague, Czech Republic on Sunday 27th October to prepare at a training camp just outside of the country's capital in Milevsko, the same training camp that was used ahead their world title win in 2015.