High-pressure cleaners are one of the most versatile cleaning tools on the market, and come in handy more ways than you might think. Here are our top picks to help you cut your cleaning time in half.
1. PRETTY UP YOUR PAVERS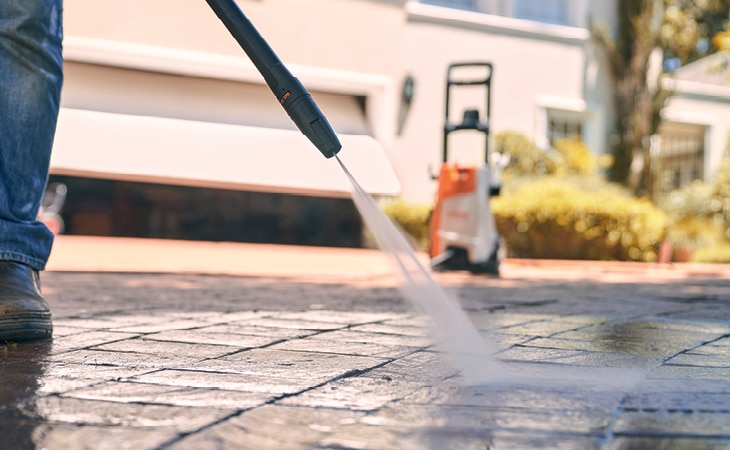 Over time, dirt builds up on outdoor surfaces and this can be particularly visible on pavers, particularly if they're light coloured. You'll be amazed at just how easily and high-pressure cleaner can remove this dirt and grime, which will improve the overall appearance of your outdoor area. There are a range of different detergents available at your local STIHL Dealer, however a little bit of water pressure will do a great job on its own.
Start by wetting your pavers and leaving them for a little while to soften any stubborn areas of dirt. Then, take your high-pressure cleaner and slowly making your way over your pavers. The speed at which you can move along will depend on just how much dirt you're working with. Doing this twice a year will keep your pavers looking great year round.
2. CLEAN YOUR CAR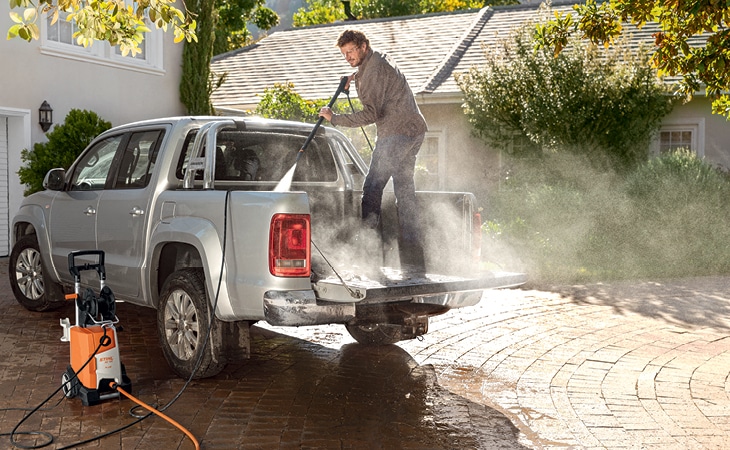 There's a range of different attachments compatible with STIHL high-pressure cleaners that take the backbreaking work out of keeping your car looking like it's just rolled out of a new car dealership. Using a high-pressure cleaner to clean your car will allow you to blast away dirt and cobwebs in half the time and half the mess. The foaming nozzle is one of our most popular accessories and allows you to cover your car with a cleaning solution before blasting the dirt away. To avoid streaks, be sure to work bottom up, rather than top down, and don't forget to shut the windows!
3. FRESHEN UP YOUR FURNITURE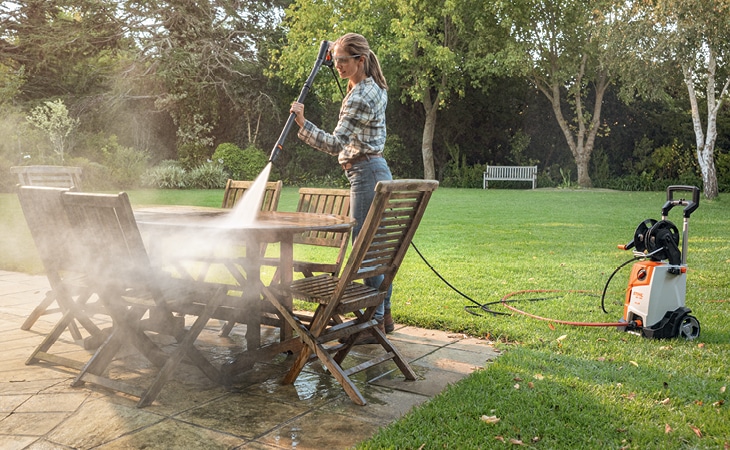 Being exposed to the various different weather types throughout the year can leave your outdoor furniture looking a little tired after a while. If you have wooden outdoor furniture, using a high-pressure cleaner is an easy way to clean it, particularly if you plan to apply a fresh lick of oil to spruce it up again.
Be careful with wooden furniture that's been painted however, some STIHL high-pressure cleaners are so powerful that they may just remove it! If you do want to give painted furniture a clean, keep a short distance while in use to lessen the pressure.
4. BRUSH UP YOUR BIKES
Keeping the family's muddy mountain bikes clean is another way to use a high-pressure cleaner. Blast away any built up dirt after you've used it so it's ready to go again when you are. Be careful however, much like your outdoor furniture, the pressure can be a bit much. Stand a bit further back from your bikes whilst cleaning them, and don't point the nozzle directly at any bearings or seals, otherwise you run the risk of damaging them.
5. DEEP CLEAN YOUR DECK
Not only will regular high-pressure cleaning remove dirt and grime from your deck, it will also remove any rot that starts to build up and grow over time. It's important to oil your deck at least once every six to 12 months, however it's just as important to ensure your deck is clean and free from dirt before you do so. If you're working with an older deck that's prone to splitting, be sure to maintain a short distance to avoid doing any further damage. With that said, keeping these areas free from dirt and grime is especially important as they are more prone to rot as they age.
6. GIVE YOUR BINS A BATH
Cleaning a bin is a dirty job, and one that no one wants to do! A pressure washer makes this dirty task so much easier, and allows you to keep some distance while you're at it. Simply turn the bin on its side and use your pressure washer to blast out the worst of the residue. Our universal cleaning fluid can also be used for really tough grime.
THE RANGE
STIHL has a wide range of electric and petrol high-pressure cleaners and attachments available to help you do all of the above and more.  For the occasional home users, or professionals that demand nothing but the best, the range covers just about every application.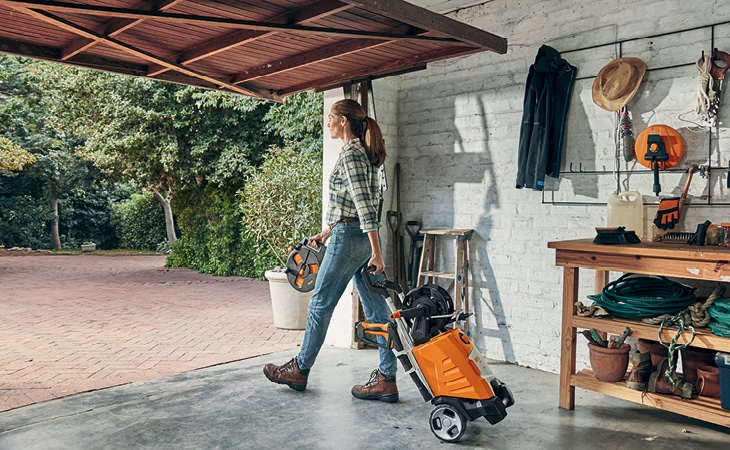 Electric high-pressure cleaners are perfect for the average home user, and are compact, quiet and easy to transport. For a little more power or if your access to power is limited, petrol high-pressure cleaners are a great option.
Click here to view STIHL's full range of high-pressure cleaners.