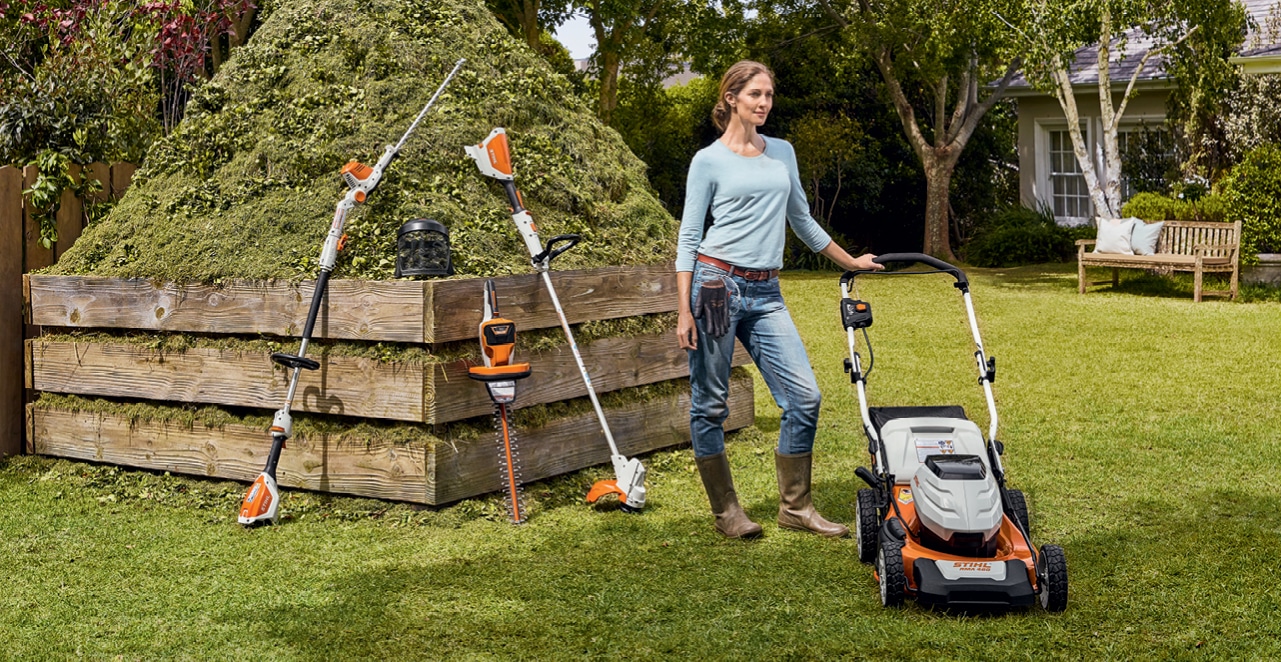 Times have changed – and so have batteries. They're not just AAs anymore. They are bringing their A game, powering smartphones, laptops and even entire cars. And, when it comes to battery-powered equipment, STIHL is at the forefront of the revolution. 'Battery Power By STIHL' pushes battery technology to new heights of performance and dependability. While some manufacturers rush to market with new battery products, we engineer our battery equipment with pride.
Built on Innovation, Built to Last
For decades, 95 years to be precise, STIHL has been an industry pioneer, introducing new industry-standard technologies, including automatic chain oiling, chain braking system, electronic ignition systems, anti-vibration systems, side-access chain adjustment and many more patented smart engine technologies. Battery Power By STIHL draws from its history of innovation, bringing their best ideas into a platform of battery powered tools, all of which are lightweight, start instantly, and are easy to operate and maintain.
Advanced Battery Technology
STIHL batteries deliver all the power you need to get the job done while optimising run time. The batteries hit the sweet spot of performance and longevity. They are also engineered by STIHL to include a host of advanced features – like a clever onboard computer which can provide a full diagnostic analysis on battery performance and service life at the touch of a button.. Their batteries also include specialised voltage monitors and temperature sensors to help ensure optimal operation and a long service life.
Another added benefit that sets STIHL tools apart is the intelligent battery management system in which the control module constantly varies the current to compensate for the drop in voltage as the product is used throughout the day. This smart technology ensures that the available power is constant, and the performance of the tool does not drop as the battery gets low. This ensures that the tool has the same power regardless of whether the battery is 100% charged, or 1% charged.  In other words, it performs just like a petrol product; it has 100% power when the tank is full, right up until the point at which it runs dry.
Diverse Range of Products
Whether one uses STIHL every day for the job, or just on the weekends for one's home, Battery Power Made By STIHL strikes the perfect balance. The diverse selection of tools in the range means you can accomplish more tasks using a single rechargeable battery – that in turn, saves more space in the garage and more fuel and maintenance costs.
Battery Power By STIHL is available in four tiers of performance.
AS SYSTEM
Battery power for intricate garden tasks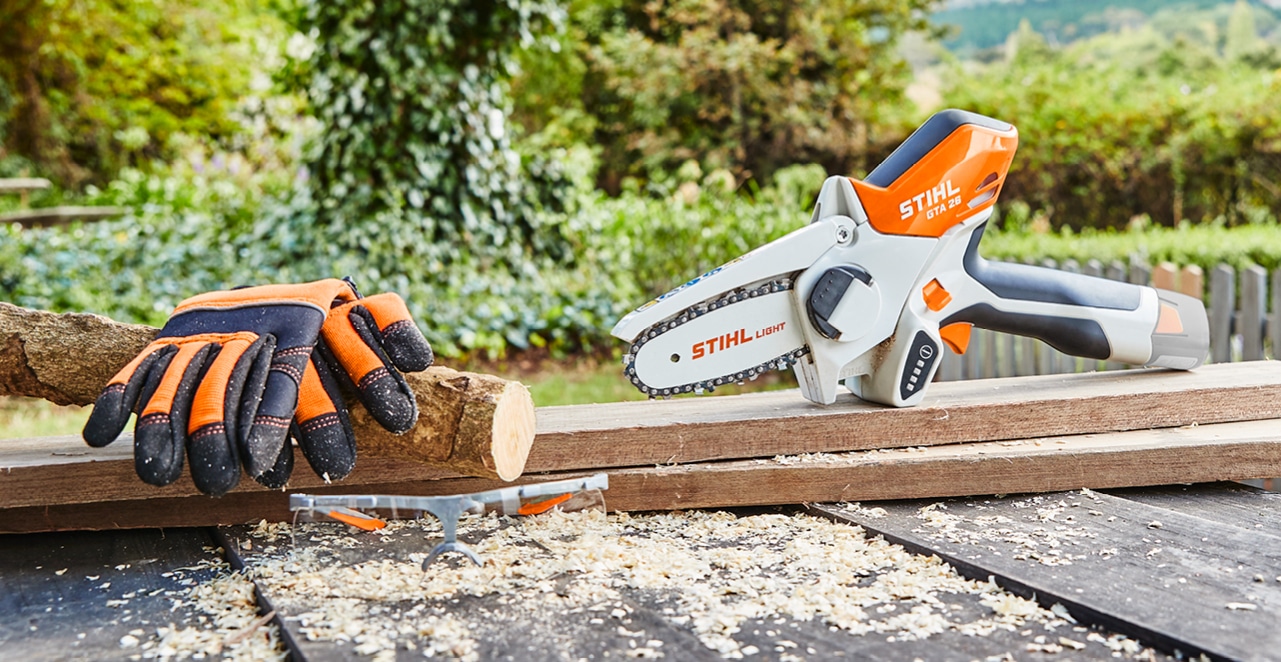 The AS system consists of two tools that are perfect for detailed, intricate garden tasks and DIY projects. Boasting two new additions to the STIHL battery range in the GTA 26 garden pruner and HSA 26 garden shears*, both tools are well equipped for gardens of all shapes and sizes, and are incredibly versatile. Both tools are powered by the 10.8V AS 2 battery and come complete with a sturdy carry case for convenient transport and storage.
*Launching 2021.
AI line
Battery power for small to medium sized gardens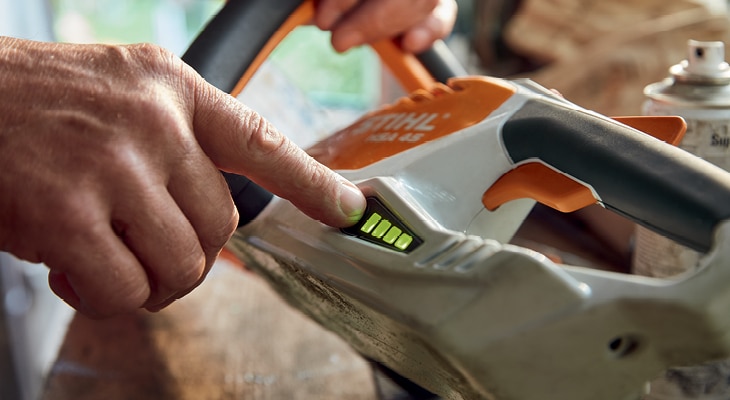 The quick and easy to operate tools in the AI Line allow users with small to medium sized gardens to get their outdoor tasks done at a moment's notice with ease. Each of the three tools in the AI Line features an integrated 18V battery, offering lightweight and straightforward handling for domestic users.
AK SYSTEM
Battery power for medium sized and larger gardens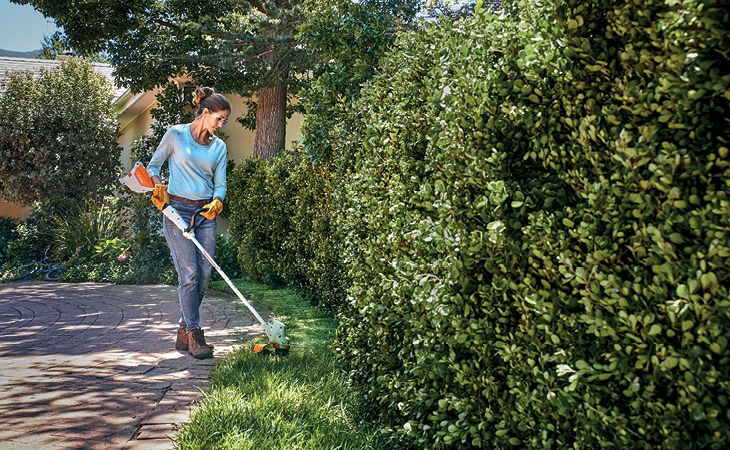 Offering 10 36V tools and three battery options, users have been impressed by the power and stamina offered by this flexible and fast-growing system of battery powered tools. Ready for any challenge, the versatile AK system gives users more choice in the garden than ever before. Boasting four lawn mowers, two chainsaws, a blower, a grass trimmer, a handheld hedge trimmer and a long-reach hedge trimmer, the three battery options allow are interchangeable across the range, this system enables users to select battery and charger options to suit their needs.
AP SYSTEM
Battery power for large gardens and professional applications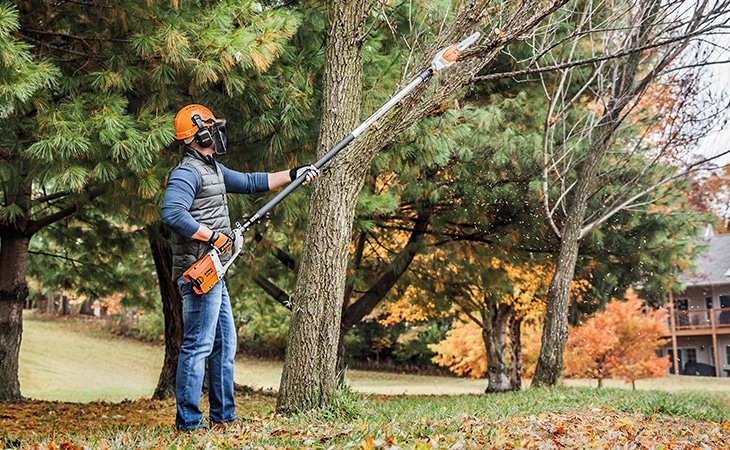 STIHL's AP battery system offers petrol performance with all the benefits that come with battery power; lighter weight, lower vibrations, emission-free use and less noise. Boasting 28 high-performance tools and the choice of six battery options, the capacity and stamina of each tools makes this system well suited to large gardens, longer periods of work, and commercial users the demand reliability in their tools day after day.
An increasing number of professionals and landowners have made the switch to battery in recent years due to the many benefits that it offers. The reduction in noise when in use enables those working in public areas, such as schools and parks, to extend their hours of operation and complete their work when and where required without disturbing those around them. Reduced maintenance is also an added benefit which in turn, reduces the downtime in between servicing.
Tools in the impressive AP system include hedge trimmers, lawn mowers, cut-off machines, blowers, pole pruners, sweepers, a KombiEngine, grass trimmers, brushcutters, and of course, chainsaws, including a top-handle version, and many more!
Say 'No Way' to Throw-Away
Today, product life cycles are shorter than ever. We trade in, trade up and throw away devices that were new just months before. Don't let your tools follow suit. Like all STIHL products, Battery Power by STIHL is backed by the service and support of your local Dealer. We want you to keep your battery products for a long time.
Visit your local STIHL Dealer to experience Battery Power by STIHL for yourself.