I love a manicured lawn. In fact, one of the first jobs I ever did was striping lawns of a large country garden I looked after in the UK. I like to cut more often and leave my grass a little higher than normal. As a general rule, no more than a third of the length should be cut per mow. Always use sharp mower blades and ensure that the ground is dry. This stops any chance of scalping the lawn, which in turn would bring in pests and diseases to the grass. If you have a fine leaf grass such as couch, zoysia, or hybrid bermuda you can keep it lower than a broad leaf grass such as buffalo. But if you are changing the height of the grass, do it over a period of months – not in one cut!
I also try to mow in irregular patterns – always a straight line but never in the same back and forth as the time before – this helps to reduce compaction from walking behind the mower and ensures the grass doesn't suffer from dry, shady or hot spots. It also helps the grass blades grow straighter for a great looking lawn. When walking behind your mower, try to look 2 or 3 metres in front of you rather than at the mower as this will keep you moving in a straight line and you will not get tuffs of grass left on the lawn.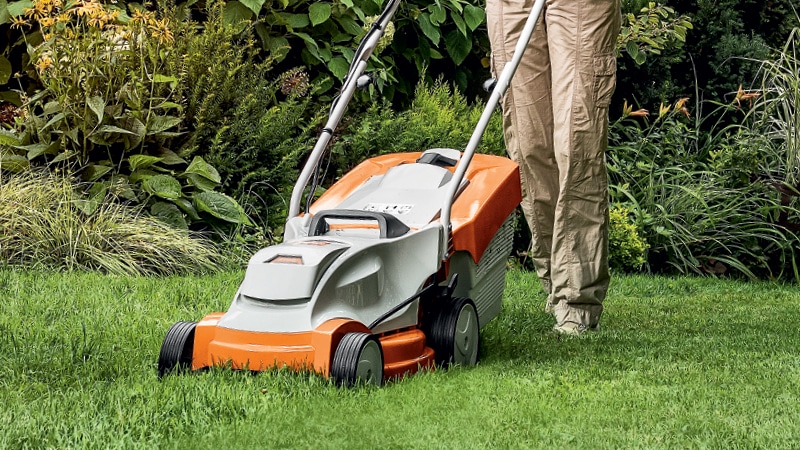 Charlies lawn mowing tips
Start by edging along your paths, driveways or hard surfaces.
Set your lawn mower to the desired height. Remember, try not to go too short straight away. A rule of thumb is never to remove more than 1/3 of the leaf height.
Do two laps of the perimeter; this will make turning easier. Then mow the rest of the lawn in straight lines.
For a straighter mow, focus about 2-3 metres ahead of the mower rather than directly at the wheels.
Walk in a different direction every time you mow.
Check the blades for wear and tear. If they look a little dull, visit your local STIHL dealer to get them sharpened and ready for Spring.
Give your mower a good clean after each mow.
Charlie's top picks for battery lawn mowers
The STIHL RMA 235 is a compact powerhouse with a deck width of 33cm. It's extremely easy to manoeuvre and is capable of covering up to 300m2 on a single charge with the AK 30 battery. This makes it perfect for small to medium sized suburban blocks.
If you've traditionally opted for a petrol mower but want to make the switch to the benefits of battery power, then take a look at the STIHL RMA 460 V. With a large 46cm cutting width and variable speed drive, you will quickly mow up to a tennis court on a single charge. Plus, with two batteries and a fast charger, you could technically mow non-stop all day!
Love gardening? For the latest news, tips and advice, subscribe to the STIHL newsletter here.