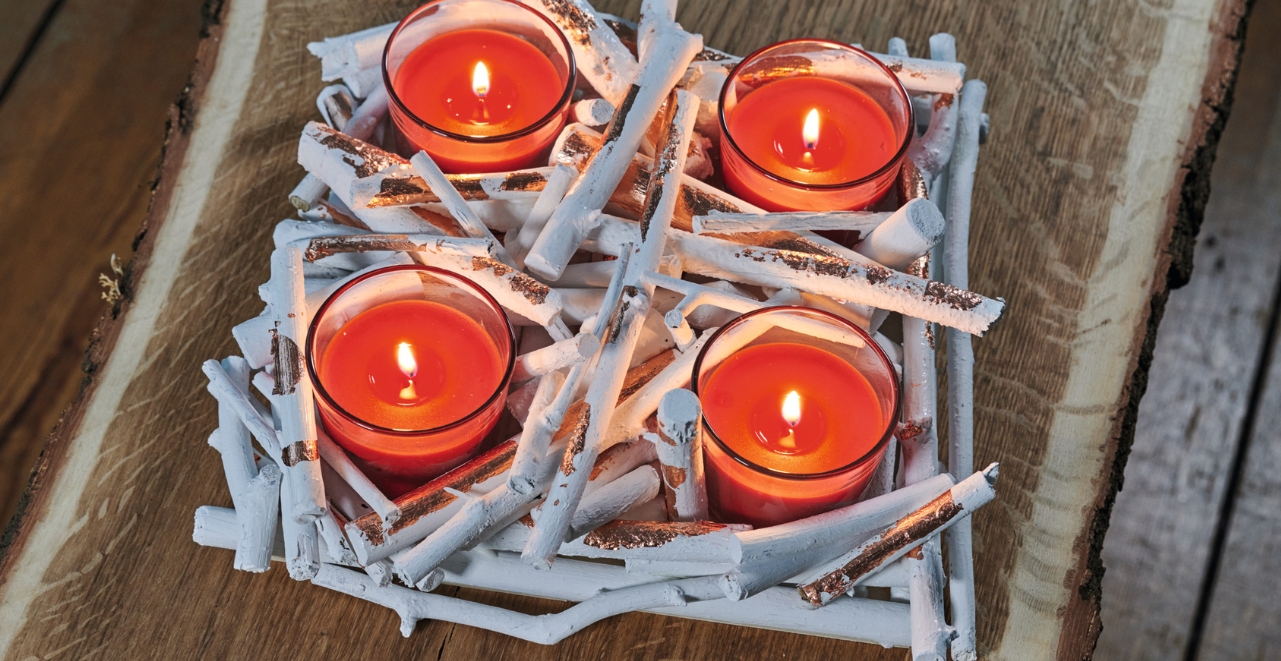 The lighting of an advent wreath is a beautiful tradition which prepares us for Christmas and brightens the home on dark winter days. On each of the four Sundays in Advent, a new candle is lit, which means that by Christmas, all four candles are burning. This tradition, which dates from the 19th-century, both functions as a calendar that counts down towards Christmas and represents the impending birth of Jesus Christ as a growing light.
Making your own Christmas decorations is a great way to get into the festive spirit. Advent wreaths are traditionally made with pine, holly and other greenery, while our DIY instructions are for an elegant, modern version made from twigs. This DIY wreath also has the advantage of being reusable year after year.
DIY ADVENT WREATH: SELECTING YOUR WOOD
To make this decoration you will need branches of differing diameters. You can use cuttings from your garden or collect wood while out and about. You can often find beautiful, weathered wood washed up by the edges of rivers and lakes, or pick up branches and twigs from the forest floor. You should only collect fallen pieces of wood from trees; cutting branches is not permitted in woodland and other private grounds.
Before you can start on your advent wreath DIY project, let your branches dry out for a day or two, leaving them spread out somewhere warm and dry. When ready, just brush away any dirt and dust and your wood is ready to work with!
DIY ADVENT WREATH: STEP-BY-STEP INSTRUCTIONS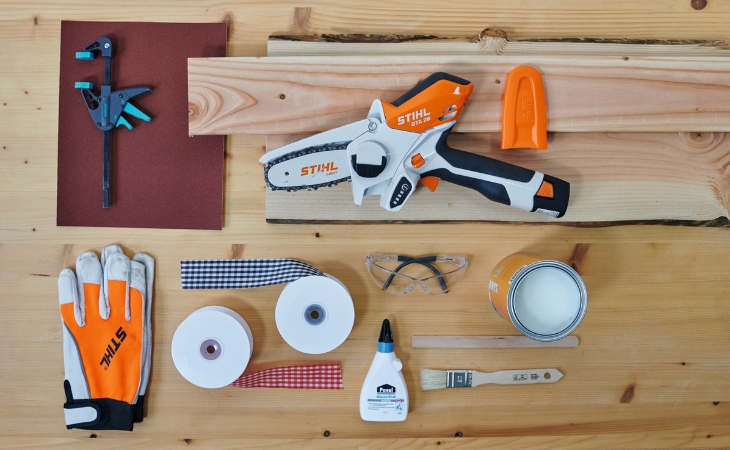 Consider what colour and size you would like your advent wreath to be. When you have decided, prepare the following:
Materials and equipment required
Branches of different diameters
Garden pruner (e.g. GTA 26 Garden pruner)
Optional: paint
Optional: brush
Optional: gold leaf or metal leaf
4 glass candle holders
4 candles
Wooden board to use as a base
Hot glue gun
Personal protective equipment
DIY advent wreath step 1: Cut branches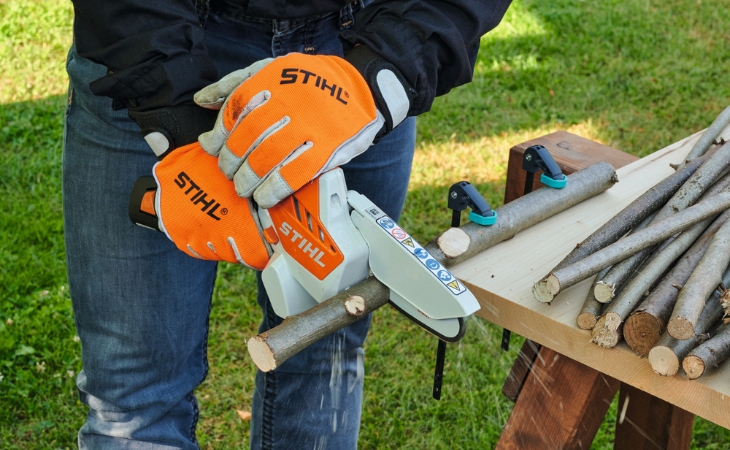 For a safe grip, secure the branches to a table or workbench. Cut the branches to various lengths using the garden pruners.
DIY advent wreath step 2: Paint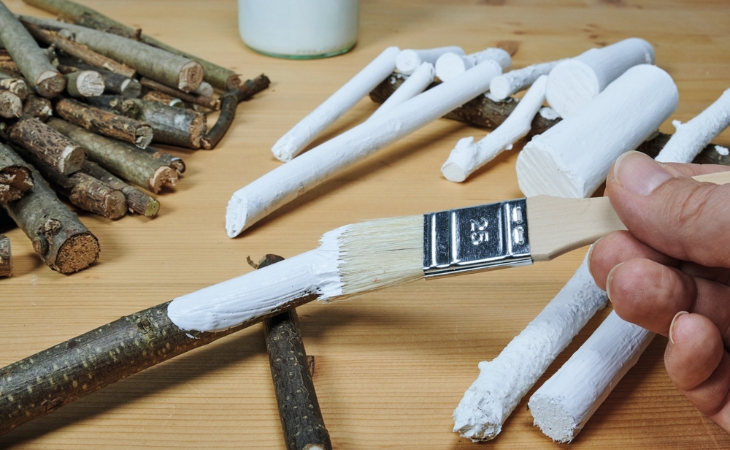 Whether you decide to paint it or leave the wood bare, your wreath will still look lovely. If you prefer a painted finish, you need to paint the wood in your preferred colour before you start construction, and carefully prop it up to dry. For a really special festive look, you could even add some sparkle with metal leaf on parts of the twigs.
DIY advent wreath step 3: Prepare base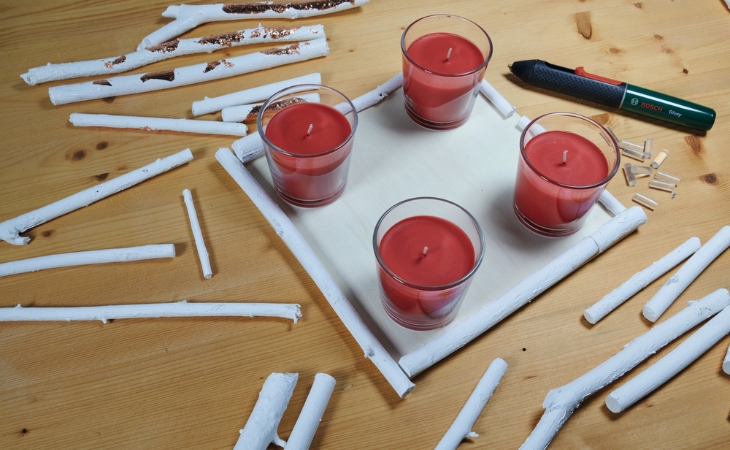 A wooden board will form the base of your advent wreath; it should ideally be slightly smaller than the finished wreath itself, for better stability. It is important to avoid direct contact between the candle flames and the wood, which is why glass candle holders or poured candles are used. Position the candle glasses on the wooden board.
DIY advent wreath step 4: Attach wood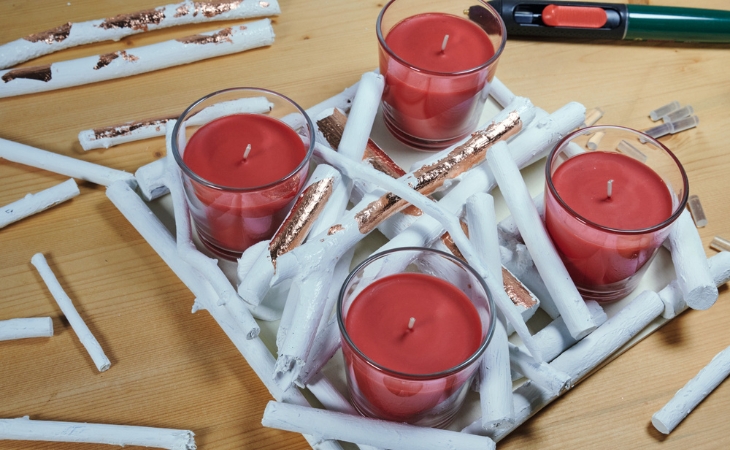 Now it's time to put the twigs on. Using a hot glue gun, stick a layer of twigs to the wooden board. Glue on the remaining twigs a layer at a time, making an attractive arrangement as you do so. Make sure you leave enough space around the candle glasses to remove them easily.
DECORATING YOUR DIY ADVENT WREATH
Your Christmas advent wreath is finished and ready to bathe your home in a warm candlelit glow. You can customise it further too, if you wish – dried orange slices, berries,  pine cones and eucalyptus all make wonderful seasonal additions to your advent wreath.
SUMMARY: DIY ADVENT WREATH
A twig candle wreath is a DIY project that will get you into the festive spirit and add a chic rustic touch to your decorations.
This wooden advent wreath will last a long time and can be redecorated every year.
Choose suitable branches from your garden or the countryside. Outside your own garden, only gather wood which is lying on the ground, never cut it from living trees.
Leave the branches to dry in a warm place for one to two days, then brush any dirt off them.
When tackling DIY projects with garden pruners, always wear personal protective equipment in accordance with the operating instructions.
Cut the branches to different lengths using the garden pruners. Paint and apply metal leaf to the twigs if you wish.
Place four glass candle holders onto a wooden board, and glue the twigs around them, building up in layers.