While it's important to care for your garden power tools all year round, if you're going away or don't plan on using them for a little while, there are a couple of things to be mindful of before you store them away.
Hedge Trimmers
If you're in the southern states, trimming during winter can be tough on your hedges, so a quick tidy before the sub zero temperatures and morning frost sets in is all they'll need until you see a flush of new growth late in Spring. Winter is a great opportunity to sharpen your blades and give your trimmer a good clean. If you're working with a battery hedge trimmer, be sure to remove the battery before you do any of this, and also make sure you're wearing gloves when sharpening and clean the blades.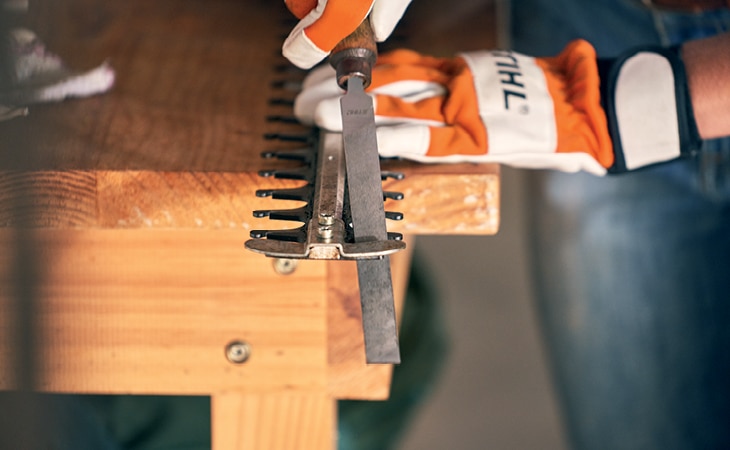 Using a sharpening tool, stroke each blade in one direction a couple of times and follow by removing the burr with a light sanding block. Once your blades are nice and sharp, give them a clean with a brush and a cloth to remove any residue.
To remove any rust or resin that's built up over time on your blades, spray both sides using STIHL resin solvent and then run the tool for five second to ensure all parts of each blade is covered.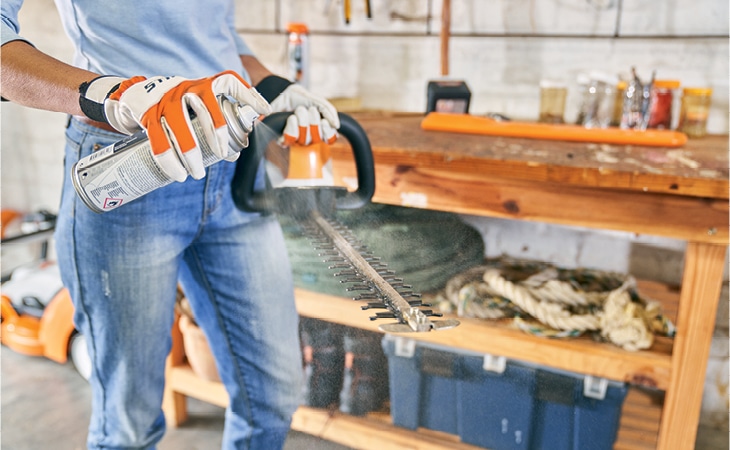 Store in a safe position, out of reach of children with the safety key and battery removed. Or, if your hedge trimmer is petrol powered, remove the fuel before storing.
LAWN MOWERS
After a warm and wet Spring and Summer, the rate at which your lawn grows over Winter may slow which means you won't need to use your mower nearly as often as you have been. This is a good opportunity to give your grass catcher a good clean, and remove any loose clippings.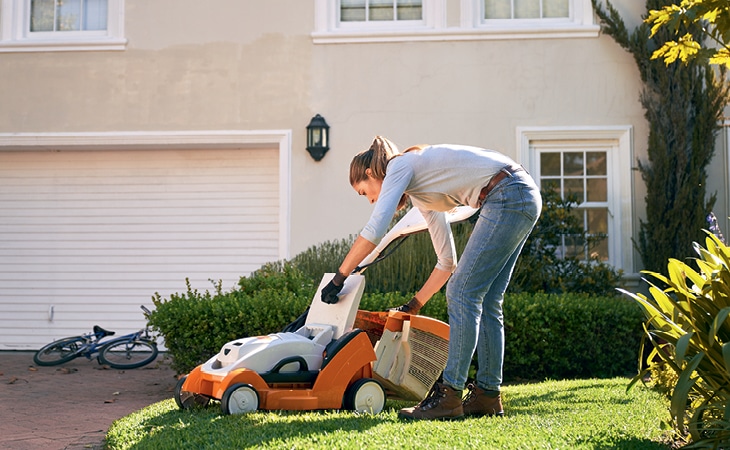 This can be done easily with a brush, or if it's really dirty, give it a wipe down with warm water. Once your catcher is clean, flip your mower onto its side so you have easy access to the bottom of the deck. Be sure to remove the battery and the safety key before doing this. Using a brush, remove any loose clippings and follow by giving it a wipe down if you feel it needs it.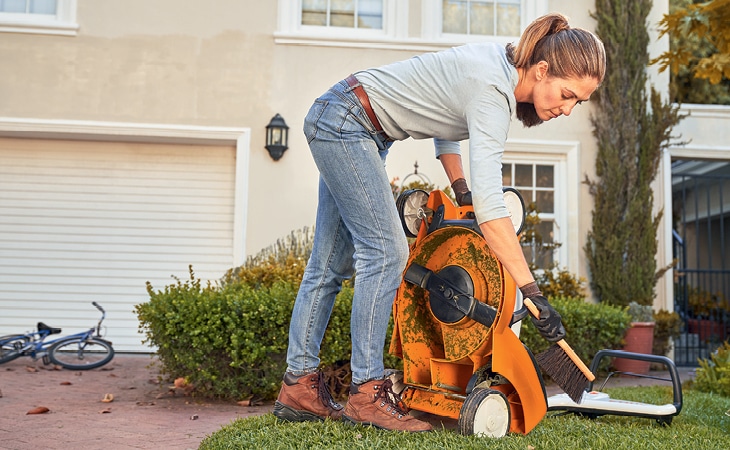 As with all battery tools, make sure you disconnect your safety plug and store your tool and battery separately in a dry and covered area.
GRASS TRIMMERS
A similar approach applies to grass trimmers. Be sure to remove as many loose clippings as possible with a brush followed by a damp cloth if needed. This is also a good opportunity to check your line. Top up now so you're prepared as soon as the next flush of growth hits.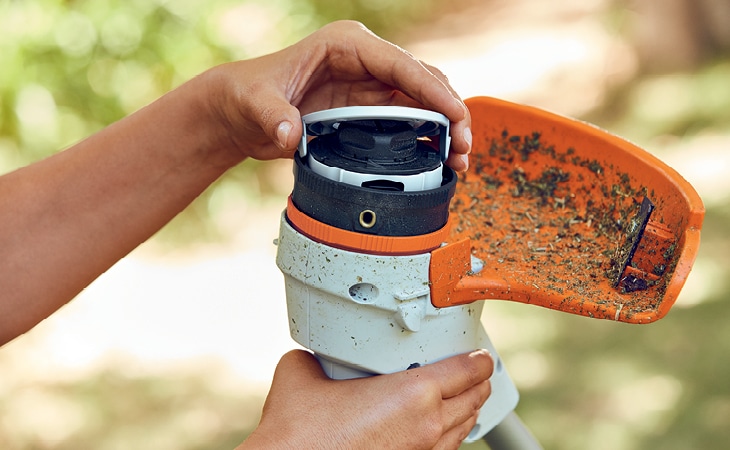 For battery powered tools, remove the battery before putting away. For petrol powered tools, be sure to remove any leftover fuel if you don't plan on using it for a couple of months.
Chainsaws
While some tools take a well deserved break during the cooler months, Winter is your chainsaw's time to shine so make sure it's sharp and ready to go. A dull chain will affect the performance of your saw significantly and make it work much harder than it needs to, so this is the first area you should check. Click here for five ways to easily identify a dull chain and the best tool to keep your chain sharp.
While you're sharpening your chain, this is also a good time to rotate your guide bar which is something you should do each time you sharpen your chain. If you're using a new chain, be sure to check and correct the chain tension before use, and make your sure chain is well lubricated.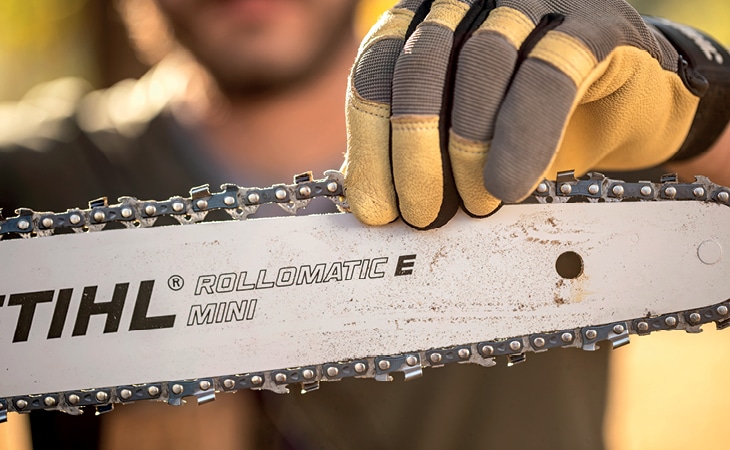 Throughout Winter, particularly if you're using your chainsaw regularly, it's important to keep your saw clean. After each use, clean your sprocket nose, bar groove, cooling fins along with your oil inlet hole and oil outlet channel.
CONSIDERATIONS FOR BATTERY AND PETROL TOOLS
STIHL tools are built to last, and as a rule of thumb, the better care you take of your tools, the longer they'll be with you. It's important to note however, there are different things to consider depending on the power source of your too.
When it comes to battery tools, it's important to store the battery and the tool separately and in a dry, frost free location out of direct sunlight. And when it comes to your battery, we recommend leaving it at a charge level between 40-60%, or with two bars, rather than fully charged or flat. Check out our guide on how to store and get the most out of your batteries.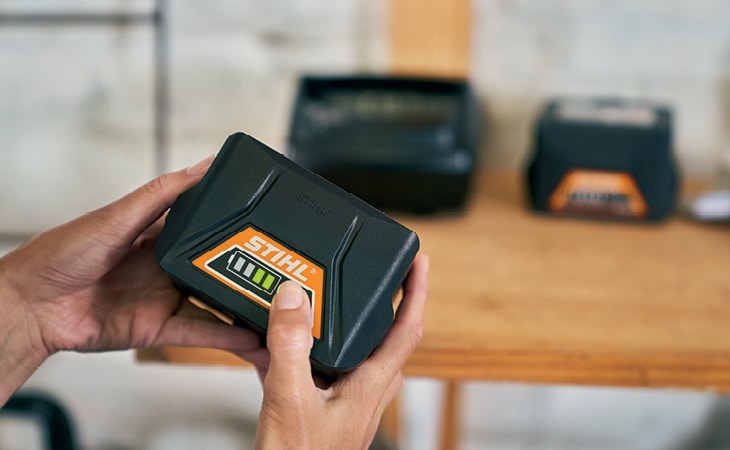 Before your petrol powered tools take a break during winter, you should empty the tanks in a well-ventilated place. The volatile matter in fuel evaporates in the tank, so it will lose its combustibility over a longer period of time. As a result, you may have problems starting your tools up in spring. To empty the petrol completely, pour the contents of the tank out of the filling hatch into a well-insulated canister, then start up the engine and let it idle until it comes to a stop of its own accord. This will ensure the tank and all the suction hoses are completely empty and that the carburetor diaphragms do not stick together.
Along with regular care at home, regular servicing of your STIHL tools is recommended to make sure they're with you for many years to come. For more tips to care for your tools, speak to your local STIHL dealer.