Check out the latest innovations from Australia's most trusted brand of garden power tools.
RMA 765 V Battery Lawn Mower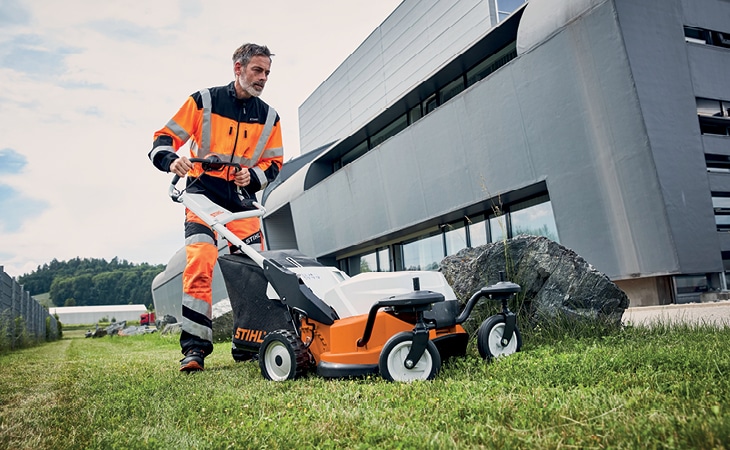 The new RMA 765 V is the largest model to join STIHL's growing range of battery lawn mowers, and is designed for commercial use or for users on larger properties. This self-propelled powerhouse enables those working in public areas such as schools and parks, to extend their hours of operation and complete their work when and where required without disturbing those around them.
With a 63cm cutting width, robust design and fewer maintenance requirements than a petrol mower, the RMA 765 V is especially handy for professionals, allowing them to reduce their operating costs and work flexibly thanks to its low noise and zero emissions during operation. The RMA 765 V is part of the AP battery system, and is powered by the new AR 2000 L or AR 3000 L backpack batteries, or the existing AP 300 or AP 300 S batteries when used with an ADA 700 adaptor.
FSA 57 Battery Grass Trimmer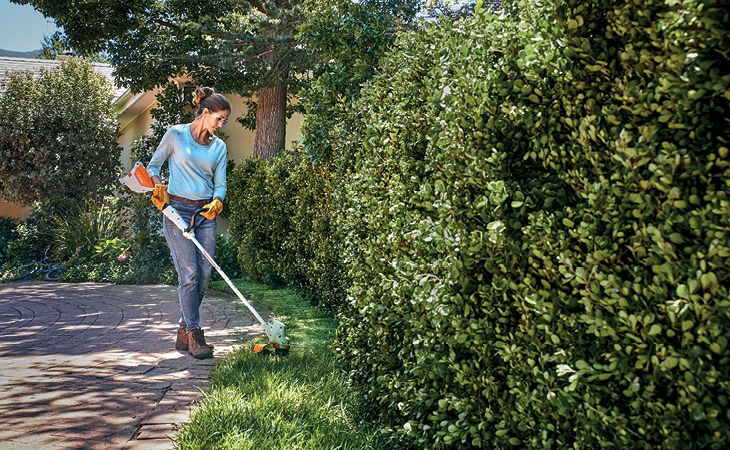 There were a number of tools to join the popular AK battery system this year, starting with the FSA 57 grass trimmer, which is the new and improved version of the already impressive FSA 56.
The FSA 57 is incredibly light and well-balanced, making it super easy to manoeuvre. It features an adjustable shaft which means you can set the length to suit your height, and it also comes with a handy wire spacer guard as standard which is perfectly designed to meet the same length as the line, allowing the user to trim right up to and around static objects, such as fences, trees and play equipment, without leaving any damage behind.
To feed new line on the go, the mowing head simply needs a tap on the ground when the head is at full revs to release additional line. To reload when empty, the easy to use AutoCut C 6-2 can be refilled by simply pushing the line through the head and twisting the top knob.  If nylon line isn't your preferred cutting style, the PolyCut 3-2 is available as an accessory. When it comes to run time, the FSA 57 will cover up to 1.5km of lawn edges with the AK 30 battery.
RMA 235 Battery Lawn Mower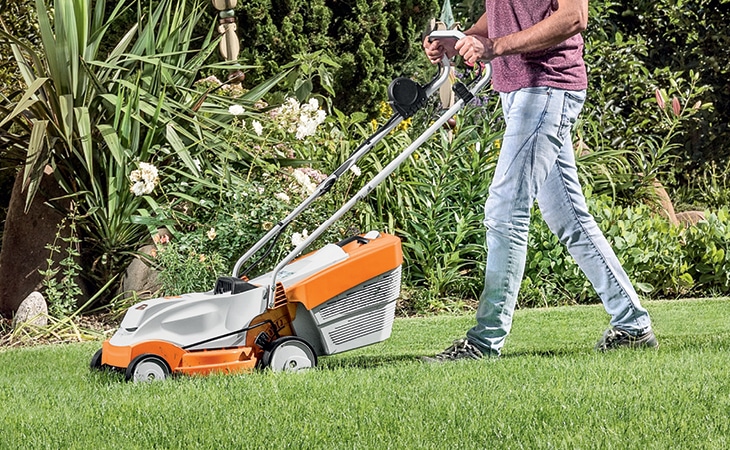 The RMA 235 is another welcome addition to the very popular AK battery system, taking the total number of tools in this system to 10. Like all STIHL battery mowers, the RMA 235 packs in all of the bells and whistles that users have come to expect from STIHL tools. With a cutting width of 33cm/13", this trusty mower is perfect for smaller to medium sized lawns covering up to 300m2 on a single charge using the AK 30 battery. It also features a large 40L catcher and automatic ECO-mode meaning you will get the most run time out of your battery.
BGA 200 Battery Blower
The BGA 200 battery blower is one of many to join STIHL's growing range of professional battery tools. With a maximum air speed of 302 km/h, this ergonomic and extremely well-balanced blowing powerhouse boasts 1,040 m3/h of maximum air throughput, and is perfect for use on larger properties or by professionals working in noise sensitive environments.
Featuring a three stage tube adjustment at the touch of a button, it comes standard with a round nozzle which is reinforced by a metal ring to reduce wear when operated close to the ground. The soft handle also features a second handle position functionality which allows for better handling during cruise control when combined with a hip pad kit. The cruise control throttle lock is also perfect for those covering large areas, and the optional comfort hip pad kit enables effortless operation. The BGA 200 is powered by STIHL's range of AR backpack batteries or via an AP battery with connecting cord.
BGA 57 battery blower
The expansion to STIHL's range battery blowers didn't stop at the BGA 200, with two additional models to join the ranks in 2020. The first model is the BGA 57, which is an upgrade of our popular BGA 56 battery blower and will join the range in late 2020. With improved balance and ergonomics to help make light work of clearing dirt, leaves and garden debris, the BGA 57 is a perfect for the average Australian backyard.
Operator control has been optimised in the upgrade by a new release slide and interlock trigger, and the recess of the air intake helps reduce airflow restriction when holding the blower close to the body. Boasting an impressive 620 m3/h of maximum airspeed throughput, this blower is one of 10 tools in our AK battery system, and will make the task of keeping the backyard nice and tidy, an absolute breeze.
BGA 86 BATTERY BLOWER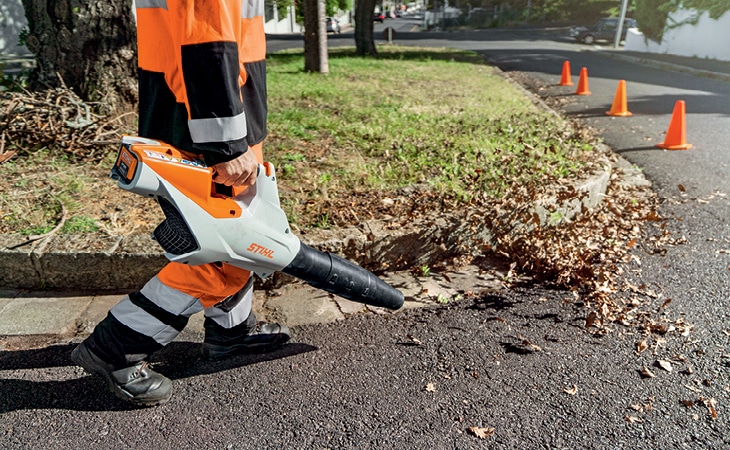 The BGA 86 also joined the AP battery range, taking the total number of professional battery blowers to three. An upgraded version of its predecessor, the BGA 85, this new and improved version offers 50% more blowing power and a reduced overall weight. Featuring variable speed control so you can adjust the power required to suit the task at hand.
GTA 26 Battery Garden Pruner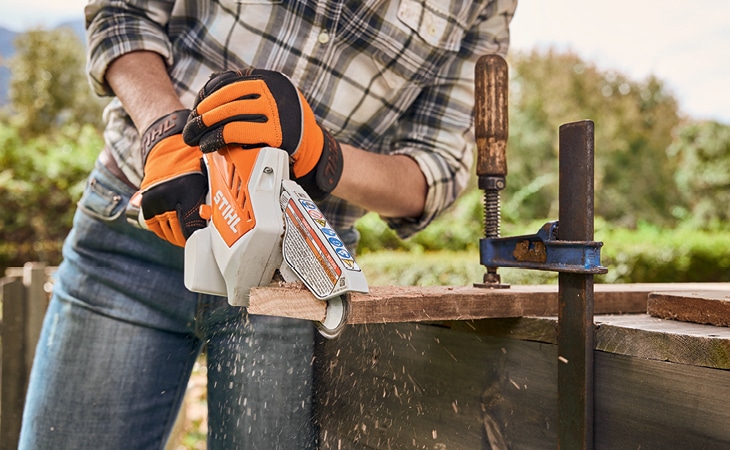 Our new GTA 26 battery garden pruner is so much more than just a pruner. Not only is this neat handheld tool perfect for tidying overgrown trees and plants around the garden, it also doubles as a DIYer's best friend as it can cut timber and planks up to 8cm in diameter, making it great for just about any long weekend craft project.
The GTA 26 is incredibly light at just 1.4kg including the 10.8 volt battery making it super comfortable to use and manoeuvre. And, like all STIHL tools, it's been designed with ergonomics in mind. Thanks to the balanced center of gravity, ergonomic shape, and low vibration, it's incredibly comfortable for the user to carry out their work with in a safe manner.
RG-KM Rotary Trimmer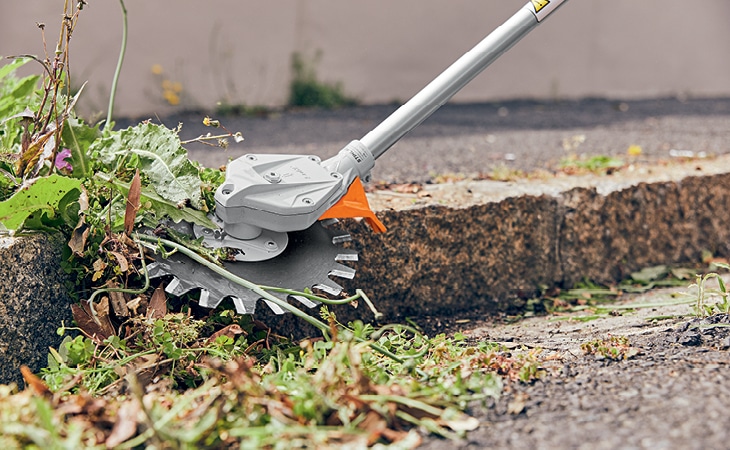 The new STIHL RG-KM rotary trimmer attachment is a safe, quiet and versatile trimming solution for users working in noise sensitive, high traffic, and dense areas, such as along a nature strip, or, in a public park. This attachment is compatible with the existing STIHL KM 94 RC-E, KM 131 R and KMA 130 R KombiEngines, and a great alternative to many line trimming applications. It removes weeds and grass from a variety of surfaces safely and with ease, including gravel, asphalt and paved surfaces.
The RG-KM has proven popular amongst professionals such as council workers due to the limited risk of damage to nearby objects while using this attachment. The low level of risk while in use is thanks to the low spin and low throw action of the cutting head. While the recommended distance between bystanders and workers while operating grass trimmers is approximately 15 meters, the RG-KM attachment can be safely used within 3m for bystanders and 5m to objects.
To keep up to date with the latest and greatest from STIHL, make sure you're subscribed to our newsletter and following us on Facebook and Instagram.
To view the full range, visit your local STIHL Dealer.