Along with regular maintenance and servicing, caring for your tools at home is key to caring for your garden, especially during the warmer months of the year. However, as the demands of your garden change throughout the year, so too will the frequency of use of some of your favourite tools, so it's important to care for them all year round. Here are some insider tips straight from the experts at STIHL to help you get the most of your tools.
TIP 1. CARE FOR YOUR TRIMMING LINE
Storage is key to the longevity of your trimming line. If you've left your spool sitting in the shed or in direct sunlight during summer, there's a good chance that it's quite brittle. Using brittle line will cause it to snap easily, and feeding the line more often than required will put undue stress on your machine. If in doubt, replace it. A trick to keeping your line like new right through the warmer months is to store it in fresh water and out away from direct sunlight. This will ensure it maintains its flexibility and it will last much longer. We also recommend putting new line in fresh water for 24 hours before you use it. Doing so will increase its flexibility and lifespan.
TIP 2. Check your mower blades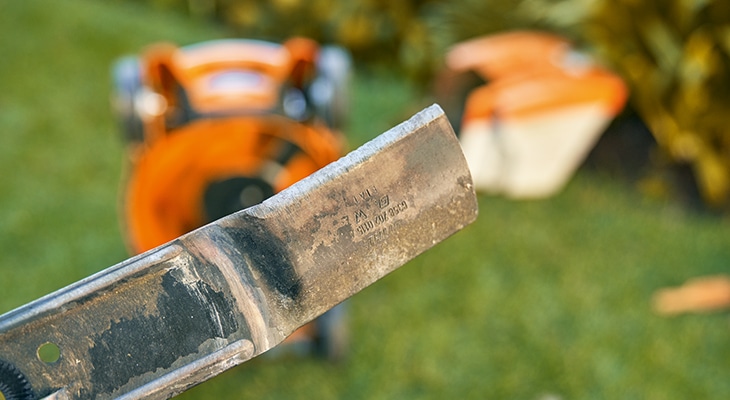 Mowing with dull blades will not only create more work for your mower, it will also cause damage to your lawn, and leave it looking less than lush.
Ripped or frayed grass blades are the first and most obvious sign of dull mower blades. Not only will this leave your lawn looking messy and uneven, it can also cause serious problems for your garden's biggest asset. Frayed grass blades struggle to absorb and retain moisture, so even if you're hydrating your lawn regularly, it could be a waste of time and water. This is especially concerning during the warmer months when the days are warm and the sun is hot. Ripped grass blades also leave your lawn open to pathogens and susceptible to disease, which, if left untreated, can wreak havoc on your entire lawn.
Click here for our guide on how to identify dull blades, and a few tips to extend their longevity.
TIP 3. KEEP YOUR TRIMMER CLEAN
Cleaning the blades on your hedge trimmer is the only way to keep them sharp. Sap and residue from regular trimming can build up on your blades, making them harder to turn/oscillate which can then promote them to go blunt and tired. If you've been a little slack at keeping your blades clean, then it's time to take your hedge trimmer to your local STIHL Dealer to be sharpened by a professional. Or, if you're up to it, this is also something you can do yourself. Click here for a quick overview of how to tell when your blades are due for a sharpen, and how you can do it at home. 
Through the warmer months, use an approved cleaner – like STIHL superclean resin solvent – after each use to keep your trimmer blades in top condition. Simply spray the length of your blades and run for a few seconds after use to make sure they're fully coated. This will ensure any residue is broken down and won't cause any issues for you next time you go to use it.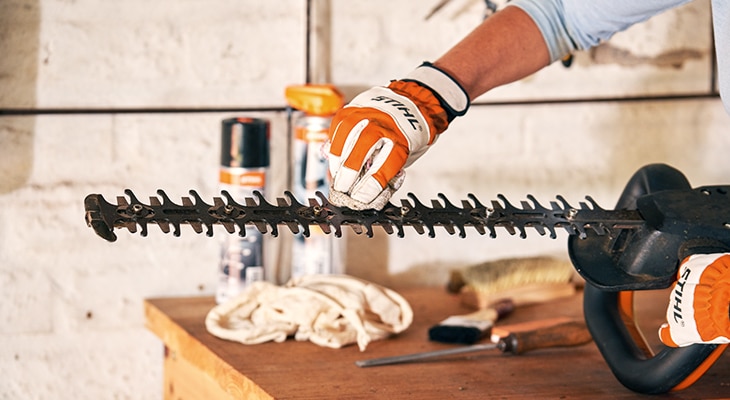 TIP 4. GIVE YOUR CHAINSAW SOME TLC
Your chainsaw may have taken a back seat during the warmer months, but it will soon be time to take it out of hibernation. If your chainsaw is petrol powered, emptying the fuel tank should be at the top of your checklist after long periods of no use. Old or stale fuel will cause issues later on, so it's best not to run the risk and get rid of it – unless you're using STIHL MotoMix, in which case, will be safe to leave for up to two years.
STIHL MotoMix® is an optimised 50:1 premixed fuel suitable for all two stroke engines which uses STIHL's own premium HP ultra, and is the clean and fuss free alternative for owners of petrol powered tools. Click here to learn about the benefits of using STIHL MotoMix in your petrol powered tools.
While this isn't something to worry about when it comes to battery powered chainsaws, be sure to remove your battery and store it in a cool, dry place away from the tool after each use. This will not only extend the life of your battery, but it will also avoid an accident if your little ones get their hands on it. Leaving your battery at 40-60% charge is best for the life of the cells.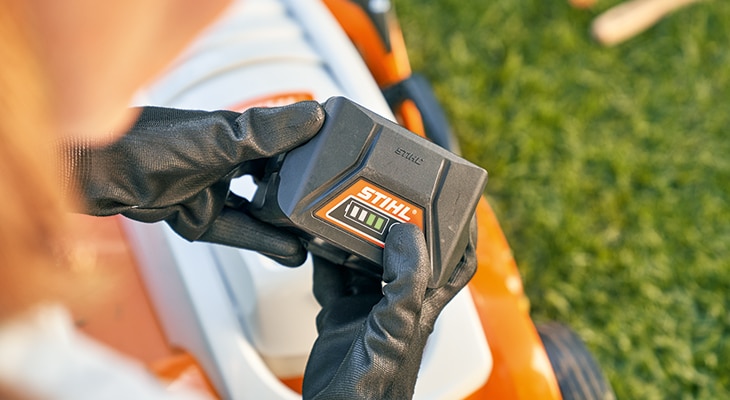 Be sure to give it a good clean, too. Removing as much sawdust as possible from all areas of your machine each time you use it will make the cleaning process much easier.
TIP 5. SERVICE YOUR TOOLS
There's never a bad time to get your tools serviced! Regularly servicing of your tools will make sure they're with you for many years to come, and it's better be organised and have this done on a regular basis, rather than when you need to them!
For more tips and advice to get the most out of your STIHL tools, visit your local STIHL Dealer.